The sales promotions that you run throughout the year as an e-commerce company can require a big investment from an advertising perspective. If we consider just Black Friday and Cyber Monday the CPMs can rise, in some cases like with social ads, up to 50%.
And you don't want to be spending a lot on advertising to only have the customer experience be a let down, and maybe even lead to lost sales.
We'll go through 3 steps you can take to help ensure that your customers have a great experience on your site once they land on it from one of your awesome ads.
3 steps for optimizing your e-commerce service during sales promotions
While you can't safeguard your website from every potential bump in the road, there are several steps you can take to ensure the shopping experience is as smooth and enjoyable as possible for your customers.
1 - Prepare your customer service and fulfilment
Customer service
More orders means more questions, and when it comes to answering questions from your customers, a fast response is essential. In fact, 90% of consumers consider immediate customer service to be of vital importance.
Therefore, if you have a small customer service team, you may want to expand it with temporary staff during the sales promotion period.
Along with being prepared to staff-up the customer service team, you can do the following to help make sure that your service team is running as efficiently as possible by:
Designating a customer service manager to centralize all the activity
Determining which channels your customers can use to contact you (live chat, WhatsApp and Telegram, email, etc.) and potentially adopting a new one to help make it even easier for your customers to reach out to you
Producing a guide so that all your team members know how they should respond to customers, as well as the procedure to follow after receiving an enquiry
Making a list of the most common questions you receive and answer them on your website
If you're planning on hiring new staff, do this a couple of weeks before the promotions start, so you can train them on your customer service protocols.
Fulfillment
Imagine that in the middle of the sales promotion you begin receiving complaints from customers about late deliveries. Or even worse, about deliveries not turning up.
This is something that could seriously jeopardize one of the key moments of the year for an online store.
That is why we would recommend that you work with various different courier companies during this period. That way if you have issues with one, you can fall back on the others.
2 - Work to minimize abandoned carts
On average, 70% of shopping carts are abandoned in online stores. That is 7 out of 10 potential customers that leave just before making a purchase.
And if that percentage indicates a few lost sales per month during normal times, just imagine the amount of money you could be losing during sales promotions.
So your objective should be to minimize this figure as much as possible.
Here are some ways to do this:
Make sure shipping costs are clear from the beginning: according to a study from Beymard, excessive additional costs are responsible for 50% of abandoned carts. And if your customer doesn't find out about these costs until they're about to pay it increases their likelihood of not following through with their purchase
Simplify the check-out process: the same study revealed that 21% of abandonments were due to payment processes that were too long or complicated
Allow customers to purchase without registering: you can ask customers to leave their email address for sending order tracking information, but don't force them to create an account -- many won't want to do that
For the ones that do abandon their carts, you can try and win them back with a retargeting campaign.
3 - Make sure customers find what they're looking for
According to a study from Bigcommerce, 72% of internal search engines don't meet users' expectations.
Let's expand on what this means a bit.
Imagine that you go to an online store looking for hiking boots, but:
As soon as you get there you see so many different categories and subcategories that you don't know where to start
Furthermore, since the volume of people visiting the website goes up during promotions, the download speed will be a bit slower than usual, making you even more impatient
You decide to take the fastest path and use the internal search engine, but you try two or three times and can't find the product you're looking for (because you're searching for "hiking boots", but the product descriptions in this store use the term "walking boots" instead)
In the end you assume that they don't have this product, or if they do, you're not going to waste time continuing to search. You leave the site and go to another store.
This is why it is so important that you use an advanced search engine. One that:
Offers autocomplete suggestions to speed up the search.
Understands synonyms and typos.
Alerts customers to your current promotions.
Includes specific filters for each product category (size, color, etc.).
Offers related products.
And if it happens to offer analytical data, even better. For example, it could tell you which products users search for the most in your store or what specific search terms they use (as you can see in this example from the Doofinder panel).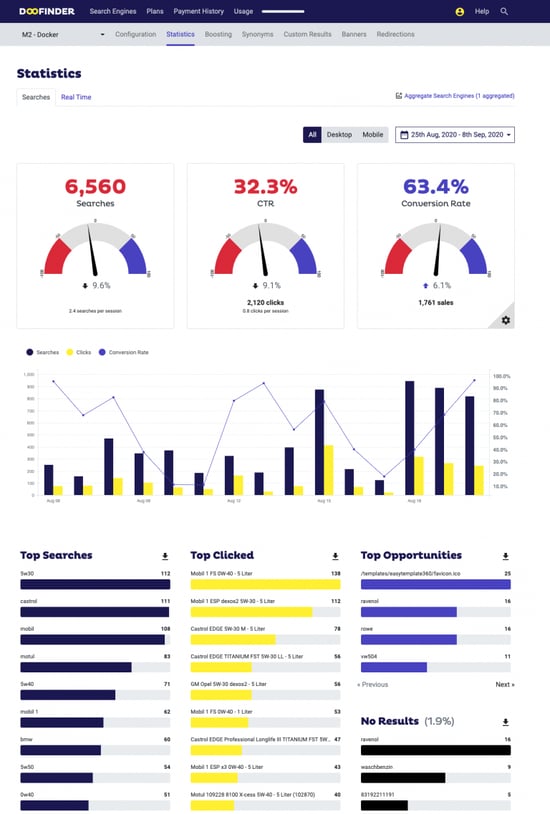 Doofinder control panel
Over to you
So make sure you're doing what you can to make the customer experience as smooth and enjoyable as possible during your sales promotions, since that will ultimately lead to increased sales and maybe even some recommendations and good reviews.
And of course, make sure you're monitoring the performance of your advertising campaigns and how you're spending your ad dollars throughout each promotion (and throughout the year in general).
If you have any questions, you can get in touch with us through the Doofinder website.