Goodgame Studios is a leading free-to-play, online games development company active on the web and mobile platforms. It provides quality gaming experiences to over 500 million registered users worldwide. With employees from more than 40 nations, the company is among the most prominent German employers in the gaming software industry. Goodgame Studios is part of the Swedish Stillfront Group that is home to 19 game studios worldwide.
Key Takeaways
Goodgame Studios uses Funnel to get ad spend data to calculate true ROAS and understand how they should optimize their marketing.

They have hundreds of campaigns running at any given time across 20-30 platforms - this makes data collection, prep, and aggregation complex without a tool like Funnel.

Their favorite Funnel features are custom data sources and custom dimensions, which gives them the flexibility to add any platform or channel no matter how niche.

Without Funnel, they would need a dedicated team of 2 people to collect the ad spend data.
Getting true ROAS for the promotion of mobile and browser games
Goodgame Studios, at any given time, have 10 to 15 games that they are actively marketing across 20 to 30 different channels. Within their portfolio, they have both mobile and browser games. Collecting and mapping all this data to their performance metrics, like app installs and purchases, and understanding their return on advertising spend for each campaign was a complicated endeavor. Thanks to Funnel, it's no longer an issue.
Use Funnel's connections, custom data sources, and data normalization
Jörg Fitzner, Lead Marketing Technology at Goodgame Studios, said they use Funnel to collect data from numerous channels and platforms, like Facebook Ads, Google Ads, Tiktok, and their more niche longtail channels.
Because Goodgame Studios produces both mobile and browser games, and channels are diverse and not integrated, Jörg described the problem as being "heterogeneous." To better illustrate their situation, they have one data source per ad account and per country resulting in over 100 data sources to track to calculate ROAS. Fortunately, it's a challenge that Funnel helps solve, which Jörg is happy about.
One of the things he loves with Funnel is the possibility to add a custom data source. If there is a channel or platform you need to connect to, Funnel makes that possible. Very few providers out there, if any, provide this option, he said.
Data that Funnel collects is fed via Amazon S3 to Snowflake, their data warehouse, and then for reporting or data visualization, they use Tableau. They focus on some key metrics like impressions, clicks, cost per day by campaign and map it to their performance KPIs on app installs and purchases. The main objective is to get a clear overview of ad spend versus revenue.
Get automated ROAS metrics to optimize marketing efforts
Jörg said that for each campaign, they look at spend versus revenue after seven days. With that, they are already able to predict performance. Depending on the game, typically after 30-180 days, they want to reach the breakeven point, which is to get the same amount of revenue as they have invested in the campaign. For them, the most important KPI is the return on ad spend for each campaign.
They have both a data warehouse and data science team, composed of 6 people, to manage their data needs. However, without Funnel, Jörg believes that they would have to add another two people to the team to work with just the data gathering and ensuring all connections to third-party platforms don't break.
The best thing with Funnel is it allows him to do things on his own. He can connect to any platform or channel. He can define the dimensions and metrics to export to their data warehouse into S3 files.
"What I use extensively is mapping partner fields to the fields we have in the export. You have a very flexible way of mapping that with rules - this is super, this is something that I love and it really helps us. We harmonize the attributes into normalized dimensions and metrics before we export them, and the feature you have that allows us to do that is powerful and easy to use."

Funnel Interviewed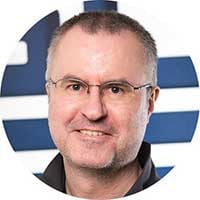 Jörg Fitzner,
Lead Marketing Technology,
Goodgame Studios