Since its formation in 1910, Samsonite has been manufacturing premium-quality luggage and durable bags to meet the needs of travelers and commuters everywhere. It has led the industry in using new materials, creating iconic designs, and providing ever more comfort. Along the way, Samsonite has been first in place with many innovations, all based on the tradition of innovation.
No consistent, holistic view of each country's marketing performance
Keith Mak and his Digital Analytics team at Samsonite Asia are responsible for overseeing the marketing performance of all of the Asian markets. Before the Samsonite APAC team implemented Funnel, reporting on ROAS and other important metrics for the entire region took them far longer than they wanted, and they weren't able to have a consistent pulse on what was happening in each market. It was certainly possible, but the process they needed to go through to get the data they needed was a tedious one.
The process the Digital Analytics team had was built on pulling down data from each platform into excel spreadsheets and combining the data there. All of the data, from each Asian country. The amount of time this took meant the final data was often several days out-of-date. Keith and his colleagues would then need to repeat this process each time they wanted to analyze the performance of their marketing activities.
Currency conversion was a headache
Since Keith and his colleagues are expected to be able to report on a holistic, regional level that means that they need to ensure they're comparing apples to apples. This means converting each country's currency into a common one.
"This is a seemingly small step, but it takes a lot of time."
Samsonite's basic marketing metric of ROI was a headache to calculate on a regional level, and even at a country level at times if the currency per platform was different. There was no quick, easy, and consistent way to report on the main marketing metrics they needed to simply due to a difference in currencies.
One-stop-location for the entire region's performance data
Since implementing Funnel the Samsonite Digital Analytics team has been able to centralize all of their performance marketing data for each country in one place, with the freshest data available being pulled in several times a day. Now, analysis happens on a daily basis, and even several times a day.
Keith and the team are able to simply review a set of dashboards they've created with Funnel data in Google Data Studio, whenever they need to. They know that the data they have in there is the most up-to-date and relevant.
Not only have they been able to centralize their marketing data, but they're also able to blend their budget, campaign performance, engagement, and other data into Funnel.
"Funnel is helping us collect the missing pieces. We're able to analyze and report on a much deeper level than we were able to before."
This has allowed them to better keep track of how much they're actually spending against the budget they have.
Oh, and no more need to spend hours going through rows and rows of data on multiple spreadsheets, for multiple markets, multiple products, and multiple campaigns.
Automatic currency conversion
The headache of currency conversion is gone, and Funnel was the remedy. This step simply no longer exists for Keith and his team.
"Having Funnel do [currency conversion] automatically saves us all of that time it took us to convert each currency and makes it easier for us to analyze our digital performance, as well as quickly share it across the organization."
Now, they're able to seamlessly switch between currencies, and report on ROI in a single currency, no matter what that currency is. This is no longer a tedious task - it's just the click of a button.
You can read more about this feature on this page.
A report for everyone
Now that reporting is simplified for Samsonite, it's even easier to provide the needed reports to each member of the organization who would like to have an overview of marketing performance.
The Digital Analytics team is able to create a report in Google Data Studio that caters to each market's needs, their own regional overview needs, and it even makes it easier to present data at a global level.

Funnel interviewed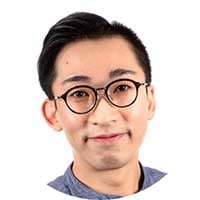 Keith Mak,
Assistant Manager, Digital Analytics,
Samsonite