We've just released support for Aggregated Reports from AppsFlyer! You can now select the "Geo by Date" report when creating a new connection.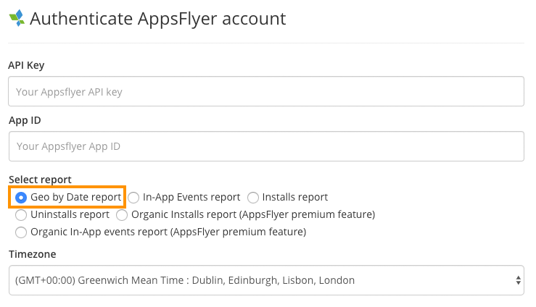 This new report contains the following fields:

Dimensions

[Dimension] Ad Group

[Dimension] Ad Group ID

[Dimension] Ad Set

[Dimension] Ad Set ID

[Dimension] Campaign

[Dimension] Country Code

[Dimension] Install Date

[Dimension] Media Source

[Dimension] Partner

[Dimension] Report Type

Metrics

[Metric] Loyal Users Non_agg

[Metric] Clicks

[Metric] Impressions

[Metric] Installs

[Metric] Sessions

[Metric] Revenue

[Metric] <Event> (Sales)

[Metric] <Event> (Event Counter)

[Metric] <Event> (Unique Users) Non-agg

[Metric] Cost

You can learn more about aggregated reports in

this article

. If you haven't connected your AppsFlyer account to Funnel, you can learn more

here

.

We hope that you find this update useful! If you have any questions, please contact support@funnel.io and we'll be happy to help.