To accommodate for recent changes in the DerbySoft platform we have made a couple of updates to the connector in Funnel.
Updates include:
addition of new fields
deprecation of existing fields
a new connect flow to express incompatibility between certain fields
the possibility to edit configuration of DerbySoft data sources.
New fields
Bookings

- metric
Stayed room nights

- metric
Account (admin) -

dimension
Hotel country -

dimension
Rooms -

dimension
Deprecated fields
Month

- Use Funnel native dimension instead (still fetched for old sources)
Country

- No longer supported in DerbySoft
Rooms

- Now offered as a dimension
Incompatibility between fields
With the recent changes in DerbySoft's reporting some fields are now incompatible with each other. This is reflected in the new connect window where field options are disabled according to the dependencies on other available fields.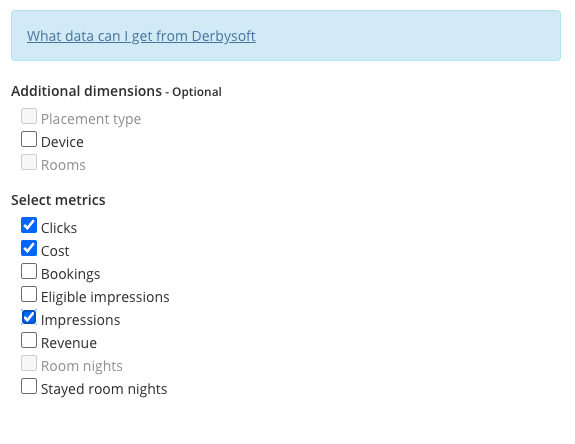 Reconfigurability
It's now possible to edit the configuration of a DerbySoft data source from the Data Sources page in Funnel.


For more details on our DerbySoft connector, check out the What data can I get from DerbySoft? knowledge base article.