We've just added some additional reports to our Impact data source! You now have the option to connect the "Performance by country" and "Action" report to Funnel.
When creating a new Impact connection, simply select your desired report from the drop-down menu: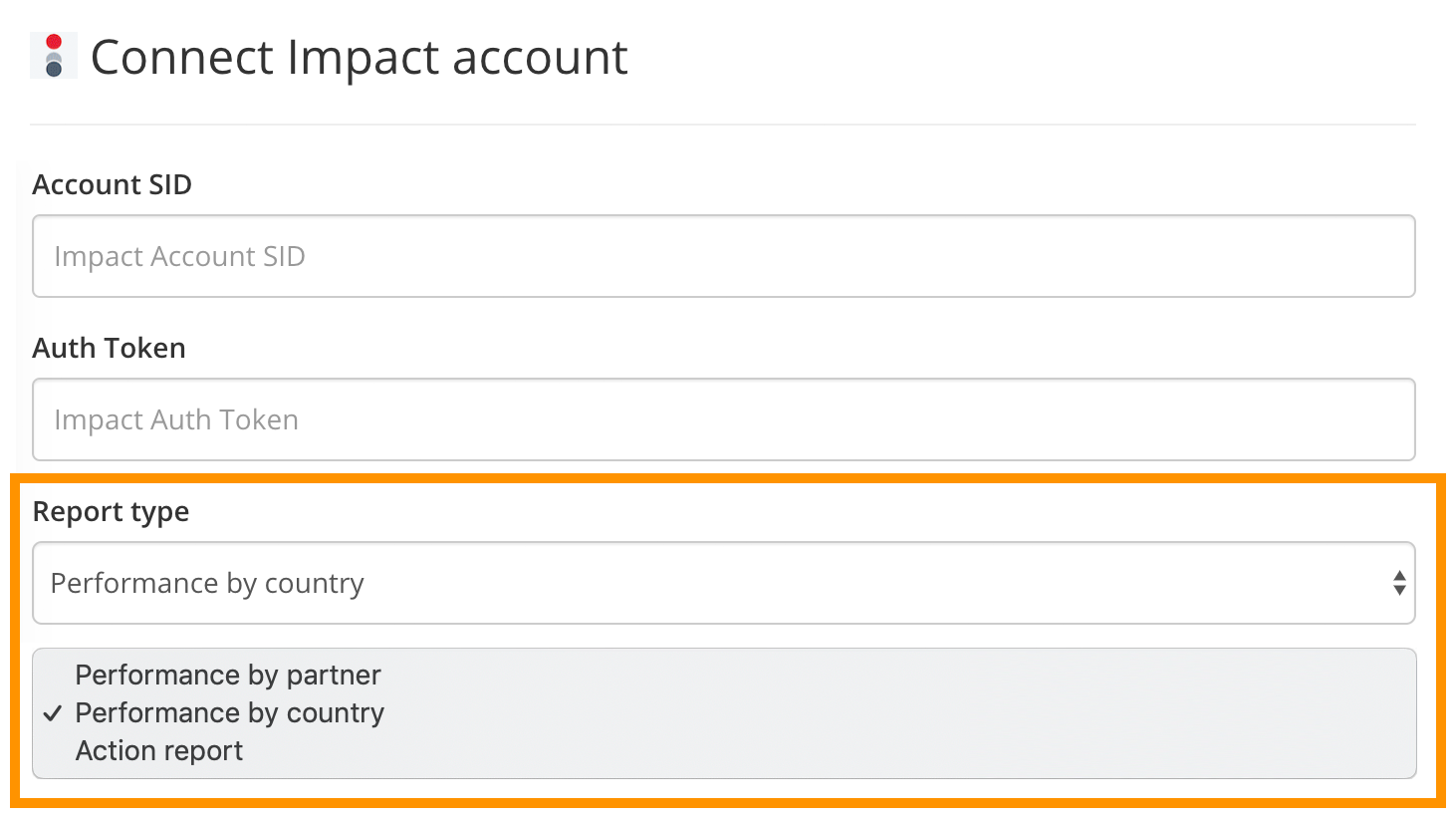 Here's a list of fields currently supported by our Impact connector:

Dimensions

[Dimension] Action tracker ID
[Dimension] Action tracker name
[Dimension] Ad Id
[Dimension] Campaign ID
[Dimension] Campaign Name
[Dimension] Company URL
[Dimension] Currency
[Dimension] Customer ID
[Dimension] Customer city
[Dimension] Customer country
[Dimension] Customer region
[Dimension] ID
[Dimension] Media ID
[Dimension] Media Name
[Dimension] Media partner ID
[Dimension] Media partner name
[Dimension] Network
[Dimension] OID
[Dimension] Promo code
[Dimension] Referring domain
[Dimension] Referring type
[Dimension] Relationship
[Dimension] Type

Metrics

[Metric] Action Cost
[Metric] Actions
[Metric] Actions confirmed
[Metric] Actions open
[Metric] Calls
[Metric] Clicks
[Metric] Client Cost
[Metric] Delta payout
[Metric] Impressions
[Metric] Intended payout
[Metric] Other Cost
[Metric] Payout
[Metric] Raw Clicks
[Metric] Revenue
[Metric] Reversed revenue
[Metric] Total Cost
[Metric] Total business cost

Please note that this list does not cover all fields supported by this connector. This is because this data source generates fields dynamically on a source by source basis. An example being custom actions.
We hope that you find these new reports useful! If you have any question please contact support@funnel.io and we'll be happy to help.