We've just made some major changes to our Klaviyo connector in Funnel. You now have access to more breakdowns, dimensions, and metrics!
When creating a new Klaviyo connection, you can now select Message and Attributed Flow as a breakdown: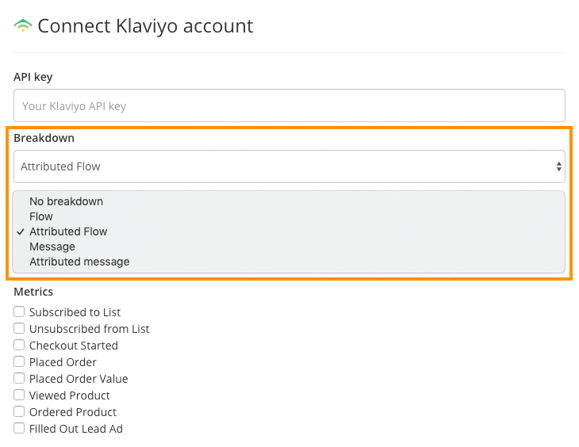 When choosing a breakdown, you'll be able to see and select the metrics you wish to include from the list below.
We've also made some other notable changes to this connector:

- The Flow Message breakdown has been renamed to Attributed Message.
- New dimensions Attributed Message, Message and Attributed Flow have been introduced.
- New rule based dimensions Consolidated message and Consolidated flow have been added.
Please note that the Campaign Name and UTM Campaign breakdowns have been deprecated and the following dimensions have been removed: UTM Campaign, Campaign Name, Send Time and Subject. If you already have an active Klaviyo source in Funnel, these connectors will not be affected.
You can learn more about the data you can obtain from Klaviyo in this article.

We hope that you find this update useful. If you have any questions please contact support@funnel.io and we'll be happy to help :)