We've just updated our Steelhouse connection in Funnel, giving you the option to connect using Steelhouse's latest API which includes additional fields.
When connecting your account to Funnel, you'll notice that you now have a choice between API version 1 & 2: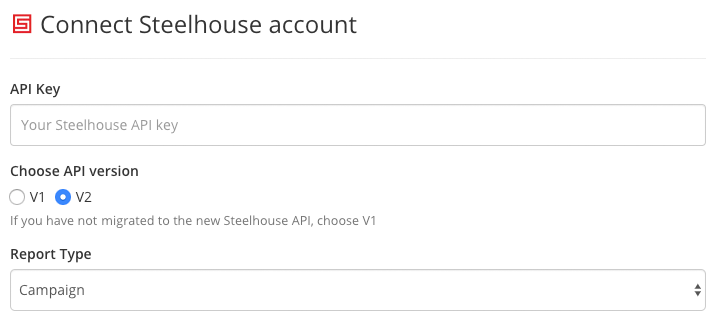 If you've already connected your Steelhouse account to Funnel, you'll need to create a new connection and select the new version in order to access this data. Please note that you'll only be able to access V2 if Steelhouse has migrated your account to the new version.
The new version is segmented by report types. You can only select the 'Campaign' report at present, but this list will continue to grow in the future.

Here's a list of fields supported by the 'Campaign' report:
Metrics

Total Order Value
Impressions
Cost
Verified visit conversions
Verified visits
Assisted Conversions
Assisted Total Order Value
Campaign End Time
Campaign Start Time
Reached users
Completed Views
Viewable Impressions

Dimensions

Campaign Description
Campaign Status
Channel Name

For an updated list of fields and report types, please see this article in our knowledge base.
We hope that you find this update useful! If you have any questions please contact support@funnel.io and we'll be happy to help.