We've recently added some new reports, additional segments, and fields to our DoubleClick Search connector in Funnel.
When connecting a new source, you now the option to select the 'Ad' report which contains the following dimensions:
Campaign
Campaign ID
Ad Group
Ad Group ID
Ad
Ad ID
Ad Headline
Ad Type
Ad Landing Page
Ad Display Url
Ad Promotion Line
Ad Description
We've also revamped the 'Keyword' report to reflect the data you see in DoubleClick directly. You can also enrich the data from this report with ad level data by selecting additional segments: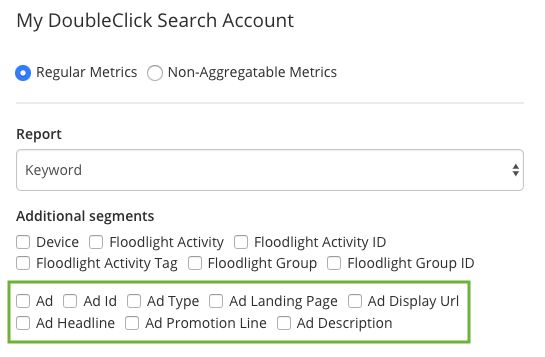 You can learn more about the different reports from DoubleClick Search and what they contain in this article.

We hope that you find this update useful. If you have any questions, please contact support@funnel.io.