We've just added a new section in Funnel called 'Subscription' which provides an overview of your features, Funnel accounts, and users.

This new section is broken down into 4 subsections: Overview, Accounts, Users, and Billing.


Overview
The Overview section displays the subscription status and details of the subscription owner. You can also see the list of Funnel features that you're paying for: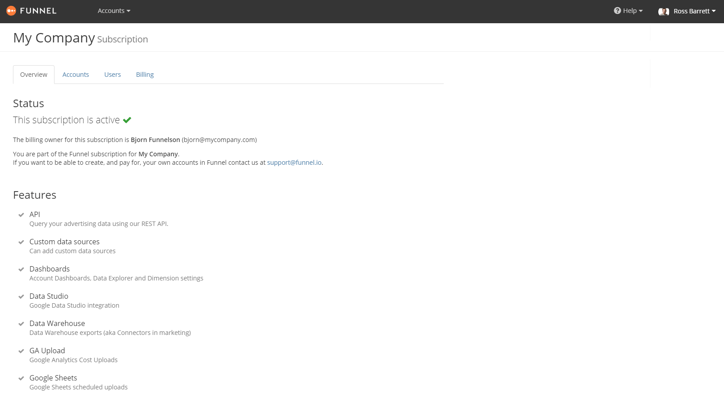 Accounts
The Accounts section lists all of the Funnel accounts that your user has access to. If you're the subscription owner, you can see a list of all accounts under your subscription. There's also some handy links which allow you to jump to a specific account:



Users
From the Users section, you can see a list of all users under your subscription. You can sort this list by name, or group it by Funnel account:



If you're the subscription owner, you can manage which accounts users have access to. You can also use this section to add users to multiple accounts simultaneously: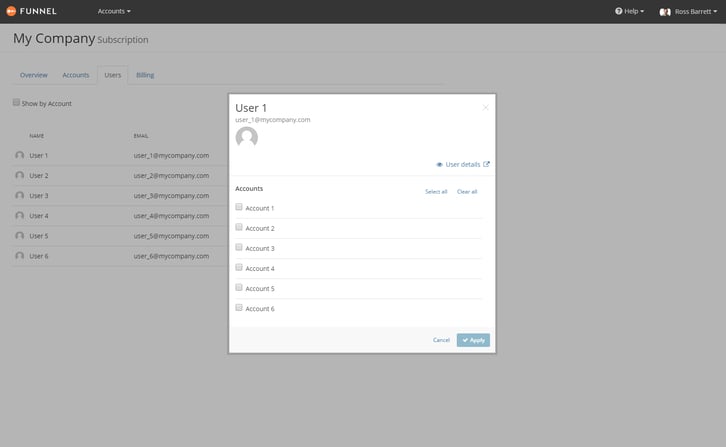 Billing
For the time being, the Billing section will link to the "old" billing page where you can update your billing information and manage your invoices:

We hope that you find this new section of Funnel useful! If you have any questions or if you require any assistance, please contact support@funnel.io and we'll be happy to help.