Data connectors
Collect your data from more than 500 marketing and sales platforms with our data connectors.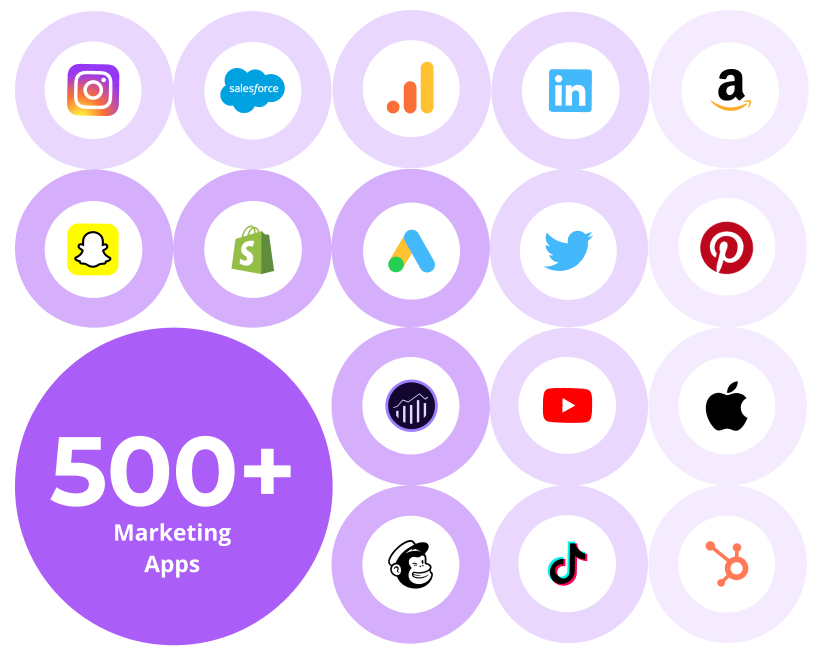 Frequently asked questions
What if I can't find the data connector I'm looking for?
Can't find a specific data source connector? No worries! Fill in the request form below and we will help you get your data into Funnel. We often add new connections to data sources.
What's the difference between Core connectors and Custom connectors?
Funnel's Core connectors allow you to connect to more than 230 marketing platforms and apps, ready to go out-of-the-box. Custom connectors are built on request & maintained by Funnel's data team, this option is available in our Plus and Enterprise plans. You can see examples of Custom data connectors the team has built historically in the list above. Check out the pricing page to find a plan that matches your needs.
How long does it take to build a Custom connector?
We respond to new Custom connector requests within 2 business days, with the new data connectors often released 2 to 8 weeks from the initial request. The exact timing is dependent on the platform requirements, data integration and your validation of the output.
Can I get a free trial?
Of course! We would be happy to set up a free trial so that we can prove how much you will love Funnel. Talk with our team about how Funnel can get your marketing data business-ready without code. Get in touch!
Where can I share the data after data collection?
Our data connectors enable you to share data to multiple destinations, including a data warehouse, Looker Studio, Power BI, Google Sheets and other tools. This way, we allow you to access data where you work. For a full list of destinations, take a look at the
Share page
.
Trusted by 2000+ of world's most data-driven companies