"Funnel has been instrumental in the establishment and evolution of our business intelligence program."
- Scotty Jewett - Director of business intelligence at Digital Reach
Key results:
Within its first year of working with Funnel, Digital Reach achieved a 12x return on investment.
Automated more than 10,000 working hours (annually) on standard reporting alone
Reduced time required for daily, weekly & monthly performance monitoring by 90%.
Reduced data modeling effort by more than 80% for standard datasets
Company profile:
Digital Reach is a digital marketing agency focused on business-to-business (B2B) demand generation and inbound marketing. Originally founded in San Francisco in 2011, the company has grown to 44 employees in 2023.
Data Stack:
Connectors: Google Sheets, Google Ads, Google Analytics, Salesforce, Linkedin Ads, Bing, Ahrefs and many more.
Share destinations: Google BigQuery & Looker Data Studio
The challenge:
Digital Reach is a digital marketing agency specializing in the B2B space, offering a full suite of services including SEO, paid media, and marketing automation.

B2B marketing agencies are acutely aware that tracking full funnel activities is a mammoth task. From identifying customer interest to booked sales meetings and closed business, agencies must connect critical data points across a lot of different platforms.

"(Our reporting) was slow, sluggish, and the majority of our time was spent either manually entering data or performing quality assurance reviews." said Scotty Jewett, director of business intelligence at Digital Reach.

Digital Reach was approaching a breaking point in 2021 when increasingly more time was spent collecting data and tying reports together, which left less time for strategic development. This meant fewer insights (and less agency value) were delivered to customers.

The reporting process involved collecting all the data in different tabs across different spreadsheets and connecting it together in a master tab via formulas and rules. It's not uncommon for businesses to work with marketing data in this way, but it becomes problematic when data volumes and complexity increases – something Digital Reach experienced first hand.

"We once spent 30 hours sifting through our spreadsheet looking for an error that broke our master spreadsheet. Turns out, it all came down to a single misplaced apostrophe in a formula," according to Scotty.
The solution:
Scotty and the team realized that there must be a better way to work with their marketing data and set out to find it. One key must-have on their list of requirements was that their ideal solution must be able to connect to all the platforms they used. The original short list of 28 potential solutions was quickly narrowed down, with Funnel as one of the top three solutions that met all of their needs. From there, Digital Reach started a free trial of Funnel.

During the course of the trial, and speaking to several different team members at Funnel, Scotty and his team became convinced they had found the solution to their reporting challenges.

"It became overwhelmingly apparent that Funnel provided the easiest, most complete end-to-end solution and accommodated myriad data visualization tools," Scotty said of the trial period. "The onboarding process became one of the most frictionless experiences in my 15+ year career in this field".
The results:
Since implementing Funnel, Digital Reach quickly noticed the benefits across the agency.

"Funnel has enormously improved the current state and future outlook of Digital Reach," said Scotty. "It has improved our processes, increased our capabilities, and most importantly significantly changed the day-to-day experience of working in an agency environment. There are fewer people working late, greater peace of mind, and more time spent doing the smart, strategic work they were hired to do."

By eliminating manual processes and tasks required to build and maintain spreadsheets, Digital Reach has been able to save hundreds of thousands of dollars and eliminate more than 10,000 hours of manual work annually. Within the first year of working with Funnel, the return exceeded 12 times their investment.

In addition to the up front benefits, Scotty and the BI team at Digital Reach are building out an expansive suite of intelligence capabilities, which uses Funnel as its backbone. With time, Scotty believes that the BI department can become a profit center for Digital Reach by offering advanced reporting capabilities on top of its solid baseline reporting.
Funnel interviewed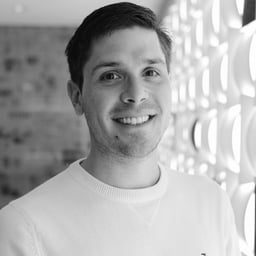 Scotty Jewett - Director of business intelligence at Digital Reach