Dustin is a leading online-based IT partner with operations in the Nordics and the Netherlands. Dustin offers IT products with associated services and solutions to companies, the public sector, and private individuals.
Marketing in 5 countries means marketing data x5
With operations in all of the Nordic countries (Sweden, Denmark, Norway, and Finland) and The Netherlands, the complexity of reporting on Dustin's marketing team's and the company's top KPIs was quite high.
For each country, the Performance team has a dedicated website, as well as separate marketing channels that each country's team advertises in. Just keeping track of all the costs of the different channels, in the different countries, and what was happening on each website led to so much extra work.
It used to take Johan and the team a full day to just bring down the data and do the analysis so that they could look at the numbers in their weekly team meeting. It was a lot of manual work for them, and none of it value-adding to the actual performance of their marketing activities.
No good way to quality assure the data
The Dustin team was using a lot of manual processes, and some based on excel plugins to pull down the data from their marketing platforms. This made it so that the data that they were pulling in may not have been the freshest, most up-to-date data available (especially with advertising platforms correcting their numbers from a couple of days ago when they get new information).
There was no way for the team to quality assure the data - to make sure that the numbers that they were looking at were the ones that truly reflected what was in the marketing platforms.
They can now focus more on the reporting and analysis
Not only does it take the Dustin team significantly less time to get the data, it's also much easier for them to slice-and-dice it into different product segments, country segments, and so on.
"It used to take us an entire day just to get the data and do the analysis, but now we can do it in an hour."
Johan and his team like experimenting with new channels and new approaches, and with the previous process they were able to do so, but it was another channel to add to their list when pulling down the data. Now, with Funnel, they can either select one of our 500+ out-of-the-box integrations and start getting the data in right away, or, if it's a trickier platform, they can work with our Data Operations team to get the data into Funnel automatically.
They've also been able to automate the currency conversion process - so an extra non-value-adding step that has been eliminated for them.
Looking back at data is just the click of a button
Since Funnel collects historical data from all connected marketing sources (and keeps refreshing them based on the most up-to-date data available from each platform), it makes it really easy for Johan to look back at what was happening with their marketing performance a month ago, last quarter, even a year (or more) ago.
Data they can trust
With Funnel in place to handle the data collection, and ensure that the freshest data is available to the Performance Marketing team they can be at ease when analyzing their data.
"Funnel gives us both a way to get quality-assured data - data we know we can trust, and it reduces the manual work for us."
The Dustin team can now focus on all of their value-adding activities, and not have to think about all of the extra stuff that just takes time away -- Funnel handles that.
Funnel interviewed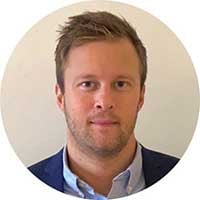 Johan Claar,
Traffic Acquisition Manager,
Dustin Group