Elastic is a search company built on a free and open heritage. Anyone can use Elastic products and solutions to get started quickly and frictionlessly. Elastic offers three solutions for enterprise search, observability, and security, built on one technology stack that can be deployed anywhere. From finding documents to monitoring infrastructure to hunting for threats, Elastic makes data usable in real-time and at scale.
Key takeaways
With Funnel, Elastic can keep track of and stay on budget, with hundreds of campaigns running in markets globally

Monthly reporting is now daily reporting

By having the data available and business-ready, Elastic can decrease year-over-year CPA on LinkedIn

Custom dimensions allow Elastic to slice and dice their data how they need it without writing any code
Manual data collection wasn't scaling
Before Elastic started using Funnel, it took a week out of the month to go into each marketing platform and manually export the data, to clean it up and create a report from it. "We only reported once a month on our marketing activities because it was all I could manage because it was all manual," mentioned Brittany.
And with hundreds of campaigns running simultaneously in markets worldwide, that quickly becomes a cumbersome task. Trying to get all the data to make the reports is a hassle, and then getting it cleaned up and packaged so you can use it in reports is a whole other task.
Brittany needed a solution that would save her time, and help her team scale their marketing activities while staying on budget.
Challenging to maximize the budget
By not having a daily overview of what's happening with the budget spent, they weren't able to maximize their budget each quarter.
Brittany and the team needed a solution that would help them keep track of the budget experiment with new channels and tactics more easily.
Reports for every stakeholder, in minutes not days
"I always tell people the first thing you need is to get Funnel. Paid media is expensive, so you need to use a tool like Funnel that helps you aggregate all that data so you can make more informed decisions." - Brittany Joiner.
What used to take Brittany a week to do now only takes her a few minutes. And instead of reporting every month, she can report daily. From the channel managers to the CMO, each of her stakeholders can all have the reports they need when they need them. "It's taken me from having to say, 'No, I don't have the resources to do that type of report' to, 'Yep, give me five minutes," said Brittany.
She can segment the data the way she needs to with Funnel's custom dimensions, and then export clean data into a Google Sheet where she creates tables and reports. And if Elastic decides to switch their reporting solution, it's just a couple of clicks, and all of that clean data is available in a new place for her.
By implementing Funnel, Brittany and her team now have clean reporting. That's a win!
Cleaner data, and deeper levels of reporting
Creating new groupings of data so easily with Funnel has led Brittany and the Demand Generation team to pack their campaign names with more information that they can use to report on deeper levels.
"I can just change the campaign naming conventions, and we can get really specific. I can slice and dice this data, and you can see these numbers in real-time rather than me having to spend a week or a month on pulling all these sorts of reports," said Brittany.
If they want to report on something new, it's just a matter of quickly creating a new custom dimension in Funnel from that additional campaign name value, and voila! They're able to segment their data however they and their stakeholders need it.
Better data, better business decisions
With data always at her fingertips, Brittany has created a live "budget pacer" to ensure they're using 100% of their budget. Not 99%, not 102%, but exactly 100%.
Their "budget pacer" shows the percentage of budget spent per channel and content type and how much is left. When it's nearing the end of the quarter, she looks at it multiple times a day to make sure she's right on target.
They've also been able to significantly decrease cost-per-acquisition on LinkedIn year-on-year. How did they do this? The biggest difference, Brittany said, is that "I get to act on the data rather than waiting on data all the time."
Right on budget. Better use of budget and greater channel efficiency. This is what Elastic has been able to do with the help of Funnel.
Funnel interviewed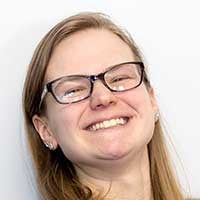 Brittany Joiner,
Demand Generation,
Elastic