Are you finding it hard to understand how your marketing is performing in the context of the current market? You might be relieved to find out you are not alone.
As marketers, we have gotten used to (and forced to, let's be honest) adapt to the rapid changes happening in the advertising industry these last few years. But it's becoming increasingly difficult to keep up.
For example, you might say GDPR was a stepping-stone for the next generation of privacy in digital advertising. Yet Apple also released its new ATT framework in 2020, allowing users to opt out of tracking altogether. This has had significant consequences for digital marketers and their marketing strategies.
What's more, the pandemic, rising inflation, war, global supply shortages, and a potential recession collectively contribute to an impending sense of doom--not to mention the upcoming death of third-party cookies and the following implications as a cherry on top. Yet not is all lost.
With so many moving parts, we thought it would be helpful to map out some of the core factors influencing digital advertising today to see what is happening. Hopefully, you'll come out on the other side feeling more confident about what to do next regarding your marketing strategy and ad spending.
3 factors influencing digital advertising in 2022 and will continue in 2023
A word of warning: in this blog post we are not talking about the well-known trends that you can read about everywhere. Nothing here about machine learning, artificial intelligence or voice search on mobile devices. Instead, we focus on 3 macro trends:
Measurement changes



In 2020, Apple's

App Tracking Transparency (ATT)

broke tracking as we knew it, causing ripple effects on all channels across the market. Apple decided that first-party data is what matters, which in turn, led to the consolidation of companies in several industries.

Moreover, Browsers like Firefox and Safari restricted

third-party cookies

, ad blockers became more commonplace, and legal bodies became harsher with data transfers. All these changes have made digital measurement harder.
Macroeconomic headwinds

Inflation, war, and overall pessimism about the upcoming years have caused a shift in consumer behavior and demand, making it more challenging for businesses to drive growth. Companies now need to work both harder and smarter with their marketing.
E-Commerce back to normal, perhaps

The e-commerce industry isn't continuing its accelerated growth as seen during the pandemic. We could have expected this trend in the digital economy to continue, yet it seems as if the industry is returning to more natural growth levels.

What the pandemic did do, was speed up the process of businesses reaching digital maturity. Now that many companies may have accomplished just that, and as the world faces other challenges aside from COVID, the e-commerce industry faces a different kind of new normal.
Facebook ad tracking as we know it is dead
What made the Facebook model tick, was how they could convert conversion tracking to targeting, along with cross-app tracking. They also kept track of what you were up to on other apps.
Because Meta knew a lot about their target audience, who saw an ad and then converted, they could easily find other people with similar demographics. These are most commonly referred to as lookalike audiences, who would then be shown similar ads--all the while optimizing their targeting and increasing their understanding along the way.
Better tracking across platforms provides your business with better data. Better data also leads to better targeting, which will lead to a higher return on ad spend (ROAS), as you'll acquire more sophisticated insights about who is converting and start working more efficiently.
As your ad spending increases, it generates more revenue for the platforms. However, due to the new ATT Framework, Apple hit the brakes on the first step (tracking), which ultimately limits everything that follows regarding data insights. For example, according to Common Thread, an agency of entrepreneurs, ROAS on Facebook dropped by close to 25% year-on-year from 2020-21 to 2021-22.
In summary, fundamental changes are affecting digital measurement as we know it. Increased user privacy is one; consumers expect more control and transparency on how their data is used and stored. Platform changes are another, addressing these heightened controls, impacting traditional data collection through third-party cookies and device identifiers. And finally, global regulations are starting to dictate how companies can collect and use consumer data.
The ad market oversimplified
Naturally, advertisers follow where people spend time or where there is clear buying intent.
Consumers increasingly spend time on TikTok (over 90 min daily), making it an increasingly popular choice for advertisers. Something we clearly observe in our customer base. Video ads were in the first place for advertising on YouTube, but might now become 'TikTok first'.
Alongside time spent on a platform, the search intent is valuable. A person searching for "adidas sneaker deals" is clearly at a point in their buying journey where they are ready to make a purchase.
With Google, you are doing them the favor of telling them what you're interested in when you search, and doing all of this within one ecosystem - Chrome.
Google is a dominant player in this space, but Amazon is increasingly becoming a search destination of its own. On the back of this search interest, Amazon has become the third largest digital advertising platform with $31 billion in ad revenue in 2021.
Here's how the ad market looked like back in 2016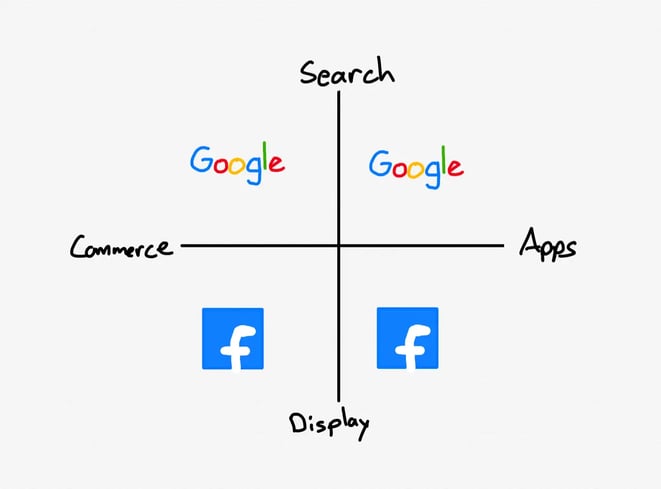 This is what the market looks like now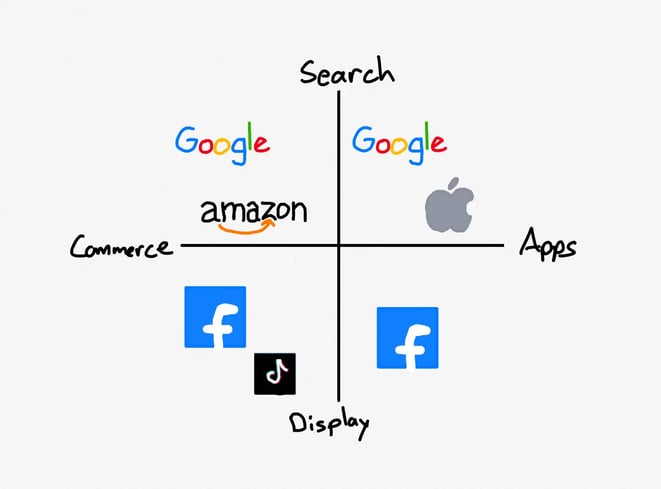 Other significant changes
Walmart and Macys are becoming their own ad platforms, implementing the same model as Amazon. For example, Walmart made 2 billion in ad revenue and other companies, like Uber and Netflix, are also jumping on the advertising bandwagon.
If we think about the ad market in 2016 in two categories--E-commerce and Apps on one end and Google search and Display Ads on the other--we can say Google dominated search and Facebook (including Instagram) dominated display ads up until recently.
This is still true for search, but if you want to buy online, you go to Amazon. Amazon has now become the third biggest advertising platform in the world. If you're looking for apps, you go to the App Store, and in terms of Display ads, companies sway toward TikTok. And even if Google is still the king of search, Tiktok is starting to challenge it as Gen Z turn to Tiktok to search for answers.
All in all, we're seeing a major shift in a previously dominated space by two companies, Google and Facebook. The duopoly is under attack by new rivals, as Amazon, Tiktok, Microsoft, and Apple start to take a share of the pie in digital-ad revenues.
Macroeconomic headwinds
Inflation and consumer confidence
Inflation and consumer confidence matters because it impacts consumers' spending habits, which means advertisers also spend differently.
To oversimplify: as consumer confidence wanes, so does their willingness to spend money on non-essential products and services.
All of this makes it harder to acquire customers, which, in turn, drives up the customer acquisition cost and makes advertising less effective.
B2C businesses are already affected, and so are their suppliers.
As businesses see less growth, they become more cautious when purchasing new products or deciding where to invest their marketing budget. The focus on efficiency becomes imperative.
Measuring how confident consumers feel
The Consumer Confidence Index shows consumers have similar feelings towards the current state of the world as they did during the financial crisis in 2008 and the onset of covid.
This could indicate how consumers will behave and their future spending patterns, which is key to how companies optimize their marketing to generate revenue.
What is going on in e-commerce?
After the spike in 2020 due to the pandemic, e-commerce is returning to more natural growth levels. What is worth noting is that the shift has pushed companies in their digitalization to reach a level of online maturity, which they might not have achieved as fast.
The diagram below illustrates how e-commerce adoption in the US is returning to more natural growth levels. A similar trend could be expected in other parts of the world too.
How might this affect ad budgets?
What Google has to say about ad spend
The plans businesses had on how to spend their advertising budgets on Google appeared to be similar to last year.
However, it is worth noting that Google search excels at capturing high intent. Companies are likelier to reduce display ads, video ads and brand advertising, such as billboards, Tiktok, or Youtube first.
Gartner
According to this Gartner survey at the beginning of the year, most CMOs claim that their ad budget will remain the same, although not quite reaching the same levels as pre-covid. Let's see how that changes in the coming years.
Key takeaways on how to hit the curve balls that keep coming
Hopefully, this blog post helps your understanding of the marketing and ad industry's current state. Now, four things to consider going into 2023.
1. Expect the unexpected
It's safe to say that we are in the middle of a volatile period right now, which means it's wise to expect the unexpected. The uncertainty in the industry just proves that it's more important than ever to stay on top of what's happening, understand your performance, and stay updated by talking to others in the industry.
2. Have a holistic understanding of the market right now
Make sure to zoom out and understand everything as a whole. Try not to focus too much on why one specific campaign is underperforming. This will give context to your recent performance overall and help highlight what your focus should be moving forward.
3. Plan for next year
Forecast and track which data points to remember to help educate your decisions. Better data means you're better able to make more informed decisions. Create a flexible strategy that adapts to change, and keep an agile mindset to help you navigate it. Adjust your targets as you go because everyone is uncertain right now.
4. Realize you've got this!
As marketers, we've been in this position before with significant changes, such as GDPR. Let's not wait until the dust settles to find a new normal. You can handle any curve ball thrown your way.