The Data Operations team at Havas Media Group London is responsible for downloading, transforming, and presenting advertising metrics to their clients. When Roger Fletton joined as Head of Engineering in mid-2019, he was tasked with updating and standardizing the cumbersome processes they had in place.
Even more pressing, was the 10 standardized dashboards that the team was asked to create for their clients within a 3-month period. In order to standardize client reporting and create a reliable and scalable way to collect and normalize data, finding a solution to automate the process was vital for success.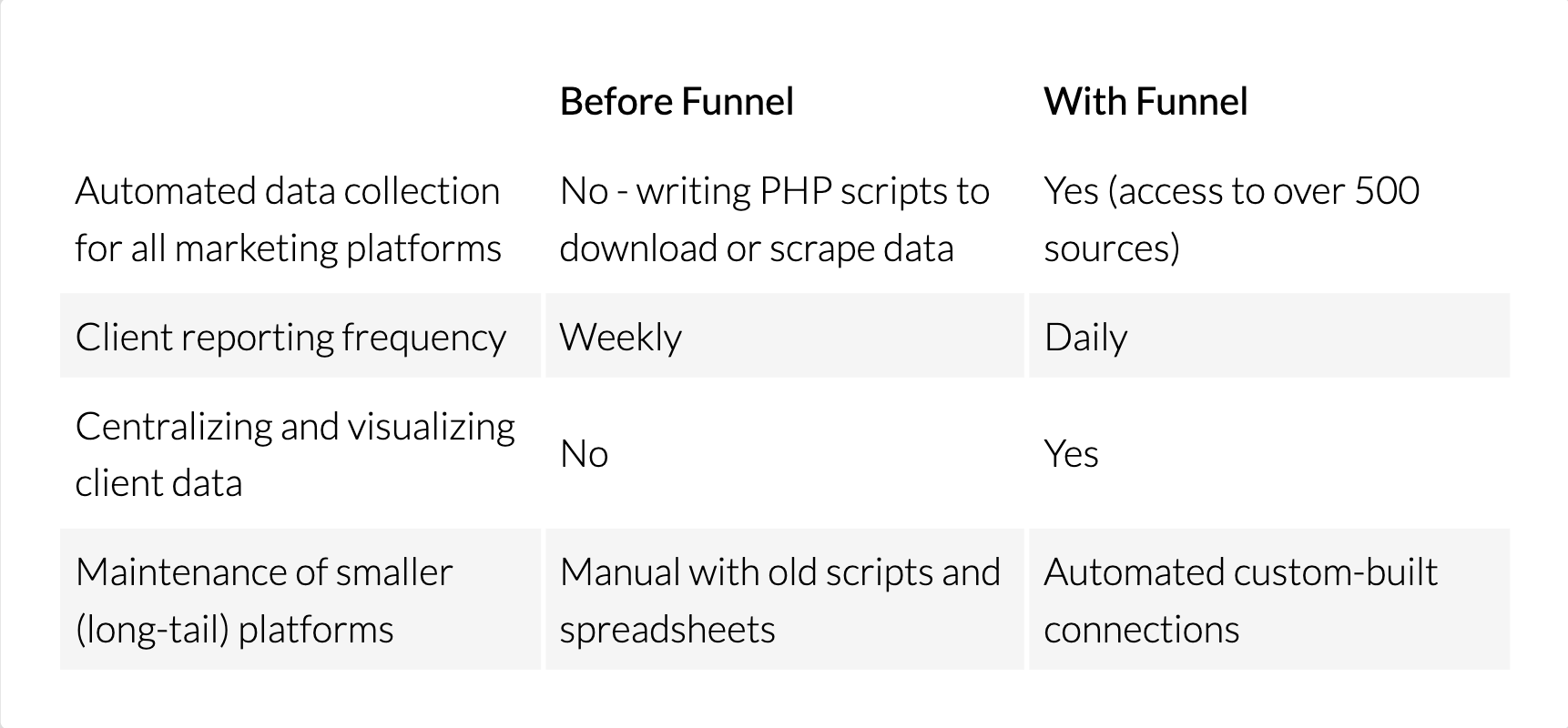 Not enough time or internal resources
Before switching to Funnel, the solution they had in place was time-consuming and costly to maintain. The data from certain ad platforms was downloaded with old PHP scripts that required specialized developers just to keep them running, while others required the data to be entered manually into excel sheets.
"Keeping these old processes maintained would have required dedicated resources and this wasn't the direction I wanted to go." - Roger Fletton, Head of Engineering
Downloading the data, maintaining the scripts, and creating the dashboards took 2 full-time employees, roughly 80 hours per week.
Couldn't fully trust the data
Not only were their methods of gathering data time-consuming, but other problems also presented themselves. There was no way to receive alerts when a PHP script failed, so when a problem was finally detected it could take hours or days for the team to fix it, meaning that data could be missed.
Since marketers were required to manually collect data from certain ad platforms and enter it into a spreadsheet, it would not always be accurately reported, simply due to human error. This meant that they had to endlessly review the data to ensure they were painting an accurate picture for their clients.
The Solution
After implementing Funnel the team is now able to improve the way they work with their clients' data. With Funnel, they are able to easily export their now centralized client data into Google Cloud Platform (either Cloud Storage or BigQuery) and push it to multiple visualization tools.
Havas Media Group London's marketing reporting stack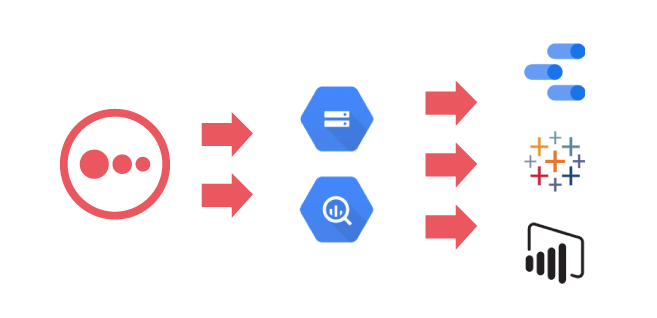 Simple, automated, and up-to-date
The Data & Reporting team was able to see immediate ROI when they started using Funnel. Within 6 weeks, Roger and his team built a new and improved process based on Funnel and reduced the amount of time and resources spent on integrations.
They can now trust the data, they don't have to worry about human error, and they don't have to maintain any scripts themselves.
"I like the absolute simplicity of it, and that data is always pulled across in a timely fashion. If anything needs to be fixed or updated, Funnel takes care of that for us so our development team doesn't need to waste their time on it." - Roger Fletton, Head of Engineering
For the more obscure platforms with limited reporting capabilities, Funnel is continuing to help them find ways to replace their manual processes with automated ones.
One client team, in particular, deals with a large number of obscure ad platforms and they lack the ability to create automated reports. The team has been stuck with the old processes and didn't see a way out. When they heard that Funnel was able to help with these types of platforms, they reached out to Funnel for advice. The Funnel team is currently helping them automate the process for 18 advertising sources that they had been managing manually.
More frequent reporting
Not only does the Havas London team get the benefit of being able to spend more of their time on the analysis and reporting, but the clients have also seen the direct benefits of Funnel.
They could only report to their clients on a weekly basis in the past, but they can now generate reports on a daily basis which their clients didn't even realize was possible.
"They used to be happy with a weekly report, but now they're asking how much quicker can they get it. They can log in and see data from the same day, which was unheard of before Funnel." - Roger Fletton, Head of Engineering
Their clients are able to see their data faster and with more consistency. The team is able to focus more of their time and effort on delivering and analyzing the data since they've eliminated the manual data collection and transformation process.
Sending data to where their clients want it
With all of their clients' data available in one place, they are able to offer more flexibility in where they can view and analyze their data. The time and effort that the Havas London team needs to invest haven't increased either, which is an added bonus.
The team has started with Data Studio as the main reporting tool for their clients, but they plan to soon offer their clients the ability to visualize and analyze their data in Tableau or PowerBI. With Funnel, changing visualization tools is a seamless process for the team and they are able to deliver even more value to their clients.
Funnel interviewed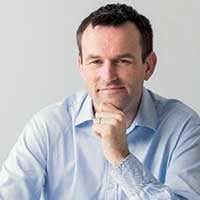 Roger Fletton
Head of Engineering
Havas Media Group London