We're wishing for some cold weather, snow and a little bit of Christmas cheer in the last couple weeks of December before we wrap up 2022. Until then, let's enjoy the product updates from last month!
This month's video summary is presented by Robert Åman, Analytics Engineer at Funnel.
Stable schemas in Looker Studio, Tableau and Power BI

Data Shares now have a stable schema that does not change unless a user explicitly edits them. Renaming or removing fields in a Funnel Workspace will no longer run the risk of breaking a dashboard. Users also need to confirm schema breaking changes (removing fields) and it's no longer possible to save a Data Share with formula metrics that have missing dependencies. In short, this will provide you with more stable dashboards that are less prone to breaking!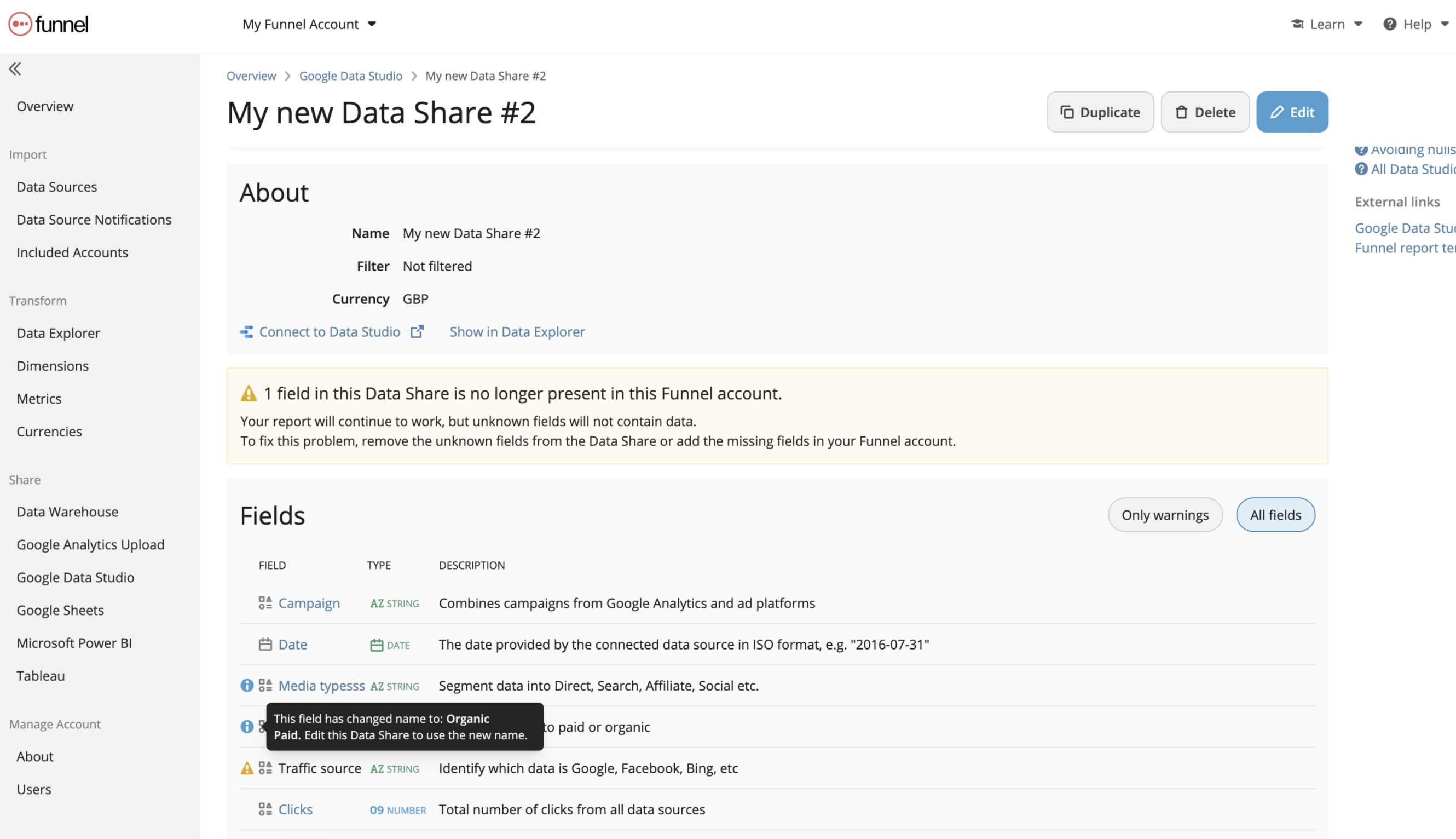 Copy custom fields to other Workspaces
We have added a new button that allows you to copy custom fields into other Workspaces. When viewing a custom metric or dimension, you will see this new button in the top right called "Copy to other accounts" (i.e Workspaces). The selected Workspaces will receive a copy of the field with the same ID. This is helpful if you use the same custom dimension and metrics across many different Funnel workspaces and would like to easily update new/changed rules between them.
Transparent standard rules for date
We have added the ability for users to see how each connected data source contributes to the built-in date dimension in Funnel by showing this as standard rules. This will make it easier for you to understand your data, especially when a connected data source has several date dimensions. The rules are read-only and available for some data sources right now. More will be added continuously.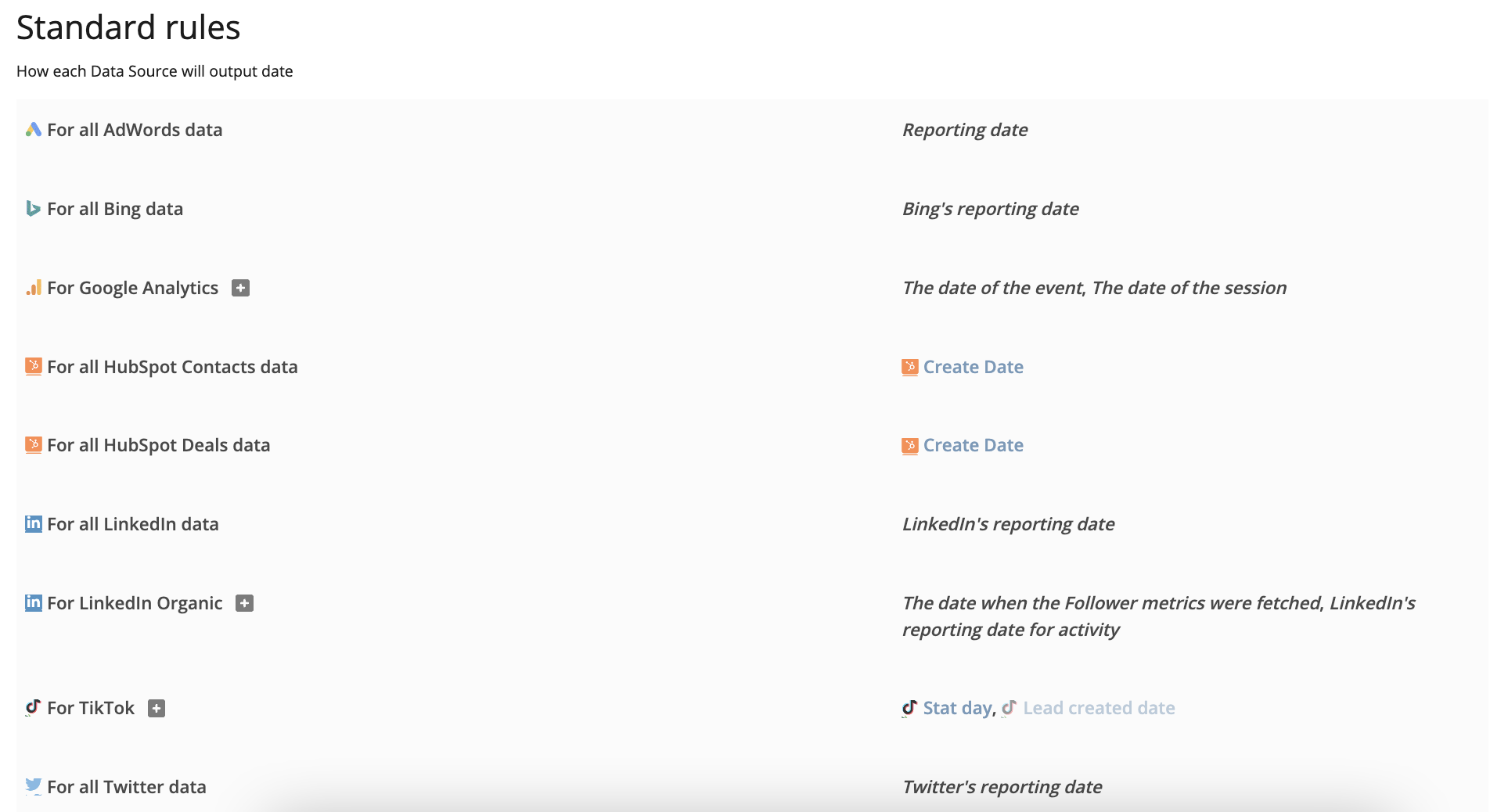 Data Warehouse list page customisable columns and redesign
We have redesigned (and made a more compact layout for) the Data Warehouse list page that we hope you will like. But we didn't stop there. We have also made some updates to the columns to add more flexibility. It's now possible to select which columns you want to include and in what order they should appear. You can also sort the listed columns by ascending or descending order.


Copy Google Sheet share from other Workspaces
It is now possible to copy Google Sheet share setups between Workspaces, helping you to scale quickly.


Google Data Studio is now Looker Studio
As you probably have heard, Google Data Studio has been renamed to Looker Studio. The new name and rebranding are also reflected within Funnel and in our help articles.


Funnel Accounts are being renamed to Workspaces
We are changing the name of the Funnel objects known as "Accounts" to "Workspaces" in the Funnel app. This also means that certain features, such as "Included Accounts" will be renamed to "Included Workspaces" over the next few weeks. Nothing will change in terms of functionality, this is simply a name change to better reflect how this object is used!
New fields and metrics
We have added a lot of fields and metrics to our connectors like TikTok, Instagram, Twitter and Teads. And as always you'll find a complete list of updates in our blog post.
Other updates
Marketers reveal a lack of confidence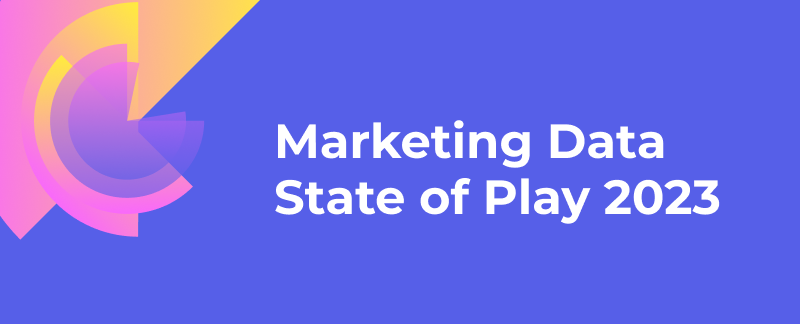 Our latest study discovered a shocking lack of confidence in data skills and technology. To unlock the power of data, marketing teams need a single source of truth and data-fluent people who can rise to the challenge. Go to Marketing Data State of Play 2023 to learn more.