Richard Grenfell-Hill after his keynote speech on 'Managing budgets in times of crisis.'
How do you continue to deliver on your performance marketing goals in a recession? That's exactly the question we sought to answer at a recent panel discussion.
Gathered in a bright shared workspace in London's vibrant Soho neighborhood, Funnel's James Ireson and Silvia Cugno lead the discussion with some of the brightest minds in digital marketing. The panel included:
Laricea Ioana Roman-Halliday, head of marketing for Dorothy Perkins, Butron Wallis at Boohoo Group

Clotilde de La Noue, senior performance marketing manager at the Financial Times

Nicholas Kowalski, EMEA senior digital analytics manager at McCormick & Company

Ben Brown, senior vice president of media EMEA region at Media.Monks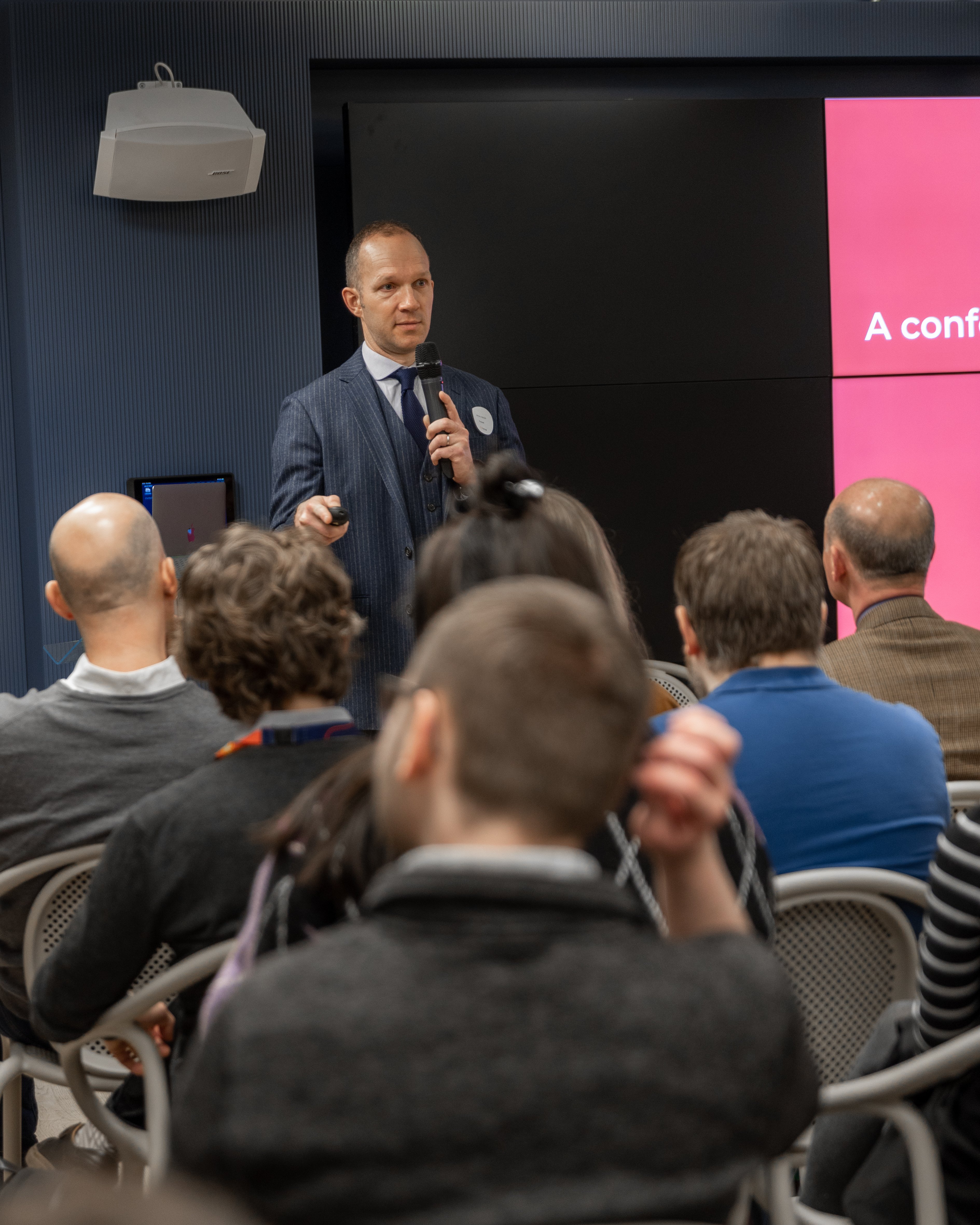 The discussion kicked off with Ben Brown thinking back to how he was able to innovate and maintain brand spending during the last major recession.
Remembering the 2008 financial crisis
Prior to his work with Media.Monks, Ben was working with Vodafone as part of their sponsorship of the Mercedes-McLaren Formula 1 team. As it is a sizable investment, these sponsorships are often looked at critically.
Then, win Ben's recollection, the financial crisis hit, and the skepticism hit new heights. However, he recalled one of his greatest learnings from that time, which came from the CMO, "Don't panic!"
"We're still going to be a business tomorrow," relayed Ben. "We're still selling. We still have customers."
The CMO also said to expect leadership to challenge the current marketing strategies. And while an F1 sponsorship may seem expensive, if the underlying data shows it's effective, then it should stay in place.
Ben's experience aligns with modern-day data – particularly from LinkedIn's B2B Institute. According to the institute, drastically cutting back or ceasing marketing outreach activities in a recession may seem like a money-saving effort. However, it will affect your business in the long run.
The reason is that some of your competitors will continue to spend on marketing and advertising in a recession. If you're not keeping pace, you're leaving the door open for those competitors to steal your market share. Then, when the recession subsides, you're suddenly left in a challenger position, trying to regain that lost market share.
Ben also shared another learning from the sponsorship experience: rough economic times present an opportunity to innovate. In his case, he was locked into the sponsorship spend, but they could shift their activities to purely digital efforts. This allowed them to measure everything, gather data, and more easily show direct performance to leadership.
Concurring insights from the gambling industry
Laricea echoed this sentiment. During the pandemic, she was working for a gambling firm. As the economic effects of the pandemic began to set in, there was tremendous pressure within the company to slash marketing budgets. However, not all budgets would be treated equally.
In the view of leadership, the performance marketing budgets would be maintained while brand marketing budgets would be cut. The likely motivation was that the success of performance marketing efforts could be easily tracked and are much more closely linked to conversions and sales.
However, Laricea knew cutting the brand's marketing efforts would hurt them long-term. She just needed some data to prove it. Luckily, she had an in-house team of data analysts who could run a few different models. She split the group into three teams to model the effects of increasing, maintaining, and decreasing spend. The results:
Increasing spend would lead to a 4.6% increase in post-pandemic market share

Maintaining spend would lead to a 0.6% increase

Cutting spend would mean a 2.8% decrease in market share
Pretty clear results. With this data in hand, she could make the case against slashing budgets. And if you don't have a team of ace analysts at your disposal, Laricea recommends seeking out comparable industry benchmarks.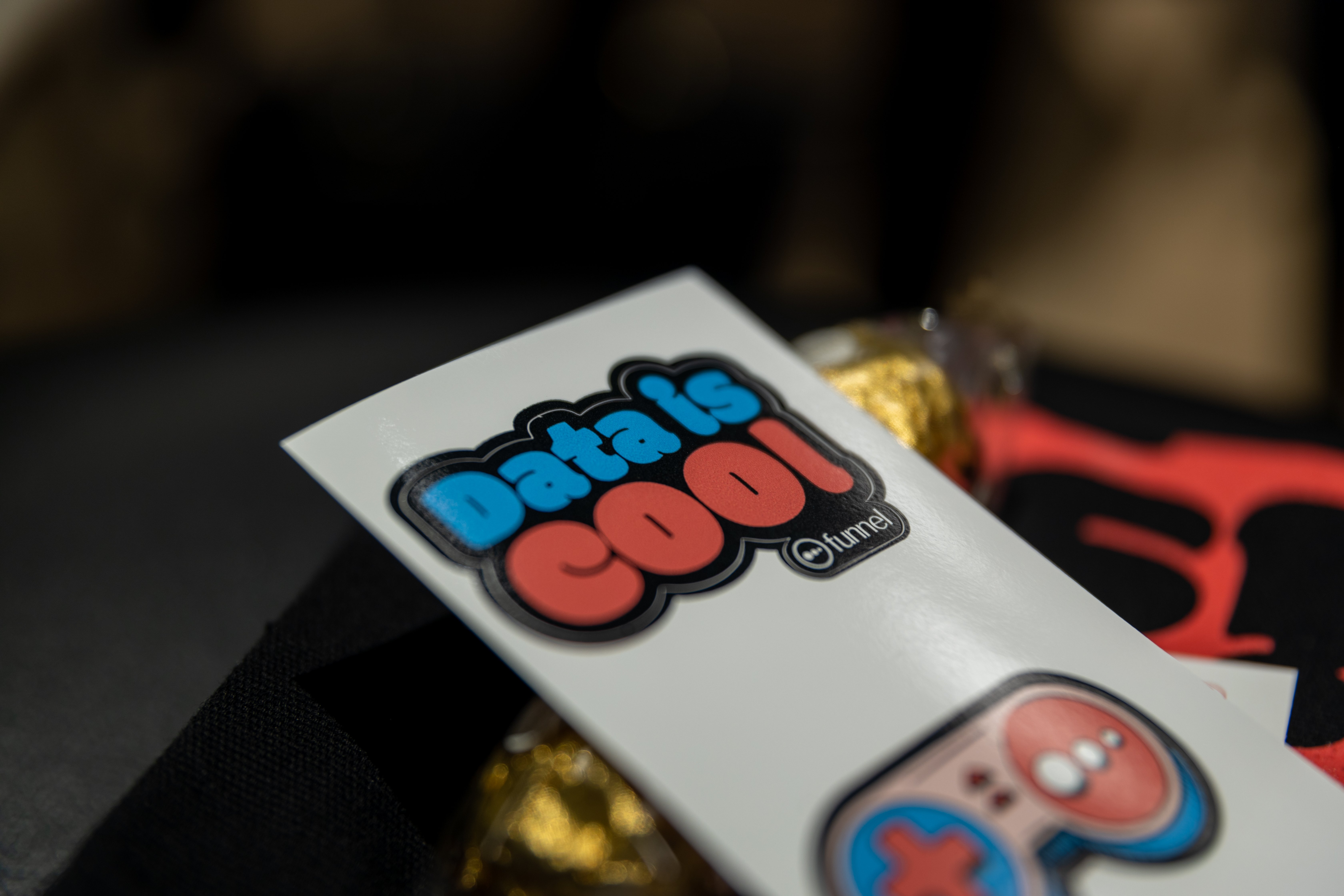 Fast forward to fast fashion
Laricea says that the fashion industry, in general, is also going through a bit of a crisis at the moment. Whether it's high-end couture or fast fashion, it's one of the first things to be cut from the budget of general consumers during an economic slowdown.
Again, the knee-jerk reaction is to cut marketing budgets. However, it's important to find the opportunities to push back, despite how challenging that may be. In her current role at Boohoo, they use a lot of brand advertising channels, including TV, partnerships, influencers, and more. So how does she show direct, measurable results from the brand awareness initiatives?
"The frank and honest answer is we don't," said Laricea with a grin.
Instead she looked at ways to cut the budget from surprisingly underperforming channels and shift that money to strategies she knew were effective. For instance, a deep analysis of paid social showed that they were actually losing money for every sale converted through Instagram ads.
She also recommended being creative with owned channels. For instance, her data showed that those who downloaded the brand app were spending seven times more than those customers who didn't download it. That prompted a strong push in SEO efforts and messaging to drive as many app downloads as possible.
Reinventing live event spending
Adding to the emerging theme of taking the opportunity to innovate, Clotilde spoke about her experience when starting work at the Financial Times during the pandemic — specifically, their FT Live brand.
FT Live was responsible for all of their live events until Covid halted live events around the world. So, Clotilde and her team had to innovate.
All events had to be shifted to the online space, of course. However, the digital event experience can't justify the same price point as a flush live event. Price points for the digital events were markedly lower, meaning they would have to reach new audiences through new communication methods to hit their revenue goals.
The solution was to reach a global audience through paid social and paid search. The only trouble was that this was an entirely new endeavor for the brand. Without any past experience or benchmarks to measure against, budgets were tight. The ability to measure success was placed at the forefront.
As Clotilde recalled, there was a lot of testing, learning, and iterating. They were setting the benchmarks as they implemented the campaign.
By focusing closely on a few key metrics and communicating clearly with the brand stakeholders at every step, she was able to turn the opportunity into a success.
"You have to justify yourself," said Clotilde.
Luckily, she and her team could do just that with an outreach strategy that utilized highly measurable channels.
A data analyst's perspective
With all the talk about finding the measurables that can make a difference when justifying your marketing budget, the discussion shifted over to Nick's views on what metrics really make the difference.
"It's far too easy to pull out a standard chart and say, 'this is how many clicks we've had,'" said Nick.
In his view, it's important to work closely with brand and business teams to understand the deepest questions that they want to answer, then determine what metrics answer those specific questions.
For instance, while you can look at a metric like attribution, it doesn't necessarily give the truest picture of what's happening. Every digital ad platform, from Facebook to TikTok, will claim attribution.
"You still need to look at things like econometric models" to get a fuller picture, said Nick. "Incrementality testing is quite important, too."
In his view, it can be quite challenging, and it is almost industry- and business-specific.
For instance, Nick had also spent some time working for gambling clients via an agency. He explained that the gambling industry looks at customer acquisition costs very differently than some more traditional businesses. That's because a single customer can drive a massive lifetime value in the thousands of pounds. As such, a CAC of £300 is acceptable.
The data analysts will then pour over their spending habits to see how large a gambler they are and their churn risk. They then compare the reduction in churn risk (say, reducing the likelihood by 1% each month) to the increase in the lifetime value for the average customer.
Key takeaways from the panel
Across the entire discussion and the interviews afterwards, seven key takeaways seemed to emerge:
Avoid short-term savings that will negatively affect brand value and sales.
Think outside the box and learn from companies that thrived by being innovative during a crisis.
Look for alternatives ways to maintain your brand building spend.
Avoid shutting down channels completely.
Analyze the data and compare it with long-term metrics.
Focus on the lifetime value of your customers.
Carefully measure your marketing budget to make better decisions.
It's up to marketers to push back against short-term thinking and maintain budgets for long-term brand building. Otherwise, you risk losing market share when emerging from a recession.