Top Adverity alternatives to consider
If you are looking for a marketing data solution like Adverity, you may also want to look at similar alternatives or competitors. Read on to discover the top six alternatives.
Perhaps Adverity isn't the best product for your organization or doesn't quite meet all of your requirements. Maybe you prefer a platform that offers a better user interface (UI) or is less expensive. Regardless of the reason, it's never a bad idea to explore your options. There are several, so you might as well learn about them.
We have compiled the six best Adverity alternatives so that you can decide which is best for your specific needs. This includes solutions like Funnel, Supermetrics, Looker, and Fivetran. But before we dive into the available alternatives, let's quickly look into Adverity itself.
Adverity overview
Adverity is an end-to-end platform for data analytics. It offers automated data aggregation, data analytics, and data visualization. Its features also include data governance, a data transformation engine, reports, and dashboards.
One of Adverity's downsides is that it's a very technical product which is difficult to operate without support from Adverity staff, and a steep price model. Marketing professionals may be looking for the best Adverity alternatives because they are looking for a solution that is easier to set up and use, and with more scalable pricing.
Depending on your current technology stack or operational needs, selecting Adverity may require investing thousands of dollars to integrate and run the system.
With that in mind, let's explore the six top Adverity alternatives.
Top 6 Adverity alternatives
1) Funnel (yes, it's us😊)
Funnel is a marketing data hub that helps marketers truly understand their performance. It generates clean, accurate data that is always up to date. Their (okay, our) mission is to help marketers like you become better data-driven professionals.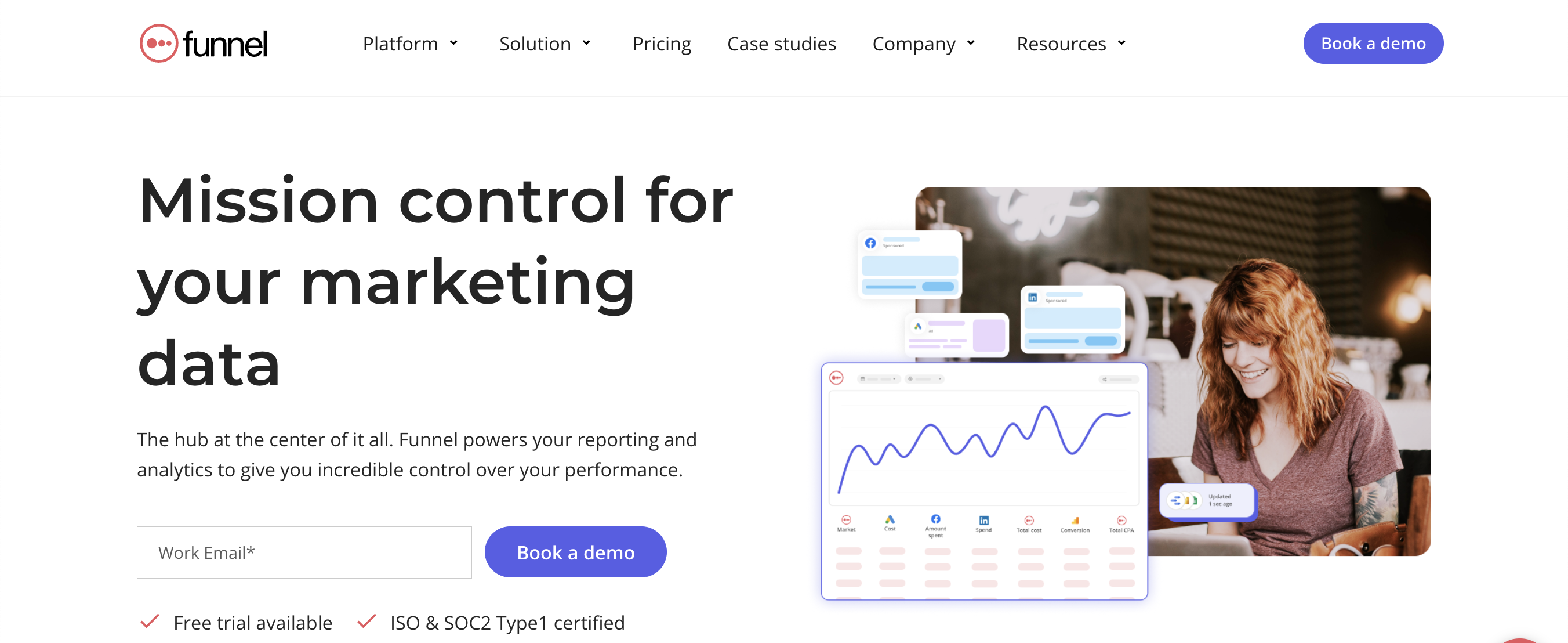 Funnel helps more than 1,800 customers to improve their marketing performance and drive their business forward. It gives you the ability to collect data from all your marketing platforms including your CRM, ad platforms, and analytics software. It's part of the reason why market leaders like Home Depot, Havas Media, and Samsung choose Funnel.
Funnel also helps transform your data with recommended and customizable rules.
You can even use Funnel to explore and find new insights. Then, let Funnel share data to your visualization apps or data warehouses to give your team real-time insights whenever you need them.
Should you choose Funnel over Adverity? This side-by-side comparison should help you decide. You'll find that Funnel:
Doesn't require any coding
Fast onboarding
Offers a Data Explorer
Funnel pros
Excellent support team that usually finds solutions within a day
Data Explorer helps users check data for accuracy before sharing to a dashboard or data warehouse
Straightforward user interface makes functions easy to find and use
Trackable data and insights make Funnel a valuable asset for data-driven marketers
Funnel cons
Custom connections are only available in Plus & Enterprise plans
Third party platforms needed to visualize the data
Screenshot from G2 (May 11, 2023):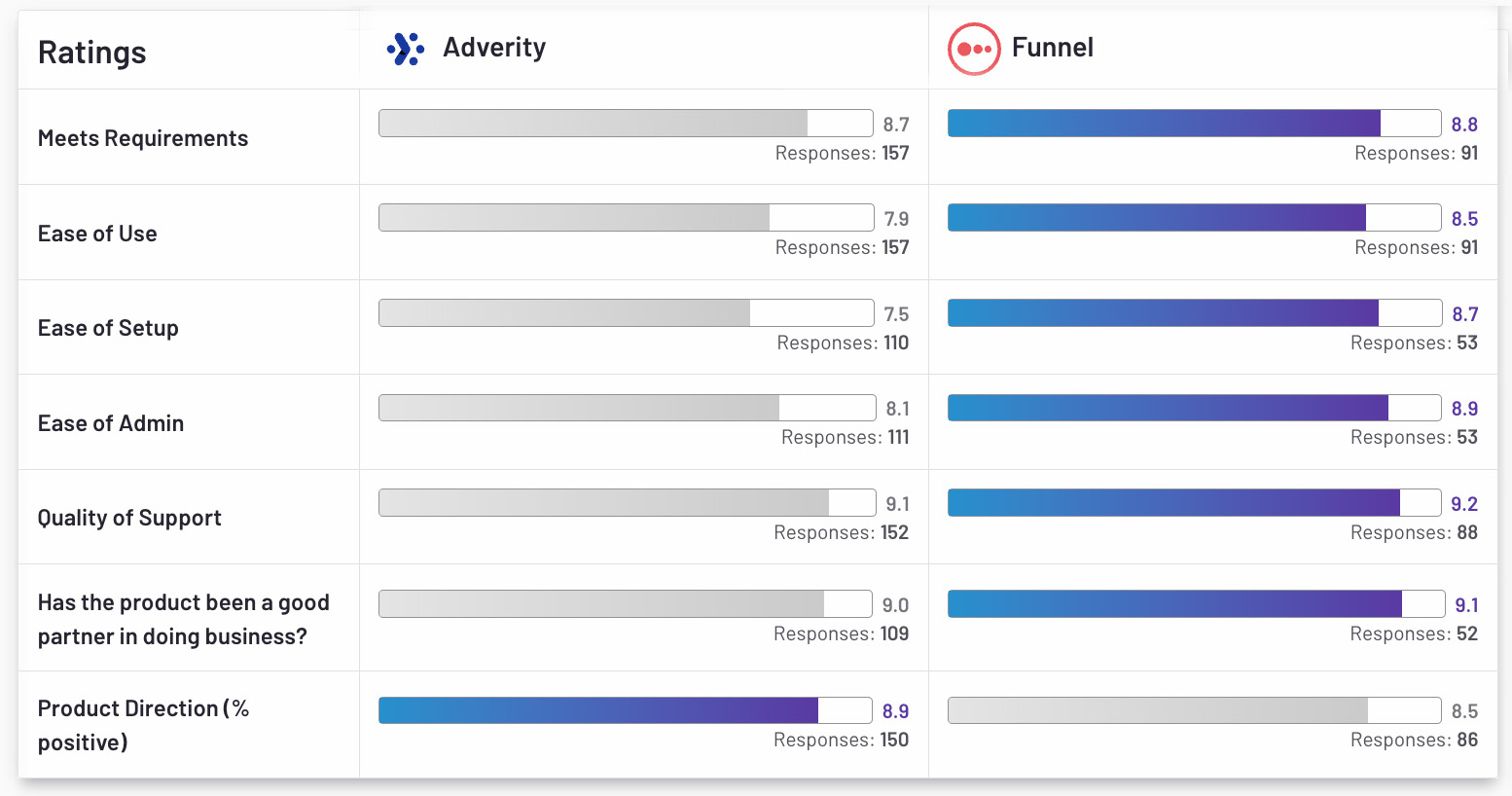 Funnel pricing
Funnel offers flexible and transparent pricing that starts at $399 per month. They also have specific packages for agencies and serve large enterprise companies with tailored pricing.
If you want to see how Funnel works, you can always book a free demo.
2) Improvado

Improvado is a marketing data platform that can consolidate data from over 300 sources, aiming to provide a comprehensive view of a company's marketing performance. The platform offers marketing analytics tools, from data extraction and normalization to custom visualizations and dashboards.
According to the Improvado website, their platform helps marketing teams attribute revenue, forecast ARR, and measure complex metrics across channels. Centralized marketing and sales data is said to improve cross-team collaboration and provide users with an alternative to spreadsheet analytics through visualization tools.
Improvado pros
Gives clients a dedicated contact for support
Comes with a long list of native API data connections
Out-of-the-box functionality, even for inexperienced users
Improvado cons
Slow support services (maybe those dedicated contacts have too many clients?)
Support contacts aren't native English speakers, which can frustrate some users
The data visualization tool doesn't offer as many customizations as competitors
Improvado pricing
Improvado currently requires you to speak with a member of their sales team before sharing any pricing information.
3) Supermetrics

Supermetrics streamlines the delivery of data from more than 100 sales and marketing platforms into the analytics and reporting tools that marketers use to make better decisions.
With Supermetrics, businesses can aggregate siloed data from marketing and sales platforms, such as Facebook Ads, Google Analytics, and Instagram. They can choose a few different destinations to collect the data, such as Looker Studio, Google Sheets and Microsoft Excel.
The result is greater insights into your marketing data, considerable time and cost savings by eliminating manual copy/paste processes, and improved marketing performance based on data-backed decisions.
Supermetrics enables marketers, and the analysts and engineers who support them, to spend more time using data and less time moving data.
Supermetrics pros
It's a relatively easy to use product
Flexible metrics let you generate custom reports
You can create queries in Google Sheets instead of doing everything from inside Supermetrics
Supermetrics cons
The 10-account limit makes it hard for marketing teams and agencies to grow
You'll need an enterprise account to access some fairly basic features
Supermetrics are often slow to update when platforms, like Google, change their API connections, causing user-facing dashboards and reports to break
Supermetrics pricing
The amount you spend using Supermetrics depends on the data destinations you choose. For example, connecting with Monday.com starts at $19 per month, while connecting with Google Sheets or Microsoft Excel starts at $99 per month.
Unfortunately, the company doesn't publish its prices for most data destinations. You need to contact sales to get pricing for multiple data sources and destinations, including Snowflake, BigQuery, Amazon Redshift, and Azure SQL Database.
4) Fivetran

Fivetran is not a direct competitor to Adverity, because it focuses more on ETL (extract, transform, and load) and less on analyzing marketing data. However, we've listed it here as one of the Adverity alternatives, because Fivetran offers a lot of functionality similar to Adverity.
This is what the company says about its product:
Fivetran is the automated data movement platform moving raw data out of, into, and across your cloud data platforms. We've automated the most time-consuming parts of the ELT process – from automated extracts to schema drift handling to transformations – so your data engineers can focus on higher-impact projects with total pipeline peace of mind.
Fivetran pros
ETL has pipelines that connect easily to diverse data warehouses
Combines data from multiple sources, including in-house sources
Impressive range of connectors for marketing tools, CRMs, etc.
Fivetran cons
Opaque and variable pricing (see more below)
Resetting connectors can take a lot of effort and time
Fivetran pricing
Fivetran charges by the number of monthly active rows (MAR) you use. While the company says customers only pay for what they use, it doesn't provide a straightforward pricing guide. At best, you can review pricing examples. You can also get a free trial to determine whether Fivetran works well for your users.
5) Salesforce Marketing Cloud Intelligence (Datorama)
Before being acquired by Salesforce, this product was called Datorama. Like other Salesforce products, MCI takes advantage of cloud technology, giving you a cloud data platform that uses real-time intelligence to ensure accuracy.
MCI is a reliable analytics solution that can collect marketing metrics and relevant data from diverse sources. It does, however, have a rather steep learning curve. If you want to discover actionable insights quickly, it's probably not one of the top Adverity alternatives for your team. If you're willing to commit time to learn how to use the platform, though, it could become an impressive part of your tech stack.
MCI pros
Integrates instantly with the Salesforce ecosystem
Attractive user interface
MCI cons
Expensive solution
Requires setting up complex business logic
Occasional latency can stall projects
Steep learning curve, especially for teams unfamiliar with Salesforce
Salesforce Marketing Cloud Intelligence pricing
Salesforce Marketing Cloud Intelligence is one of the most expensive Adverity alternatives on this list. The starter plan costs at least $3,000 per month when billed annually. A growth account starts at $10,000. Salesforce doesn't explain the difference between these prices on their website, but the company ensures you can use a single platform to track everything from marketing data to KPIs.
MCI also offers a custom plan, but you'll need to contact the sales department for details.
If you want to connect multiple clients to MCI, expect to pay a higher price.
6) TapClicks
What is TapClicks?
TapClicks has data-driven marketing solutions for large and small businesses. The platform's ecosystem includes tools for generating reports, optimizing workflows, real-time analytics, and comparing your performance with competitors.
Marketing automation should give your team members more time to concentrate on creative tasks, such as developing Instagram ads, PPC Bing ads, and content marketing assets that increase traffic to ecommerce businesses.
TapClicks pros
Vast integrations make it easy to connect to data sources and destinations
Useful for teams conducting multiple campaigns at once
TapClicks cons
Reports may look unprofessional and even break
Hard to reach customer service and get help
Limited customizations (although some users say TapClicks is starting to improve this)
TapClicks pricing
TapClicks doesn't provide transparent pricing on its website, although you can get a free demo and a 14-day free trial.
Best software for marketing teams
What type of software does your in-house marketing team need to do its job exceptionally well? The answer varies depending on your goals and how much experience your team members have analyzing data.
If you want an analytics platform for people without much tech experience, you might want to choose software with:
A user-friendly interface (possibly with a drag-and-drop interface that doesn't require any coding)
An excellent support team that can answer any questions that arise
Plenty of automation tools for generating reports, identifying sudden changes in data, and integrating with data visualization and BI tools
Business users with more experience working with data and BI tools might tolerate a more complicated marketing platform. If your team has enough technical knowledge to use complex technologies, you might benefit from software that:
Analyzes big data to spot emerging trends
Provides live marketing dashboards with real-time data and KPI comparisons
Lets users customize reports to emphasize specific KPIs and trends
Offers robust data integration options
Either type of software could work well for in-house teams. You could err on the side of caution by choosing an easy-to-use platform. Or you might want to explore a more technical solution if you have large BI or IT teams that can quickly serve the rest of the business.
Don't forget that most companies offer free demos or trials. You can always test them out to see how they work for you.
Best software for marketing agencies
Agencies have very specific needs that make Adverity and Funnel great choices. These requirements include::
Creating workspaces for different customers
Sharing custom metrics across different workspaces
Tracking budgets against ad spend to stay within budgets
Gathering real-time data from multiple sources, including social channels and ecommerce platforms
When you are looking into some of the top Adverity alternatives, make sure to keep those use cases in mind.
2014
The year Funnel was born
1800
Companies use Funnel to be data driven
300
Funnelers in Stockholm, Boston, Dublin and Sydney
Trusted by 1800+ of world's most data-driven companies