Supermetrics alternatives: 8 tools to consider
Are you a marketer or data analyst looking for the perfect marketing data tool? You might have come across Supermetrics. But is it the right fit for you? Let's find out.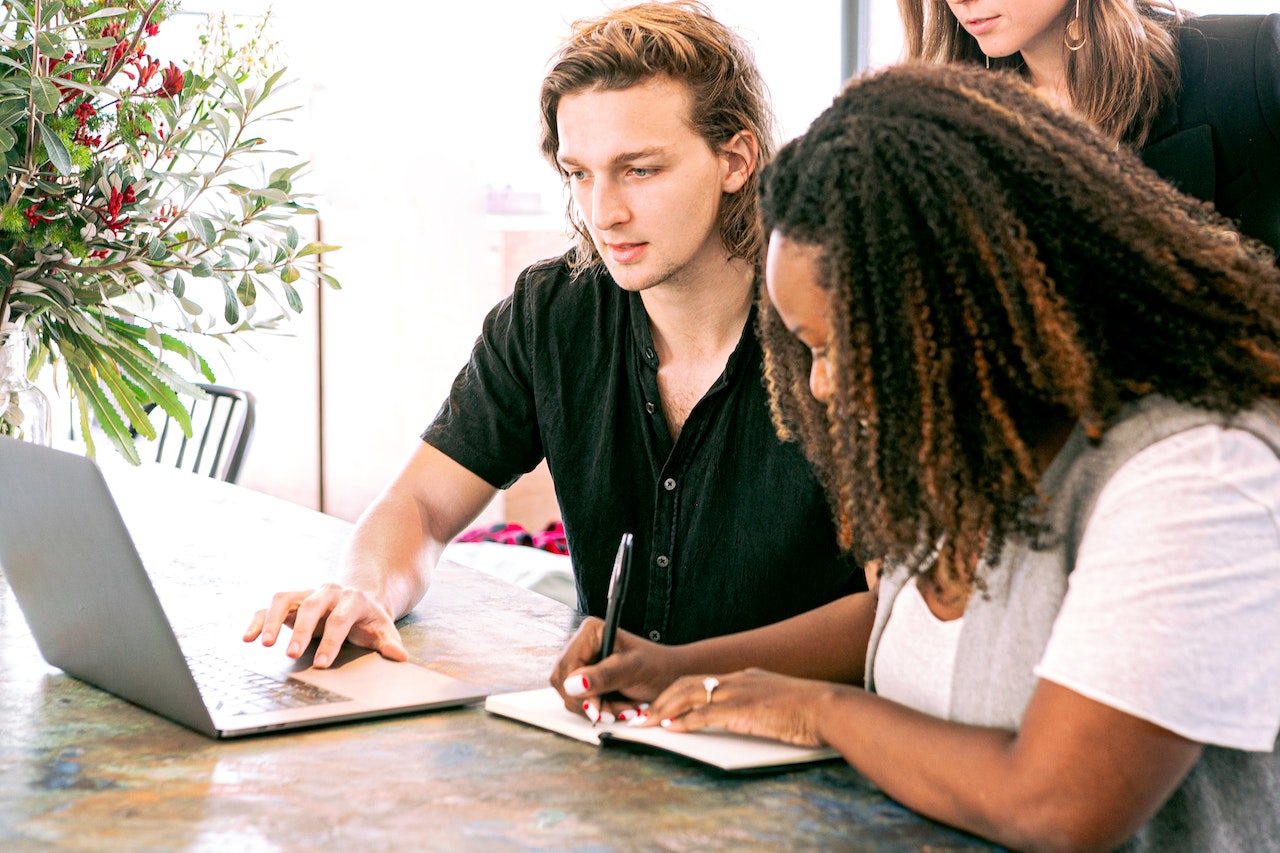 Data. It's the engine that drives your marketing strategy. But managing it? That's a whole different ball game. Cleaning, organizing, even just copying and pasting data into a reporting tool can feel like a marathon.
Enter Supermetrics. It's a tool that connects to your data sources and data warehouse. But is it the best tool for you and your team?
Supermetrics: a quick snapshot
Supermetrics has some strengths worth considering. For instance:
The user interface makes it easy to load and analyze data.
It lets you generate custom reports.
You can make queries directly in Google Sheets instead of doing it from the Supermetrics dashboard.
Supermetrics also struggles in some important ways. For example, it:
Has a 10-account limit that makes it difficult for growing agencies to get the most from their data sources.
Doesn't offer nearly as many data connectors as some alternatives.
Can lead to data silos that prevent informed decision-making.
Also, the price you pay depends on the connectors you need. Each one you add increases your monthly expense. Supermetrics doesn't publish the price of many connectors, so you don't know how much you'll pay until you ask.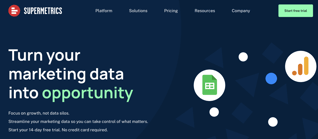 Many Supermetrics alternatives can help you overcome these challenges without sacrificing the features you need to support all your data.
Top 8 Supermetrics alternatives
Ready to explore? Here are 8 Supermetrics alternatives that could be just what you and your team are looking for:
1) Funnel
Not surprisingly, Funnel is our favorite Supermetrics alternative. Funnel's superior data transformation features break down silos so your teams can do more with the information they collect. Funnel comes with an enormous library of data source connectors, so you can collect information from all of your marketing channels, including web analytics platforms such as Adobe and Google Analytics, Facebook ads, Google Ads and LinkedIn Ads.
Should you choose Funnel as your Supermetrics alternative? This side-by-side comparison makes it easier for you to decide which solution has the features you need to collect information from your data sources and load it to destinations where data analysts, marketers, and sales agents can access it.
Funnel is the best Supermetrics alternative for marketers that want to easily collect data from more than 500 connectors and store data in practically any location.
Funnel Pros
You don't need any coding experience to pull data from multiple data sources.
A straightforward user interface makes it easy for everyone to find the functions they need.
The Data Explorer feature let's you check raw data for accuracy before loading it to your dashboard.
Simple approach to data extraction, data transformation, and data warehousing.
Strong customer support from a team that can usually find solutions within one day.
Potentially a free alternative to Supermetrics, depending on the plan you choose.
Funnel Cons
Users need to join the Plus or Enterprise plan to access custom data connectors.

You will need a third-party solution for data visualization, such as Looker Studio (available for free from Google), since the built-in visualization is limited to simple bar and line charts.
Funnel Pricing
Funnel has four pricing tiers to match each team's needs. The free starter plan lets you create custom metrics, access over 230 connectors, and share data with Microsoft Excel, Looker Studio, and Google Sheets.
Large advertisers and serious marketing teams will want to choose the Plus tier, which costs $1100 per month (billed annually) and lets unlimited users access multiple workspaces, data-sharing with business intelligence tools, and up to three custom connectors.
Learn more about Funnel plans and pricing.
You can also get a free demo to experience Funnel's features before making any decisions.
2) Power My Analytics
Power My Analytics isn't the most robust Supermetrics alternative, but it's a strong option for small marketing teams and consultants working with very limited budgets. The best thing about Power My Analytics is that it gives you a straightforward dashboard with some data visualization features. The worst thing is that it comes with very few data source connectors.
The company offers a free trial. Power My Analytics is worth trying if you don't have sophisticated data needs, but it won't work well for marketing teams that want to collect data from diverse sources.
Power My Analytics Pros
Works well for small teams with limited budgets.
Connects to the most popular destinations, including Google Data Studio, Microsoft Excel, Google BigQuery, and SQL.
Easy setup that only takes a few minutes.
A simple user interface lets practically everyone access data and data analytics.
Power My Analytics Cons
You have to pay extra for a Google Sheets add-on.
Offers fewer than 100 built-in data connectors, which could become a serious problem depending on your marketing strategy.
Some users complain about data discrepancies.
Power My Analytics Pricing
Power My Analytics has four pricing tiers. The Single plan only costs $14.95 per month. Not surprisingly, you don't get much for such a small amount. The plan is only suitable for one admin and one data source. More advanced plans give you access to more data sources. The Enterprise tier gives you unlimited sources for $295 per month.
3) DataSlayer
DataSlayer helps marketers and website developers analyze and choose the best tags for their content. It also has debugging features you can use to make tags more effective and improve site performance.
Supported tag variables include:
Google Tag Manager's dataLayer
Tealium data layer
TagCommander data layer
Adobe Launch rules and data elements
You can even create custom data layers. DataSlayer will create results as a JavaScript object you can add to websites and digital marketing content.
The tool can also work with Google Analytics, Adobe Analytics, Omniture SiteCatalyst, and Floodlight display tags.
DataSlayer is a good option for marketers that want to analyze website content tags.
DataSlayer Pros
It's a free browser extension, so you can use it as often – or infrequently – as needed without worrying about the cost.
Works with a broad range of tags and data layers from various solutions.
The open-source tool accepts development contributions that make it more accurate and powerful.
It lets you optimize your tags and other data directly in a web browser (preferably Chrome).
DataSlayer Cons
While it can play an important role in helping marketers create effective online campaigns, DataSlayer has limited use cases.
Only works with specific types of data.
Doesn't replace Supermetrics or other data-ingestion apps that provide an overview of multichannel marketing campaigns.
DataSlayer Pricing
DataSlayer is a free tool you can add to Chrome or Firefox browsers.
4) Apipheny
Apipheny is a Google Sheets extension that lets you move data via APIs. You will need a Google developer account to create API URLs, endpoints, and other essential assets. Once you set them up, though, your import API will quickly move data from your original source to Google Sheets. You can have Apipheny automatically update Google Sheets every hour or day. Alternatively, you can decide to move your information as needed.
Apipheny is a good option for marketers that want to easily move data from various applications and websites to Google Sheets.
Apipheny Pros
It lets you save and run successful API requests automatically at set times.
Accepts multiple API URLs at once to sync more than one data source quickly and easily.
Uses the most common HTTP methods for sending and retrieving data, including DELETE, GET, PATCH, POST, and PUT.
Apipheny Cons
Can only import data to Google Sheets, so you can't use it to move data to a warehouse or similar destination.
Although reasonably priced and potentially helpful, Apipheny has a very limited number of features that will make marketing campaigns more successful.
Apipheny Pricing
If you pay monthly, you'll give Apipheny $12 per month for as long as you use the solution. You can save a small amount by paying annually. It costs $132 per year.
If you've tried several Supermetrics alternatives and decided you want to stick with Apipheny, you can pay $249 for lifetime access.
5) Whatagraph
Whatagraph combines data integration, storage, and visual reporting tools in one dashboard. It's simple to use and affordable, but you can only store data in BigQuery. If you need more data warehouses, this isn't the option for you. Otherwise, it's a good deal for the price.
Whatagraph should work well for marketers that want data collection and visualization features and don't mind storing all of their information in BigQuery.
Whatagraph Pros
Templates make creating diverse data analysis reports simple with information from sources like LinkedIn Ads, Google Ads, Google Analytics, and several social media platforms.
Built-in visualization features help teams draw insights from the data.
Drag-and-drop functionality works for nearly all users, regardless of experience.
Whatagraph Cons
There are few white-label options, which can make client reports feel unprofessional.
Doesn't integrate with all data sources and data warehouses, so you should check with the company before deciding to use Whatagraph.
Some users report slow customer services.
Whatagraph Pricing
Whatagraph has three pricing tiers. The Professional tier costs about $215 per month. It's suitable for up to give users with 50 or fewer data sources. The Premium tier costs about $230 per month. It's suitable for teams with up to 10 users relying on 50 to 100 data sources. You'll need to contact Whatagraph to get a price for the Custom tier.
6) Analytic Edge
Analytic Edge has several solutions designed to meet the needs of diverse marketing teams. For example, a small team that wants to take a DIY approach can use DIY Marketing Mix Modeling to collect, review, analyze, and simulate predictions. A larger marketing department or agency might want to invest in AI-driven Dynamic Forecasting that uses real-world data and emerging trends to predict changes in the marketplace.
Analytic Edge also has a straightforward dashboard, making it an attractive alternative to Supermetrics. The platform's "storyboarding" solutions help marketers communicate data in ways that drive data-driven decisions and make it easier to explain choices to professionals outside of marketing.
Analytic Edge offers diverse data collection, analytic, and visualization solutions, so marketers should explore their options.
Analytic Edge Pros
Marketing teams have access to several solutions for different use cases.
Built-in data visualization tools.
Real-time data analytics.
Predictive tools that help keep teams ahead of trends.
Analytic Edge Cons
It's unclear what connectors Analytic Edge offers, so potential users will need to contact the company for more information.
Analytic Edge Pricing
Analytic Edge doesn't publish its pricing. You will need to contact the company for a quote.
7) Adverity
Adverity has excellent data analytics features that can help your marketing team make smart choices. It also supports some marketing data visualization, automated data integration, custom marketing reports, and data governance features.
Read our review of Adverity and its competitors for a deeper look at the end-to-end data analytics platform.
Adverity is best for marketers looking for a tool that collects data but doesn't provide data visualizations or automated features.
Adverity Pros
Creates a single source of truth to ensure all team members use the same data.
Data transformation tools save marketing teams time without forcing them to learn how to code.
Uses AI technology to forecast emerging trends.
Adverity Cons
Lacks an automated data collection solution, which forces users to do more manual work than necessary.
Limited data visualization features.
Adverity Pricing
Adverity starts at about $500 per month.
8) Porter Metrics
Porter Metrics is a no-code tool designed specifically for marketing teams and agencies. It can integrate and pull data from diverse sources, making it a strong Supermetrics alternative for marketers using multichannel or omnichannel strategies. Popular data source integrations include:
Social media apps like TikTok, Facebook, LinkedIn, and Twitter.
Ecommerce platforms like Shopify and WooCommerce.
CRM and email tools like Mailchimp and Hubspot.
Porter Metrics comes with templates that will help you collect data from multiple channels. However, it can only load data to Google Sheets or Looker Studio (formerly Google Data Studio) for storage.
Porter Metrics works best for multichannel and omnichannel marketing teams that only store data in Google Sheets or Looker Studio.
Porter Metrics Pros
The user-friendly dashboard lets most users generate their first reports within a matter of minutes.
The growing library of native connectors should work well for most marketers.
Custom dashboards help marketers focus on the KPIs for each campaign.
Most users report excellent customer service from Porter Metrics.
Porter Metrics Cons
Power Metrics can only store data in Google Sheets or Looker Studio, which could be a deal-breaker for some marketing teams.
Users may encounter brief errors while the Porter development team continues improving the product.
Porter Metrics Pricing
Porter Metrics has three pricing tiers. The Solo plan costs $12.49 per month or $149.99 per year. A Teams plan costs $33.33 per month or $399.99 per year. The Agencies plan costs $83.33 per month or $999.99 per year. Paying annually saves you 17% on any plan.
Related reading:
We hope this list of 8 alternatives to Supermetrics will help you make an informed decision. Ideally, the platform you work with should help you centralize all your data, gain performance insights, easily create reports, and enable data driven decision making.
For related posts, take a look at:
2014
The year Funnel was born
1800
Companies use Funnel to be data driven
300
Funnelers in Stockholm, Boston, Dublin and Sydney
Trusted by 1800+ of world's most data-driven companies