With so many choices available to marketers today, how does someone go about determining the top visualization tools?
Not to worry — we've done it for you! Below we cover 5 of the best data visualization tools and how they can be used for organizations across all levels of data sophistication.
Before we dig into the tools, though, let's first clarify what a visualization tool actually is. At its core, data visualization is merely the act of turning raw data into some form of graphic representation. This could be as simple as turning the data in a Microsoft Excel spread into a bar chart, or as advanced as sending data from multiple advertising platforms into a comprehensive interactive dashboard.
Now, with that understanding in place, let's get into it.
Google Sheets
Let's get started at the ground floor with one of the easiest tools to use: Google Sheets. Part of the broader cloud suite of products, Google Sheets is an easy-to-use spreadsheet program. In fact, it is used by many of our customers.
While some use it as a makeshift data warehouse or staging area, it can also be used to create simple graphs like pie charts, bar charts and more. These visualizations can then be exported to other products, or housed within Google Sheets, in order to create a basic data dashboard.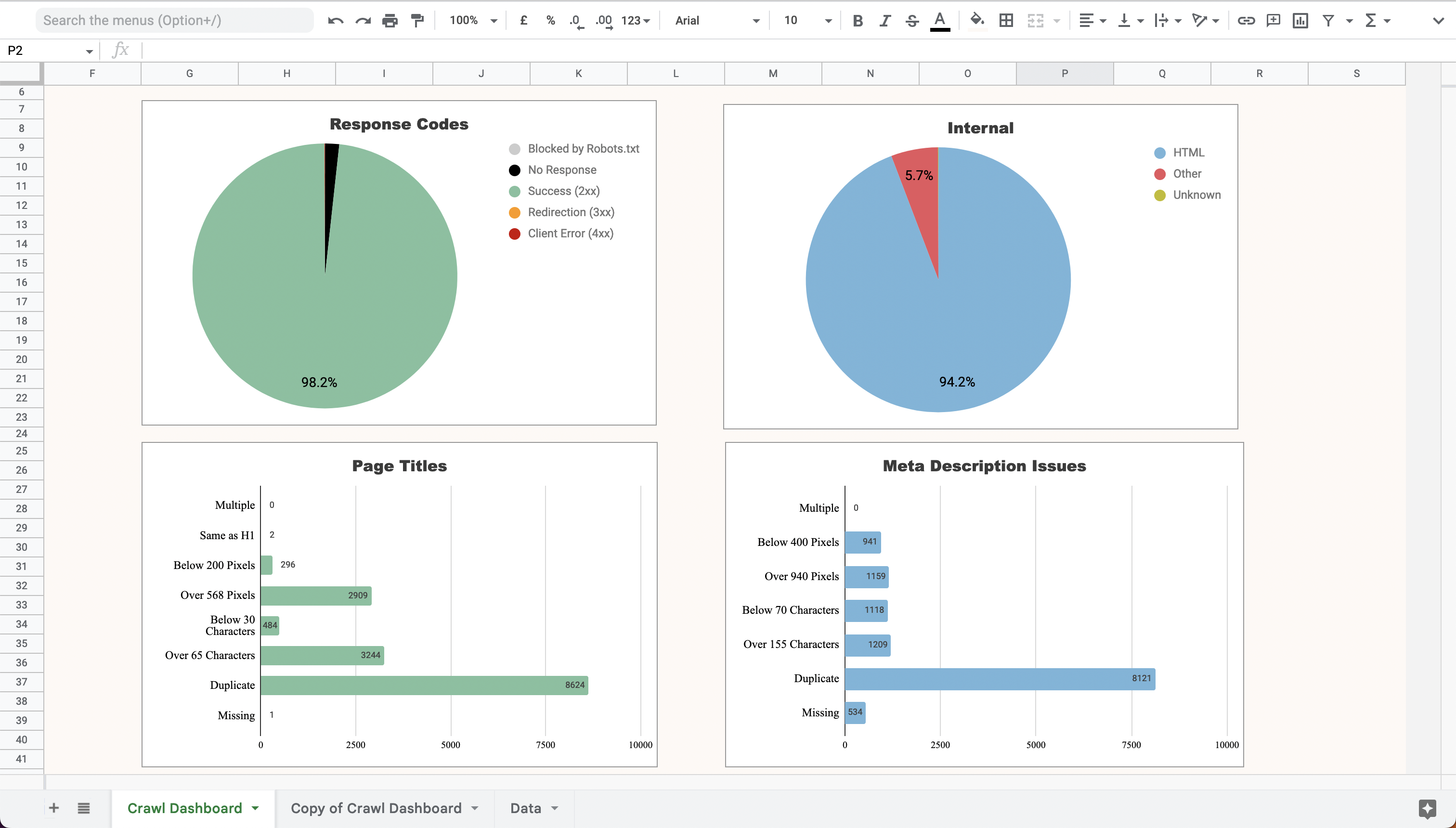 An example of simple visualizations you can make with Google Sheets
Although it doesn't offer some of the more robust functions and features of other top visualization tools on this list, it stands out for its low barriers to entry, stability, cross-collaboration, and the fact that it is free to use. It's the perfect entry point for those who are new to data marketing, data analytics, or data visualization.
Looker Studio
Staying within the Google cloud universe, Looker Studio is another great visualization tool for data marketers. It even allows you to add multiple data sources, such as advertising platforms, Google Analytics and Google Search Console.
While Google Sheets is typically used to create and manage spreadsheets, Looker Studio is designed specifically to create interactive dashboards that can help to identify trends and insights. Much like other products in the Google marketing and analytics package, this tool is incredibly easy to use and features great cross-collaboration functions.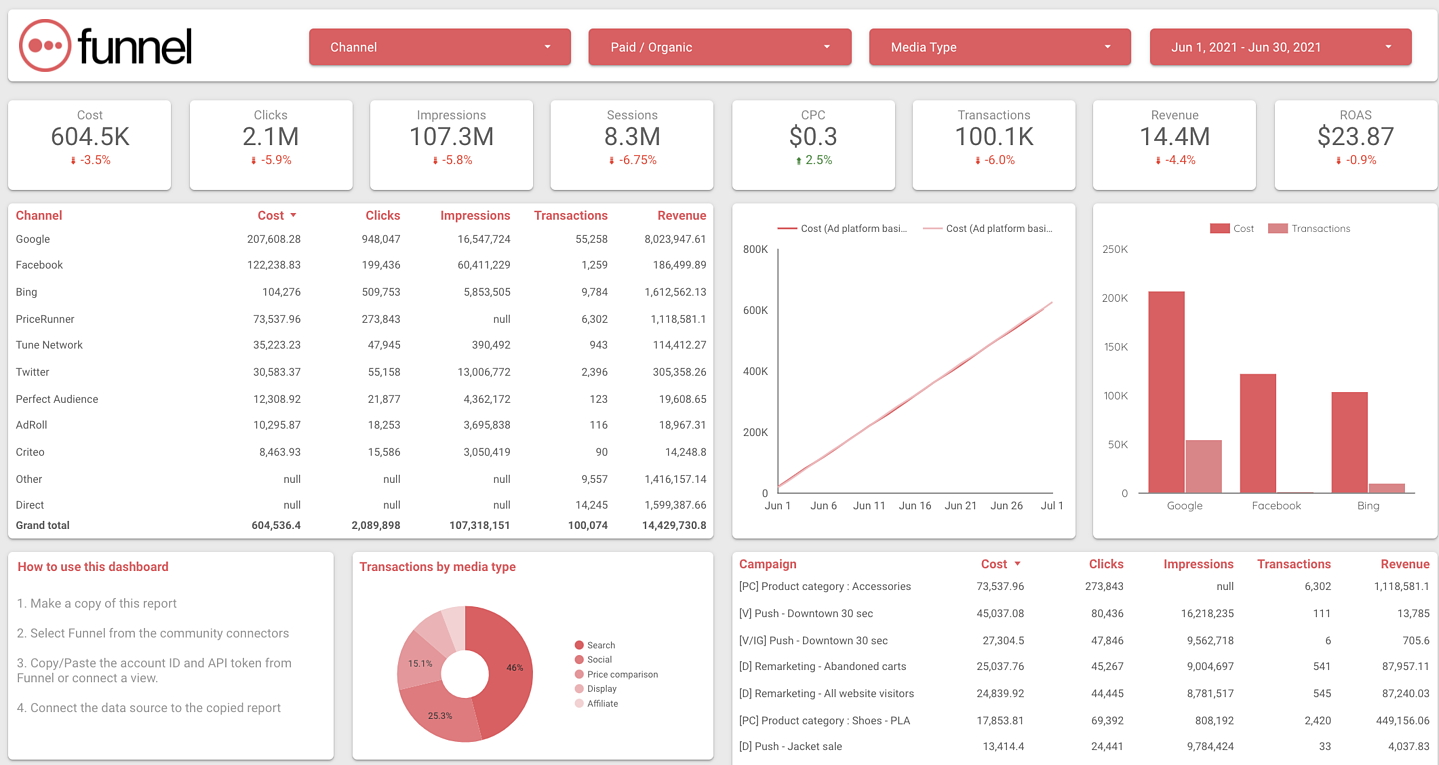 Screenshot taken from one of our Google Data Studio templates
Looker Studio is a great way to wade a little bit deeper into the pool of our data visualization software since it gives you all the basics, does not require any SQL coding, and it is free to use. Plus, with automated updates and notifications, it can be a powerful tool for everyone in the marketing team.
"We can push data to Looker Studio, where we can build the most awesome reports," said Dylan van Der Heir, marketing manager at Zonnebrillen. "It's being sent daily at about seven o'clock in the morning. You stand up and see your sales from yesterday and have your insights in your mailbox - that's very cool!"
Looker
Acquired in 2019, Looker represents the apex of the Google visualization options. If Looker Studio is great for creating free dashboards and reports, then Looker is the tool to draw business intelligence out of the data.
In fact, Looker's robust functionality makes it a great choice for marketers working with "big data" or alongside BI teams. As a paid service, it can offer predictive analytics and modeling to marketers who are comfortable digging deeply into their data.
If you're fairly well-versed in handling marketing data from multiple sources, and you're seeking some more advanced reporting, Looker could be one of the best data visualization tools for your team.
Tableau
One of the most popular BI and data visualization tools, Tableau is a major platform that can be used for a wide array of applications. In fact, it can be used for simple data visualizations, robust dashboards, interactive charts, predictive modeling, and more.
Available as both a cloud-based solution or locally installed within an organization's protected network, Tableau is incredibly flexible and robust. It excels at handling and processing vast amounts of complex data at speed.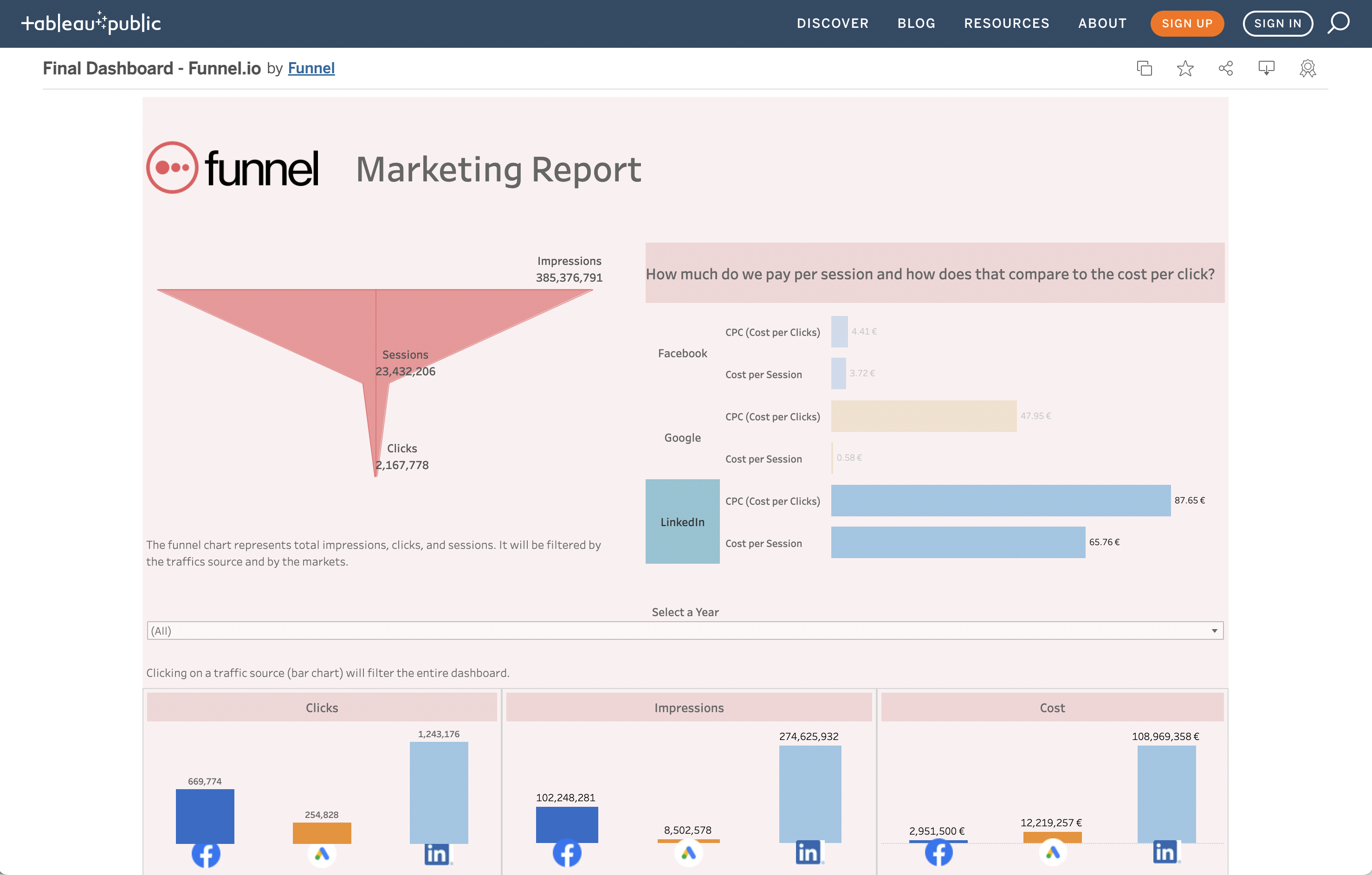 A Tableau dashboard
While it can cater to marketers at any level of data sophistication, it is probably best suited for large organizations that are seeking a top data visualization tool for multiple departments, including business intelligence teams. This is due to the sheer scale of its power as well as its cost — carrying one of the higher price tags on this list.
In any case, though, once you dig into the more powerful functions, it's easy to see why Tableau is one the most popular data visualization tools available today.
Microsoft Power BI
Are you looking for one of the top data visualization tools? Check. Do you need a solution with world-class support? Double check. Does your organization run a Microsoft tech stack? Triple check.
Microsoft Power BI, part of their Azure marketplace, is an incredibly robust business intelligence platform that can help you draw insights from all sorts of data. It's used by some of the largest organizations in the world. Plus, it can cater to all types of data marketers (from beginner to experts).
Although it shines when processing lower volumes of data than Tableau, its rock solid integrations with other products in the ecosystem make it the perfect choice for organizations running on a Microsoft technology stack.
And so much more…
These selections represent just a handful of our top visualization tools, but there are loads more to choose from. For instance, IBM Cognos Analytics is a powerful BI solution that makes it incredibly easy to create and share interactive reports.
Additionally, SAP Analytics Cloud offers a variety of tools and features for marketers looking to create dynamic visualizations that can be shared across an entire organization.
Do you like this content? You might also want to read our top list of data transformation tools for marketing.
When determining your favorite data visualization tool, it's important to keep in mind your own needs as well as your organization's technical capabilities. As we mentioned above, Power BI is great for those running on Microsoft across the organization. However, it may not be the best solution for those who utilize the Google Cloud Platform.
Plus, if you're just starting to dip your toes into the data marketing pool, you may not want to jump head first into an advanced and robust tool like Tableau. Be sure to take stock of what you really need, and decide for yourself what the top visualization tools for your organization is. Some questions to ask yourself or your team:
Do we need to add a lot of data sources, or just some? And is it easy to import data?
How scalable is the solution we are looking at?
Do we want interactive visualizations, or just static ones?
Answering the above questions will help you choose the best data visualization tool for you. And, to learn more about how these various tools can work for you, and to see some other available options, check out our data destinations.