TikTok is the cool, new kid on the block that everyone can't help but notice. With over 2 billion app downloads and a user base of more than 689 million monthly active users, TikTok is the fastest-growing and seventh most-used social media app in the world. And in 2022, it was the most downloaded app in the world.
As TikTok's influence and audience demographic continue to expand rapidly, brands are starting to realize that the platform offers a unique opportunity to promote their products and services to an engaged audience.
This post will guide you through how to use TikTok ads, how much to budget for your campaigns, and the best tactics to implement to maximize the performance of your advertising efforts. We'll also inspire you with some real-life examples of companies that have successfully leveraged TikTok ads to increase brand awareness and generate sales.
Why advertise on TikTok
TikTok has already garnered more monthly active users than Twitter, Pinterest, LinkedIn, Reddit, and Snapchat. A huge chunk of its audience base is made up of millennial and gen z users.
In the United States, 48% of adults aged 18-29 use TikTok, followed by 20% in the 30-49 age category. If your business is targeted at young people between these ages, TikTok is a great place to present your brand to them.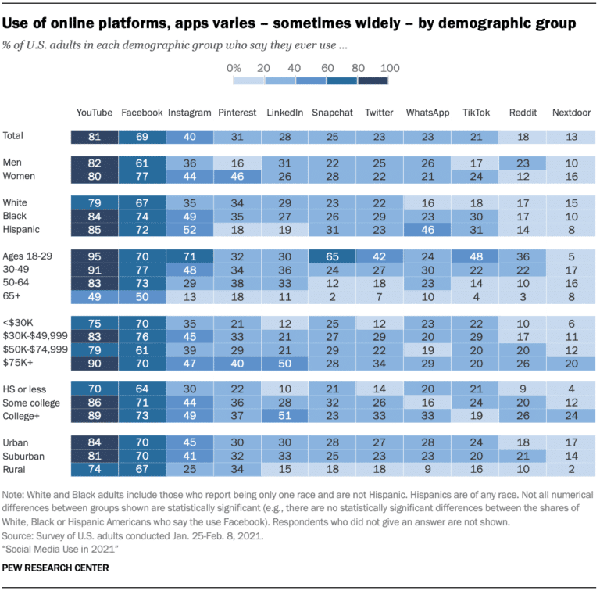 Source: Pew Research Center
Despite being on the younger side, TikTok audiences are not cash-strapped. Over 50% of its users bring in $75,000 or more by way of annual income. Also, when it comes to consumer spending, TikTok users are only surpassed by Tinder. This means they tend to spend more than users of other apps.
Additionally, TikTok's advertising platform is user-friendly, so you can jump right into creating exciting ad campaigns without needing any technical assistance. Other advantages that TikTok advertising can offer your business include:
More reach and engagement
TikTok users are present in over 150 countries, and its app is constantly setting download records, so you have an opportunity to reach a diverse international audience with your ad campaigns.
According to App Annie's State of Mobile 2021 Report, the average monthly time spent per user on TikTok grew faster than nearly all other apps that were analyzed. Also, all of the ad formats TikTok provides boast high engagement and click-through rates.
For instance, Take Over ads have a 7% to 10% click-through rate, TopView ads can produce CTRs as high as 16%, and in-feed video ads bring in a 5-7% engagement rate and 1.5-3% CTR.
This shows that the platform has a highly engaged audience which can only mean good things for brands who want to drive their campaigns.
A TikTok CTR benchmark
Ideally, you would want to have a CTR benchmark for TikTok ads that is applicable to all TikTok ads. However, each brand, product and target audience is different. This makes it challenging to have an average CTR that you can use to predict the effectiveness (or ROI) of your ad campaigns.
Our advice: start small. Analyze your data. And use the results of your first few campaigns to decide on a CTR benchmark that works for you. After 2 or 3 smaller campaigns, you should have an idea of what you can expect from TikTok ads in 2022. Then, create even better ads and outperform your earlier campaigns.
Other important TikTok metrics
Of course, the click-through rate to your website is just one metric to measure and monitor. Some other benchmark numbers that might be valuable come from research done by Magna, as US based media company:
TikTok ads can

drive brand favorability by 8%

Increase purchase intent by 6%

Increase search intent by 7%
Their research also goes into the difference between dedicated TikTok creatives, and TikTok ads that were developed by repurposing other material (like TV commercials).
Effective targeting of your potential customers
By advertising on TikTok, you'll be able to connect with new customers who fit your ideal buyer profile. All you have to do is zoom in on the right audience using targeting variables like age, location, interests, gender, and more.
You can even create lookalike or custom audiences and place your ads in front of TikTok users who share certain similarities with your existing customers—making them more likely to be interested in your brand, product, or service.
Transparent measurement of ad performance
You don't have to guess how your TikTok ads are performing. The platform tracks everything from impressions to ad conversions, in-app actions, and click attribution. It then provides customized data and detailed reports that tell you exactly what your advertising budget is doing for you.
How to run a TikTok campaign
To begin advertising on the newly minted social platform, you'll have to visit TikTok for business and create a free account.
Bear in mind that depending on the type of ads you want to run, you might need to speak to a TikTok ad manager or use the self-service marketing platform.
Here are the steps you need to follow to set up and launch effective TikTok ad campaigns on your own.
Choose the right objective
Once you're done setting up your TikTok account, and you're ready to create a campaign, simply log into the TikTok Ads dashboard.
Click on the Campaign tab at the top of the page, then tap the Create button and select a goal for your ad.

TikTok currently offers three main advertising objectives:
Traffic
Conversions, and
App Installs
However, depending on your location, you may have more options—such as Video Views and Reach—to work with. Selecting the right goal is critical to the success of your campaign.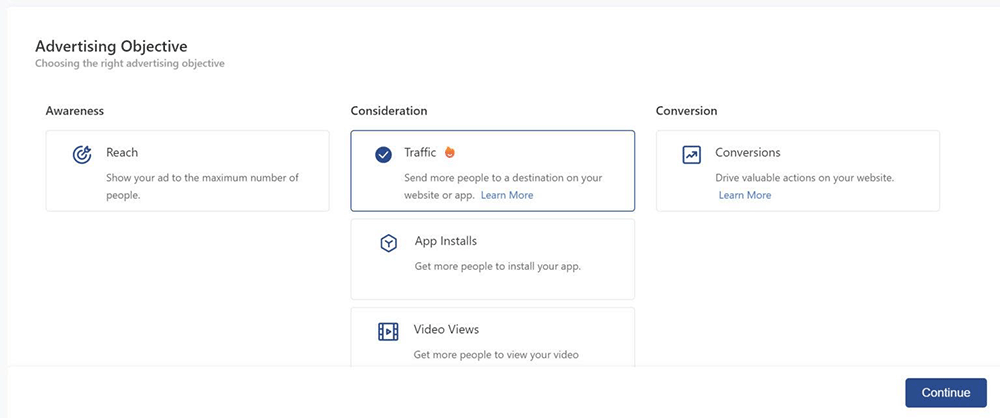 Think of the main action that you want people to take after viewing your TikTok ad. That is your objective.
Always choose the objective that best aligns with your marketing goals. If your business needs to drive more traffic to your website, then prioritize that objective for your TikTok campaign.
Set up a campaign name & budget
The next thing to do is give your campaign a name then create a budget for it. Your budget is the amount you're comfortable spending on your ads. The moment you hit the set budget, TikTok will stop serving your ads to its users.
Setting a budget for your ads makes it easy for you to monitor what's working and what's not. You can control how your ad is delivered, improve upon best-performing ads, and track how much you're spending.
TikTok gives you three budgeting options:
Daily Budget — Your ad delivery will be limited by the amount you want to spend daily, allowing your campaign to penetrate your target audience at a steady pace.

Lifetime Budget — It requires you to stipulate the total amount you're willing to spend on all the ads in your campaign.

No Limit — This tells TikTok that you're willing to spend as much as it takes to get the result you're looking for. The platform won't place any restrictions on your ad delivery because your budget is unlimited.
Keep in mind that whether you choose the daily or lifetime budget option, your ad budget cannot be less than $50.
Set up an Ad Group
After choosing your advertising objective and setting a budget, it's time to create an ad group. This is where you get to set up your target audience, optimization goals, campaign schedule, ad placements, and bids. Here's what you need to know about each of these parameters:
1. Ad placements
If you want to control where your ads show up, this is the place where you get it done. You can choose your own placements or select the Automatic Placements option and let TikTok handle the distribution of your ads.

2. Ad details
This section is where you need to enter all the details related to the app or website landing page that your campaign is promoting. These details include:
Promotion type — You can choose either website or app install.

Display name — Add your brand or app name here.

Profile image — This is the image that people will see next to your ad. It should be no more than 50kb in size with an aspect ratio of 1:1.

Category — To maximize the performance of your ads, select the category that best describes your promotion.

Ad tags — These are keywords that TikTok will use to ensure your ads are shown to the right audience. You can add up to 20 tags to each ad.

User comment — Enabling this button will allow viewers to leave comments on your TikTok ads.

Video download — Users will be able to download your video ads if you turn on this feature.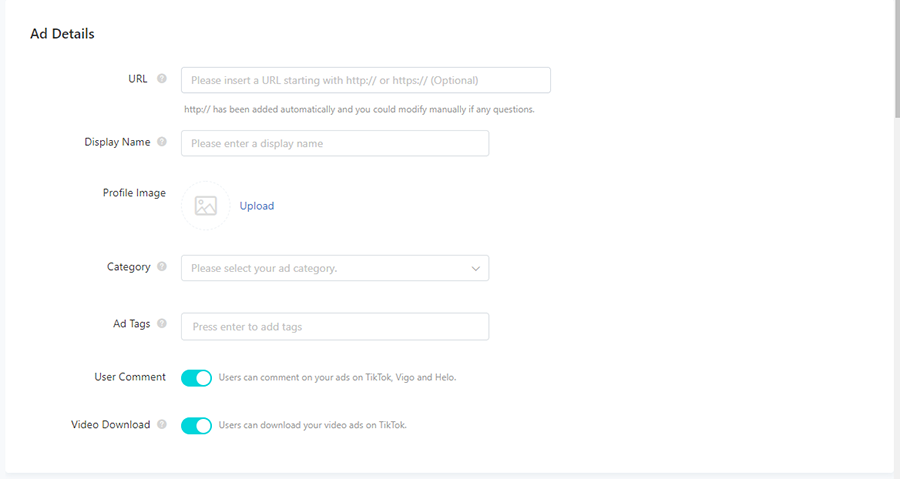 3. Audience targeting
This is the point where you get to define who you want to target with your ads. You can use factors like gender, age, language, behavior, mobile carrier, interest, location, device price, and the operating system of the device being used to narrow down your audience.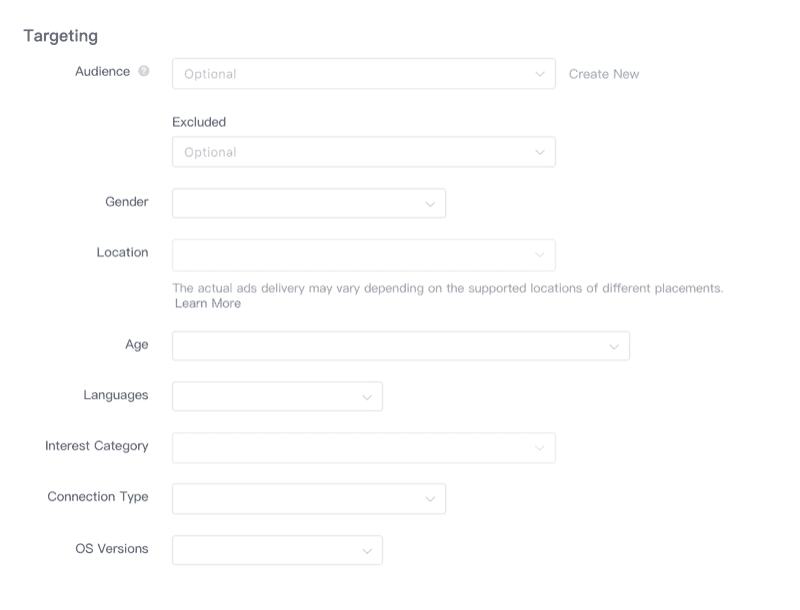 If you have a custom audience, you want to reach or create a lookalike version of, you can upload a custom list as a Zip, TXT, or CSV file. Alternatively, you can retarget users who have seen your ads before or engaged with your ads in the past.
Tiktok also allows you to target audiences who have taken some kind of action on your website or app, such as registration, form submission, purchase, view content, and more.
4. Budget and schedule
You'll need to schedule the duration of your ads in this section. Once you choose the start and end dates for your campaign, TikTok allows you to customize the schedule further with the dayparting feature. This means that you can select the specific times of the day when your ads will be shown.

5. Bidding and optimization
The options you'll have to consider under this section include:
Optimization goal — There are three types of optimization goals: click, reach, and conversions. Choose the one that reflects the overall purpose of your campaign. TikTok's algorithm will optimize your ads to achieve the desired aims.

Billing event — The goal you selected will determine the billing event that TikTok sets for you. For instance, when you optimize for conversions, your ads will be billed as oCPC (optimization cost per click). For reach, the bidding method would be CPM (cost per mile). And for clicks, you'll be billed using the CPC (cost per click) method.

Smart optimization — This option enables TikTok to carry out smart distribution on your ads and optimize conversion events.

Bid strategy — Your bid strategy allows you to control your cost per result. Selecting a standard bid ensures the average cost per result remains within your bid.

Bidding — This lets you determine the amount you're willing to pay per click, per conversion, or per thousand impressions. Your ads will be delivered according to your specifications.

Delivery type — If you don't want your ad budget to evaporate overnight, you must specify how fast you want your ads to run. There are two available pacing options:

Standard delivery — This method allows TikTok to pace your ad spend evenly for the duration of the campaign.

Accelerated delivery — With this pacing option, your budget will be spent as quickly as possible from the start of the campaign.
Create an Ad
Tiktok makes it easy for you to create ads. All you have to do is upload your ad creative—this could be an image or video—then use Tik Tok advertising features to turn it into a scroll-stopping ad. You can create up to 20 ads in each ad group.
Follow these simple steps to produce your first TikTok ad.
Begin by creating a name for your ad in the appropriate column.

Choose the ad format you want to use from the available options—video or image.

Upload the media for your ad from your computer or select from your existing TikTok library. Alternatively, you can create a new video using a smart video or a video template.

Select a thumbnail to use as the cover image for your video ad. You can either select one of the frames from your video or upload a custom cover image.

Add the relevant link and text that you want to be displayed with your ad. This includes your ad copy, call to action, and the URL of the landing page you want to send traffic to if that's your campaign goal.

Preview your ad to see how it'll look once it's published. When you're satisfied with your ad, click the Submit button to complete the process. You'll have to wait a while for TikTok to review your ad. Once it's approved, the ad will begin to run.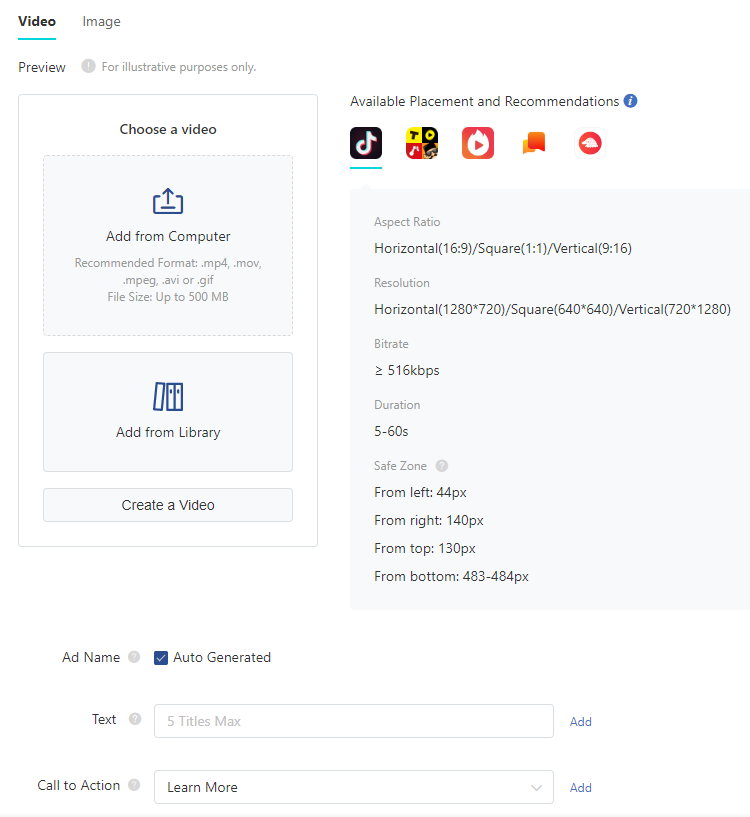 Track Performance
Your work doesn't end after your ad goes live. Tracking performance is an indispensable part of any online marketing effort. It's the only way you'll be able to tell what's working and where changes need to be made to boost your ad's performance.
TikTok lets you use third-party tracking pixels and URLs to monitor the performance of your ad campaigns. You can go through the list of third-party measurements and pixels that TikTok supports and add the relevant ones to your ad.
The social network also provides in-platform tools that you can use to access relevant insights and data regarding your campaigns.
Get the big picture on the dashboard
If you want to see an overview of how your ads are performing, head over to your Ads Dashboard. You'll find information on:
The status of your ads, ad groups, and campaigns.

Your current ad spend.

Vital performance metrics like overall CPC, CTR, CPM, CPA, and other parameters such as day parting, gender, operating system, and more.
You'll be able to download or export this data in CSV file format to study later as part of your sales tracking or even add it to a performance analytic dashboard for easier data reporting.
Get finer insights from the Campaign page
The Campaign page houses everything you need to know about how each of your ads is performing. You can get a breakdown of various marketing metrics like views, clicks, audience analysis, engagement rate, reach, cost of conversions, etc.
TikTok also provides different criteria you can use to customize, view, and filter your data to suit your preferences.
How much do TikTok ads cost?
TikTok doesn't list the prices of the various ad types it offers, except for its pay-per-click In-Feed ads.
However, going by a company pitch deck that leaked in 2019, it'd cost you anywhere from $25,000 to $150,000 to run ads like brand takeover, hashtag challenge, and branded lenses on TikTok.
Luckily, for small businesses that can't afford to burn that kind of cash on a single campaign, TikTok's self-service ads platform is accessible and at the ready. You can set a cap on the budget you want to spend daily or in total with a minimum budget of $50 at the campaign level and $20 at the ad group level.
TikTok Ads Best Practices
Like with other forms of marketing, there's no one true way to advertise on TikTok. But there are several proven strategies that you can implement to crank up the effectiveness of your TikTok ads campaigns.
Use smart videos
Smart Video is a free, AI-powered video editing tool on TikTok that analyzes your videos and automatically selects clips and background soundtracks to enhance them.
This feature makes your ads more discoverable because people can click on the song and find other videos, such as your ad using the same track.
Be authentic with your TikTok ads
TikTok is all about showcasing creativity, so you can't afford to create boring lame ads. Your ads need to be exciting. They need to attract attention.
The images, videos, or copy you use should align with your brand identity and target audience. Use the voice you're known for and speak the language of your target audience. If you're a cool, trendy brand, create an ad that gives off that vibe. If you're a serious brand, make a serious ad.
Despite being a straight-laced brand, the Washington Post does a great job of being goofy and hilarious on its TikTok account. Still, it manages to stay true to its mission which is to tell stories and help people learn more about what's happening around them.
Partner with influencers
Studies show that businesses make an average of $6.50 for every dollar spent on influencer marketing, and working with influencers can raise ROI by up to 11%.
Since influencers have a highly engaged audience who trust and respect their recommendations and choices, partnering with them is an effective way to raise awareness and conversions for your brand.
Choose an influencer with strong engagement numbers, not just a high follower count or verified account.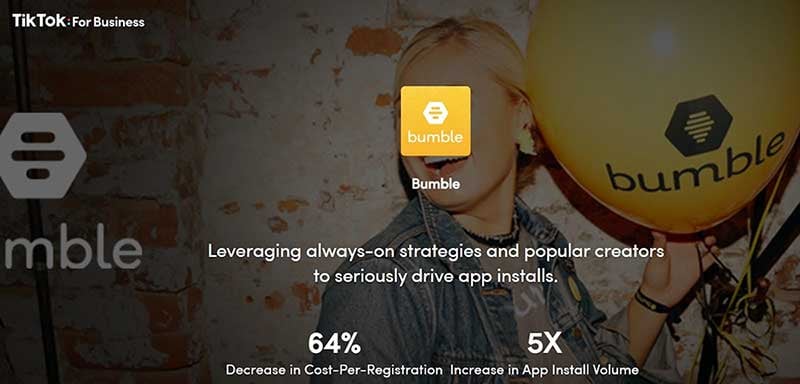 Bumble drove a 5× increase in app install volume by partnering with popular TikTok creators to produce organic-looking ads promoting the dating app.
TikTok Ads Examples for Inspiration
Lots of businesses are using TikTok to promote their products and services. Here are some examples of brands that have created well-thought-out ads on the platform and amassed incredible gains from their campaigns.
Kroger
The grocery chain created a campaign with the hashtag #transformurDorm, which was targeted at college students returning to school. The challenge required people to post videos and pictures showing how they transformed their dorm rooms.
They used shoppable ads to encourage users to shop their back-to-school supplies directly from TikTok. Kroger also partnered with influencers to get the challenge going. The ad ended up generating more than 3 million views, 252k likes, 1747 shares, and 1352 comments.
Guess
This clothing brand used the brand takeover and hashtag challenge to boost its brand affinity and engagement amongst young people in the US. Its #InMyDenim challenge asked users to show off their personal style in Guess-branded denim. The challenge has since achieved iconic status on TikTok.
By the end of the campaign's first week, the Guess Jeans' TikTok page had gained more than 12,000 new followers, and the ad videos had drummed up over 10.5 million views. It also generated an engagement rate of 14.3% and a click-through rate of 16.5%.
Chipotle
The popular burrito restaurant dramatically increased brand awareness by challenging TikTok users to showcase their dancing ability. The challenge was accomplished by the guacamole song, which made it even more fun. The challenge went viral and garnered over 1.1billion ad views for the brand.
Manscaped
This personal grooming brand decided to sidestep the self-shot, organic-looking video marketing trend. Instead, it opted for sleek, professional-style ads that highlighted the elegance and details of its new product. The sophisticated ad garnered 151 million impressions.
Connect with a world of new customers
TikTok advertising is still relatively new, so you have a real chance to establish your brand, score sales, win new customers, and grow your business before the platform gets flooded with competition.
The great thing is that you don't need to have a huge ad budget to hit it big on TikTok. You can use what you have combined with original, creative content to get your company noticed on the app.
Don't just settle for the first ad that brings results. Take the time to experiment with other variations of video, images, audience targeting, music, copy, and ad placement before settling on "the magic formula."