We're excited to be a part of the Snowflake Data Summit 2021: Data Together Now. When we chose to partner with Snowflake, over a year ago now, we did so because we saw a massive opportunity to help make marketing data more easily accessible to businesses.
With our Snowflake Data Marketplace share we've been able to help numerous companies, like Daniel Wellington, Ritual, and Big Ass Fans, get their marketing data into Snowflake.
At Funnel we believe data should be available to all, and we're helping to make that possible together with Snowflake.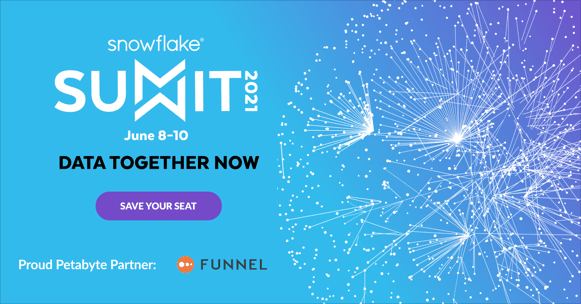 What to expect from our virtual booth at the Snowflake Data Summit
And at our virtual booth, you'll get to hear from a Funnel and Snowflake customer, Lucidchart. Mallory Reese, Marketing Operations Manager at Lucidchart, shares how Funnel and Snowflake have enabled the company to work faster and smarter. Funnel has allowed the marketing team to own its data and send it directly into Snowflake for the company's data engineers to work with.
You'll also get to see a quick demo of how Funnel works, and the data share into Snowflake works. We walk you through the quick importing of data into Funnel, some of the data preparation we offer, and we end with a quick query within Snowflake.
How Snowflake and Funnel work together
Collect all of your marketing data in one place with Funnel
Data from Google Ads to Snowflake? Yes!
Data from Facebook Ads to Snowflake? Also yes!
Google Ads, Facebook, Google Analytics, Salesforce, and so many more. Funnel has integrations with over 500 marketing and sales platforms which makes it so you don't have to build a connection to each data source your marketing team is using. It's just a few clicks and the data starts flowing into Funnel.
And Funnel does the up-keep with the APIs and ensures the data is as up-to-date as possible once it arrives in your Snowflake account.
The best part is the marketing team can still own their data, saving you a lot of time!
Clean & normalize it while preserving the raw data
Funnel allows you to have access to all of the raw marketing data. But it also gives you and the marketing team the ability to do some cleaning and prepping before it gets sent to Snowflake.
Funnel understands marketing data so we automatically create some standard dimensions and metrics for you like,
Traffic source
Campaign
Ad
Keyword
Date (in several formats)
Cost
Clicks
Impressions
...and several more
You can use these as well as make your own with our point-and-click data transformation tools.
Once you've got your data how you need it in Funnel, it's time to send it over to Snowflake!
Send all of your marketing data into Snowflake via the Data Marketplace Share
Sending your data from Funnel to Snowflake using the Data Marketplace share helps you eliminate all of your data ingest and movement headaches. And you get quicker time to insights by getting the data directly into Snowflake from Funnel instead of using a storage location first.
Funnel data via Snowflake data sharing is always fresh. As soon as Funnel updates your data, you immediately see the updated version. No engineering required.