Marketers suffer from low confidence due to a skills and technology gap according to new research.
With data taking on a stronger role in decision making, marketers fear they are falling behind in the latest critical thinking and analysis capabilities. Plus, poor automation and data management practices bog them down with manual, repetitive work that distract from higher-value work.
"I'm stuck in a perpetual hamster wheel of sourcing, cleaning, and reporting. My company pays me to think, but I honestly do very little of that," one marketer told us.
In fact, 35 percent of those who rely heavily on data say they're not comfortable reading or understanding that data. This lack of confidence is unlikely to be communicated to leadership or team leads as well (perhaps driven by larger market shifts), further exacerbating the issue.
For this study, we surveyed a large group of marketers from diverse backgrounds to understand some of their challenges when working with data. The responses painted a clear picture.
Making strategic and tactical decisions based on data (rather than gut feeling) is what most successful companies aim to achieve. But without the right people, skills, and tools to detangle that data mess, it's nearly impossible to pull out the actual insights that can grow the business.
Here are our key findings:
To get all the insights, head over to the full report: Marketing Data State of Play 2023.
1. A self-identified lack of knowledge
In just a few years, the role of the performance marketer has changed significantly, as the platforms and algorithms have evolved and formed the advertising industry.
Even so, one in three respondents report gaps in their own knowledge and skills when working in a data-related job like performance, media buying, and analytics. Forty percent of those surveyed are not very confident in their organization's ability to use marketing data to drive growth/improvement.
2. Too much time spent cleaning, not enough spent analyzing
Many marketers download data from sources like Google and Facebook, then manually resolve inconsistencies, then build dashboards and reporting tools. Even those who use automation platforms often find key data sources are not supported.
This means a significant amount of work hours and focus are still allocated to manual data management processes, which often involves complex and brittle workflows across several spreadsheets.
3. Act out of wisdom instead of fear
Marketers told us the mess and stress leaves them feeling insecure about their ability to do their job well. Professionals feel threatened by a low bus factor scenario, i.e. insufficient tools or data-fluent people to get the job done.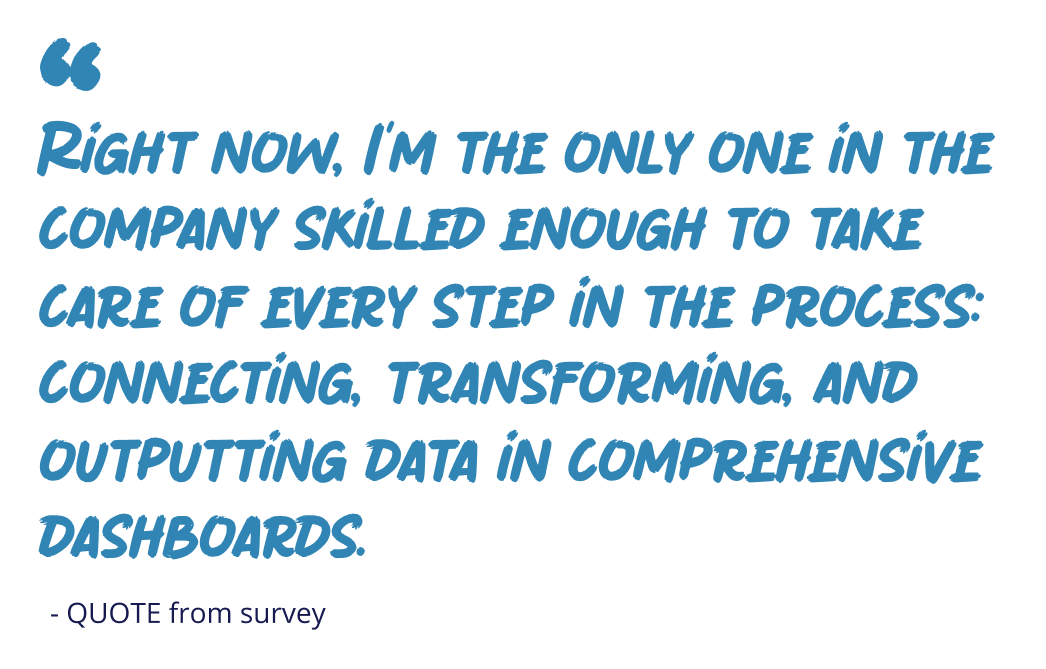 Rather than creating unsustainable cycles of cleaning and organizing data, organizations should aim for a data-first culture. One that isn't solely reliant on one person's expertise, time allocation or ability to create logical strings in spreadsheets.
This Deloitte study from 2019 showed that companies that have succeeded in implementing this approach are twice as likely to reach their business goals compared to less data-savvy companies.

The world is spinning faster – and it's increasingly important to keep up

Given the rapid changes in the market and the drastic shifts in requirements for a digital marketer, it's no wonder marketers are feeling less confident these days.
The number of marketing products has also grown by 24% since 2020, and it just keeps going. There are now 9,932 marketing tools on the market, which puts companies with low scalability at high risk.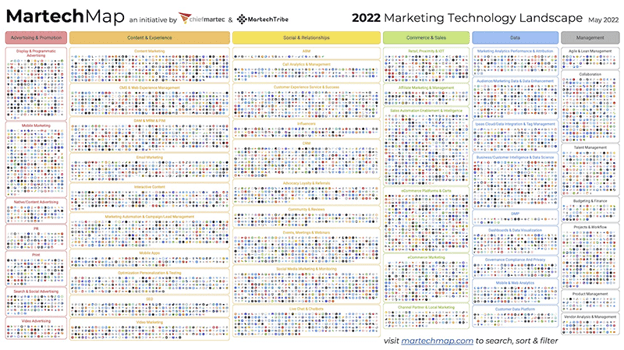 The solution is simple, but needs to come from the top. Leaders need to invest in their data marketing teams. This means money spent in training current employees, finding new and specialized talent, sourcing better data tools, and taking the time to improve processes in a way that unlocks the potential of their marketing teams.
With less time spent corralling information, marketers can instead find the gems of insights that can propel a business to next-level success.
Head over to Marketing Data State of Play 2023 for more juicy insights and to read the report in full.