Summer is here! Sweden is showing its best side the last few weeks with a sun that never goes down, hot weather, and not even a single drop of rain! But that has not distracted us from delivering new features to you. Martin Edén, one of our product managers, is presenting the updates from the past month:

File Import updates: zip files and specify rows exclusion
As a step toward providing more flexible ways of importing your data, we've made it possible to import zip files using the File Import feature. We've also made it possible to specify how many rows to exclude from the bottom of your file. Amazing news if you ask us!
Google Analytics 4 Cost Upload
With the sunsetting of Universal Analytics and the shift to GA4, we know there is a need for a GA4 Cost Upload. Now it's here! The Funnel GA4 Cost Upload lets you upload cost data from your non-Google advertising channels to your GA4 property. One key difference from cost uploads to Universal Analytics is that for GA4 UTM ID is a required dimension to include. You can read all about UTM IDs in our blog post, and the GA4 cost upload feature itself in our help article.
New connectors

Following last month's release of Pipedrive Deals, we have now released two more connectors: Pipedrive Leads and Pipedrive Activities. In other CRM news, we have released HubSpot Custom Objects that lets you fetch any custom object you have created in HubSpot.
Suggest description for metrics and dimensions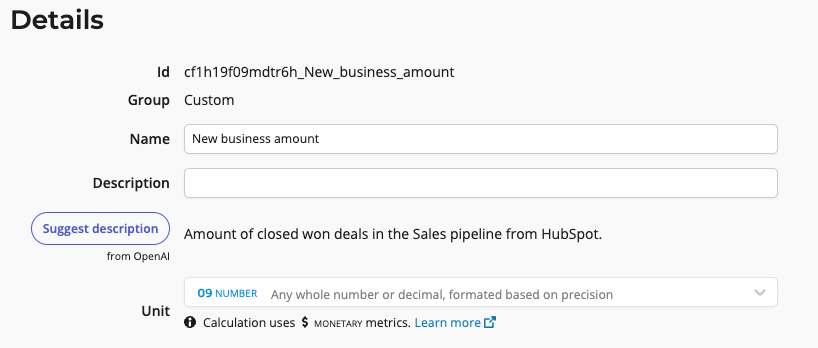 AI is on everyone's mind – or on ours at least. After all, we've just released our very first AI update! You can now use AI to generate a description for a field based on its rules. Simply click "Suggest description" on a dimension or metric that you have already created, and a description will automatically be created. Be sure to try it out!
New fields and metrics
Magento, Criteo and Pinterest are just a few connectors we've added new fields and metrics to. To see the comprehensive list, check out our blog post!