We've just added an additional report type to our Taboola connection. You can now report on conversion metrics in Funnel!
In order to start utilising these new fields, all you need to do is create a new Taboola connection and select the 'Conversion' breakdown: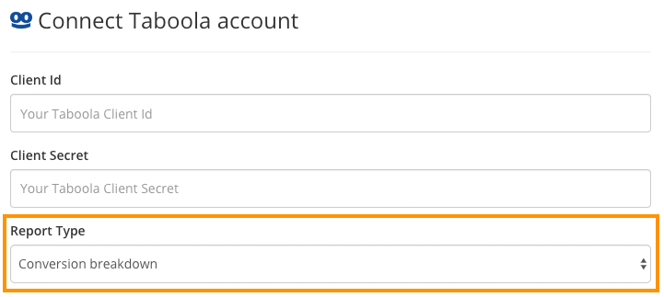 Here's a list of fields that are currently supported by this data source:
Dimensions
Account ID
Campaign ID
Campaign Name
Date
Metrics*

Impressions
Clicks
Visible impressions
Spent
Conversion value
*The list of metrics for the 'Conversion' breakdown report is dynamically populated and contain the conversion metrics that you have set up in your account. The metrics above are the "default" metrics which are available for everyone.

You can learn more about the data you can obtain from Taboola in this article.

We hope that you find these additional fields useful. If you're unable to find the field you need in the list above, please contact support@funnel.io and we'll be happy to help!