Marketing automation can boost the efficiency of your marketing team, your sales productivity, and the overall performance of your business. It's no wonder the marketing automation sector is expected to grow from $5.2B in 2022 to $9.5B by 2027.
So, how does marketing automation work, and what are the benefits of marketing automation?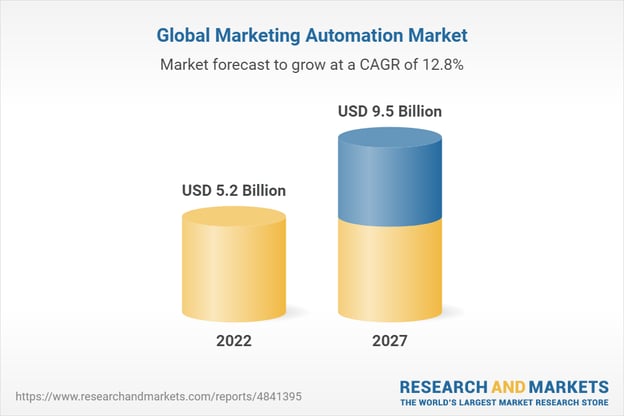 Image source: Research and markets
What is marketing automation?
Marketing automation is a technique that utilizes software to help streamline a variety of processes. The aim is threefold:
Complete marketing tasks faster
Add consistency and longevity to the marketing work
Achieve strategic goals more efficiently
Don't confuse marketing automation with just automating email campaigns, though. It's much broader and more valuable. You can automate almost any area of digital marketing, from social media scheduling to marketing reporting.
But while marketing automation is helpful, it's not a magic wand that will replace us marketers. Instead, the tools contribute to marketing operations by empowering the team to enhance how they market a product or service.
The benefits of marketing automation are improved team efficiency and better work with existing and potential customers. This means you can launch more marketing campaigns, collect marketing data effortlessly, polish customer onboarding, and more.
Why marketing automation is important
According to research by Ascend2, the top three reasons companies start to automate are to streamline marketing and sales, increase customer engagement, and improve customer experience.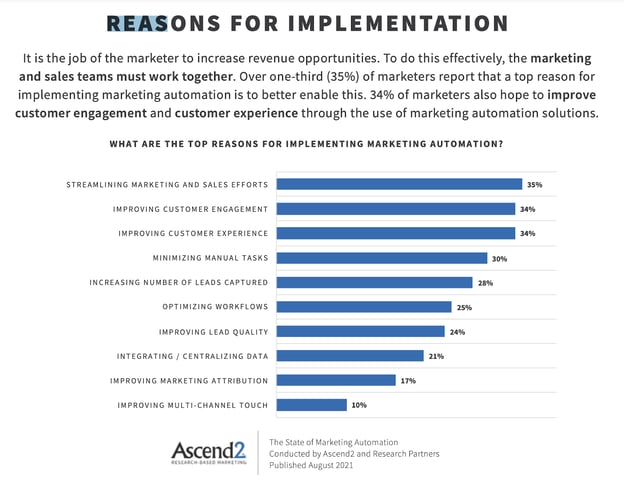 Image source: Ascend2
In the long run, automating those areas translates into the following:
Reduced costs — fewer errors occur, and fewer resources are needed to cover manual, mundane administrative tasks, reducing marketing overhead
Increased revenue — average digital marketing ROI is $5 per $1 spent, while the average marketing automation ROI is $5,44 per $1
As you can see, automation can optimize your marketing finances by reducing expenses and increasing your return on investment.
Why businesses need marketing automation
Automation benefits companies of all sizes and segments across all industries. In fact, nearly half of all companies with marketing budgets under $100,000 already automate their marketing. For companies with larger budgets (exceeding $500,000), it is even more important with 81 percent employing marketing automation techniques.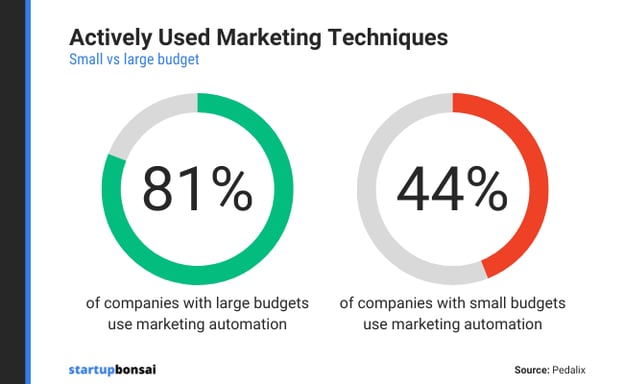 Image source: StartupBonsai (in association with Pedalix)
Whether you are a small business selling products to customers, a B2B enterprise, a developing startup, or a mature SaaS company, you can take advantage of marketing automation.
Five benefits of marketing automation
Since so many different marketing processes can be automated, you get numerous potential advantages. There are five that stand out, though.
1. Streamlined marketing data management and reporting
With marketing automation, data collection is easier than ever. You no longer have to monitor things on your own and assemble them in a spreadsheet manually. Instead, the automation software does everything for you — from data collection to performance tracking.
Automating data management and reporting also allows you to make use of the data faster. For example, you can automatically generate a report in a data visualization tool like Tableau and then share a dashboard with your team to review performance and generate new ideas to adjust your marketing strategy.
Besides the fact that data reaches you automatically, it is also up to date and appears in real time – allowing you to see the full picture of your performance as it evolves.
2. Data-driven decision-making in marketing
Automation allows for streamlining marketing data collection, management, analytics, and reporting to gain actionable insights and make informed decisions as you build your strategy.
For example, with data-driven marketing, you can shape a 360-view of your customers and predict their behavior. Further, this enables shaping your activities according to the interest of your target audience.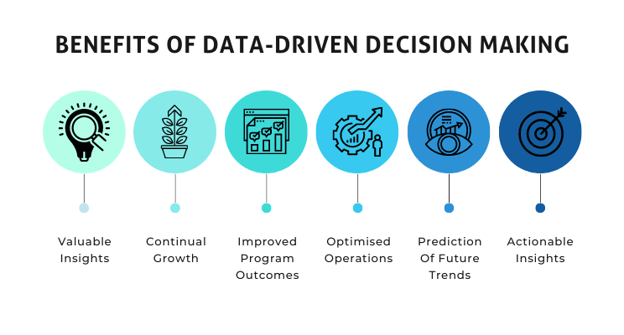 Images source: Altis Consulting
Similarly, A/B testing becomes effective with marketing automation tools because you can easily compare the performance of messages you deliver with your marketing campaigns. For example, you can assess the success of your ad campaigns, referral programs, email newsletters, and other marketing efforts to decide whether you should adjust the strategy.
Also, based on the marketing data you receive, you get an overview of your marketing flows and customer journeys, which helps you identify areas of the most impact. This may include steps where most leads drop off or, on the contrary, where they engage the most.
With this kind of up-to-date analytics that automation brings, you can stay flexible and competitive by making changes sooner. Simply speaking, you have an opportunity to use data-driven marketing.
3. Personalized customer experience
Personalization is not just one of many marketing automation trends. This is the real deal.
While there are different ways you can approach it, at the end of the day, personalized customer experiences provide a better and more engaging buyer journey.
Considering that many customers want unique and targeted content during their research, a personalized customer journey can be one of the keys to successful digital marketing.
One great approach is to deliver the right messages at the right time. For instance, if you know some of your customers bought sunscreen in spring 2022, you will want to send them an offer for 10% of off sunscreens in April or May of 2023 again.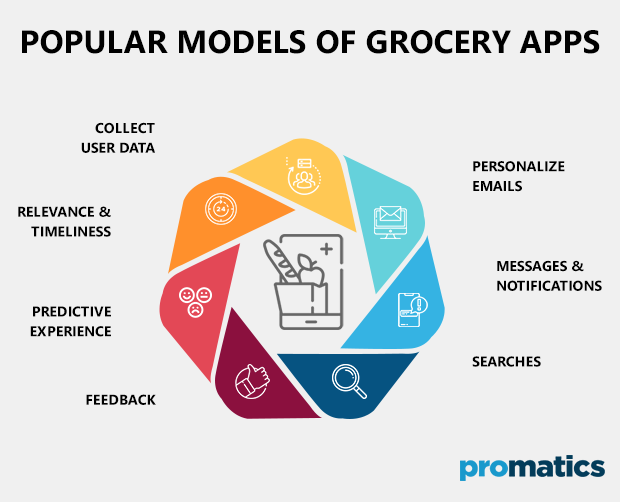 Example of the points at which a customer's journey can be personalized (Image source: PromaticsIndia)
But how would you know what consumers want to see and when? The answer is simple: marketing automation and the data it gathers allow you to conduct thorough customer behavior analysis. It helps you better understand your customers and their needs, thereby delivering a more personalized and effective message.
As a result, you can send messages, notifications, offers, content, and feature suggestions based on their demographic (for a small business) or company background information (for B2B). For example tools like HubSpot CRM allows you to use one of the HubSpot phone integrations for your customer service agents. This will make sure that all of your customers data is available when your agents need it. Before every outreach call or upcoming call, all important information are immediately right in front of your agents to make sure that their communication process will be as personalized as possible.
4. Smooth collaboration across marketing and sales teams
Outdated structures and systems lead marketing and sales teams to experience gaps in customer data, but automation solutions can begin to help align these processes.
Automation tools help manage all customer data across various teams. The sales and marketing managers can stay up to date with the campaigns' results, with all the performance being easily tracked and accessed.
Also read: What is performance marketing?
In addition to tracking, other sales and marketing processes can be easily automated. Imagine if all your customer account creation, client categorization, and follow-ups were handled automatically by the software. Now we're talking!
5. Better lead generation and lead nurturing
Speaking of sales teams, marketing automation can also help you to generate and nurture leads. Particularly, you can create a systematic approach to lead scoring and engage with prospects. With the help of automated campaigns and triggers, you'll have more qualified leads and less time-wasting for the sales reps.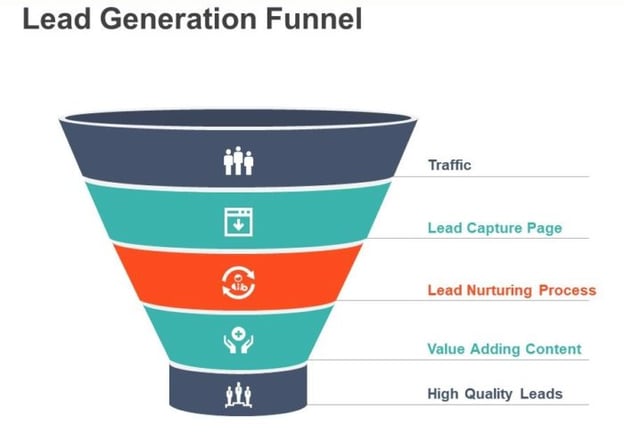 Lead generation is one of the top marketing automation strategies
Image source: LeadFuze
Automation software also helps quickly identify where a lead is in the sales funnel. Is the person just researching the topic to get a general overview of what kind of product they need? Or has the person already narrowed down their choice and is about to place an order? Depending on where they are in the buyer journey requires a different approach from your team.
By analyzing website visits, customer service CRM requests, social media activity, and more, the software begins scoring and qualifying leads to prioritize those who are likely to make a purchase. Then, the marketing or sales team can step in with the finishing touches to close a deal, like dedicated drip email campaigns or a call from a salesperson.
When all of the clean and compiled data is easily accessed at any time, sales and marketing teams can act more quickly. It gives them the time and space to discover better ways to work together toward shared goals.
Marketing automation software
Marketing automation software can help you achieve all the great benefits listed above by handling repetitive tasks, providing a better overview of your processes, and enabling you to complete more in less time.
But marketing automation software can't replace your marketing team. It only enhances the marketing team's efficiency. You need to think critically about when (and why) you automate your marketing.
If you're looking for the right time to start exploring marketing automation, consider these guide posts:
You have a dedicated marketing team
You work from a detailed marketing strategy
You've already experienced success using one or more channels
You have a growth strategy you want to implement
You want to align the efforts of your marketing and sales teams
If you're ready to dive into marketing automation, you'll also want to research the many kinds of marketing automation platforms available to you. Some are very niche and work best to automate a specific process or task, while others can help more broadly. It's best to have a good idea of your needs and goals ahead of time.
The future is automation
We hope this post gave you a good understanding of marketing automation benefits. As you can see, marketing automation is suitable for different sizes of businesses.
You have many options to automate different areas of your marketing to save time and resources. Most importantly, you will polish your entire marketing strategy, streamline marketing efforts, and stay competitive in the future with the help of marketing automation.
If you're still thinking about whether you should try it — do it. Believe us: it's the right time because automation is becoming a must, not an optional activity.
---