As an ecommerce marketer you have access to a lot of data about the effectiveness of your marketing campaigns. The challenge comes when you're looking at this data in a thousand different places and trying to put the pieces together. In order to make decisions with confidence, and within the day or week, you need to have your marketing data in one central location and in a set of dashboards that allow you to see everything.
However, this can be a daunting task to get started with, so we thought we would make your life a little bit easier. We have several Looker Studio templates (previously called Google Data Studio templates) that include all important KPIs. We mainly added KPI's that ecommerce marketers can use to measure their marketing performance.
Check them out and use as a starting point and inspiration for your own dashboard.
Contents
Benefits of Looker Studio
Looker Studio is a popular visualization tool for our customers because it's free, quite user friendly, and it doesn't take as many resources from the company to use since you typically don't need to involve your IT or Business Intelligence team to help you get started.
Depending on how many different channels you're advertising on, or if you're just wanting to look into a specific platform like Google Analytics or Google Ads, Data Studio has direct connections to each of those platforms. However, if you'd like to look at your marketing performance data across all of your channels it can be a steep learning curve to learn how to combine all of your data within Data Studio.
If you're using a solution like Funnel, it takes away the need to do any of the blending of data in Data Studio. Funnel also gives you a head start with stitching your data together by automatically mapping some of the most common dimensions and metrics for marketers across all of your channels (source, medium, campaign, cost, clicks and impressions - to name a few). Funnel's data transformation is made with ease of use at the top of mind.
Once you have all of your data collected and mapped in Funnel, you can export it directly to Data Studio and start creating your dashboard. Or, use one of the templates below!
Ecommerce Data Studio templates
The templates below are great for getting a solid overview of your marketing performance, for tracking each region you sell in, and for comparing spend against your budget.
To start using any of these report templates, simply make a copy and connect your data source.
Marketing Performance Overview
These are good templates to get started with because they cover the basics of what you should be tracking for your ecommerce marketing activities. We have a few different Data Studio templates for you to choose from for your marketing performance overview.
GreenLine Digital - Ecommerce Overview Dashboard for Google Analytics Data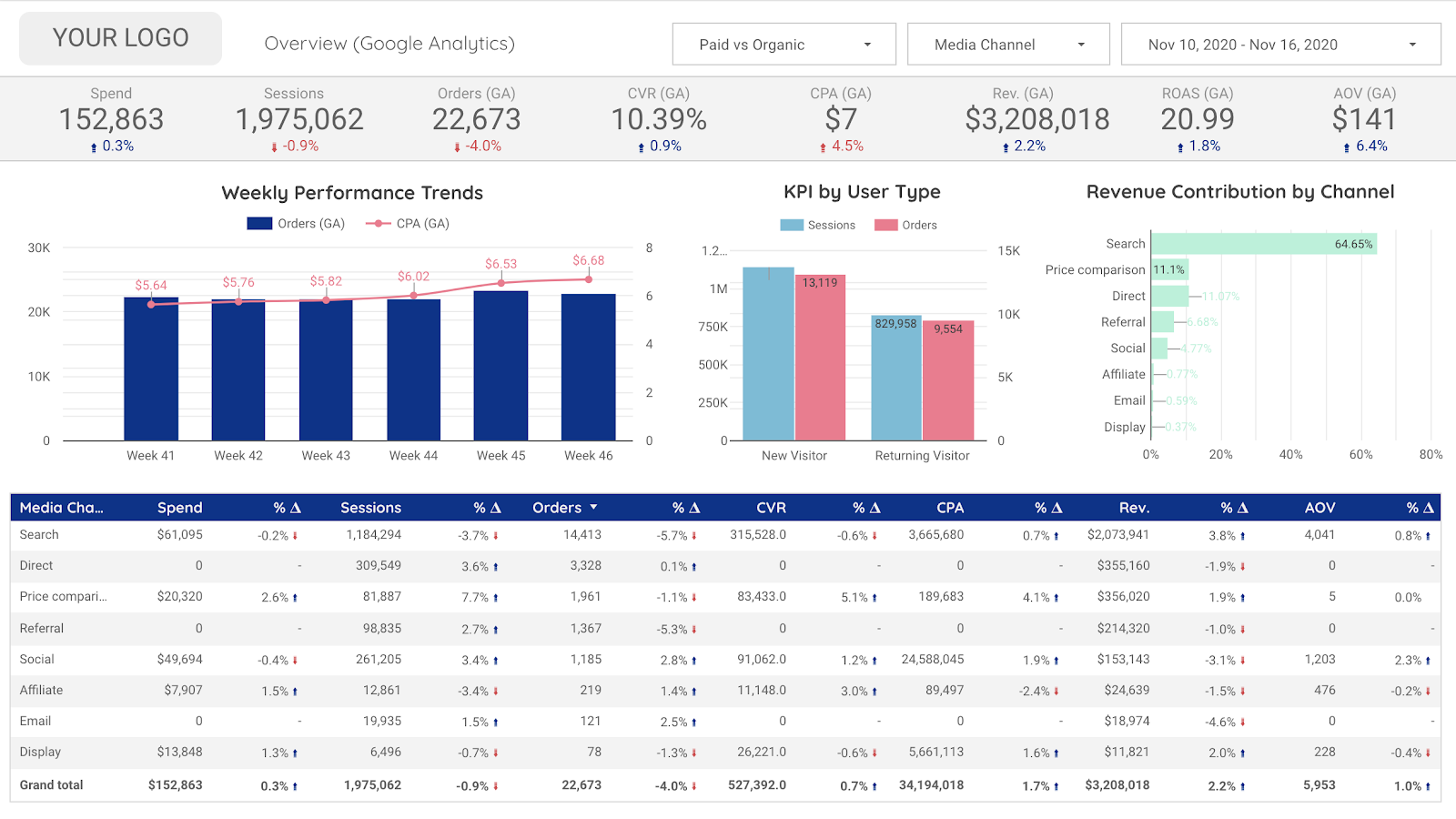 Access the template here.
*Data in the template is demo data*
Our customer, GreenLine Digital, shared a template with us that they use for their ecommerce clients. The data in the dashboard is based on Google Analytics data, and the spend data has been mapped with the Google Analytics data via Funnel.
This digital marketing report has 2 pages, with the first (above) giving you the top KPIs to track the trends of, like number of orders, revenue, ROAS and so on. You can also see a breakdown of how each of your channels are performing.
The second page (below) focuses on user acquisition to your website.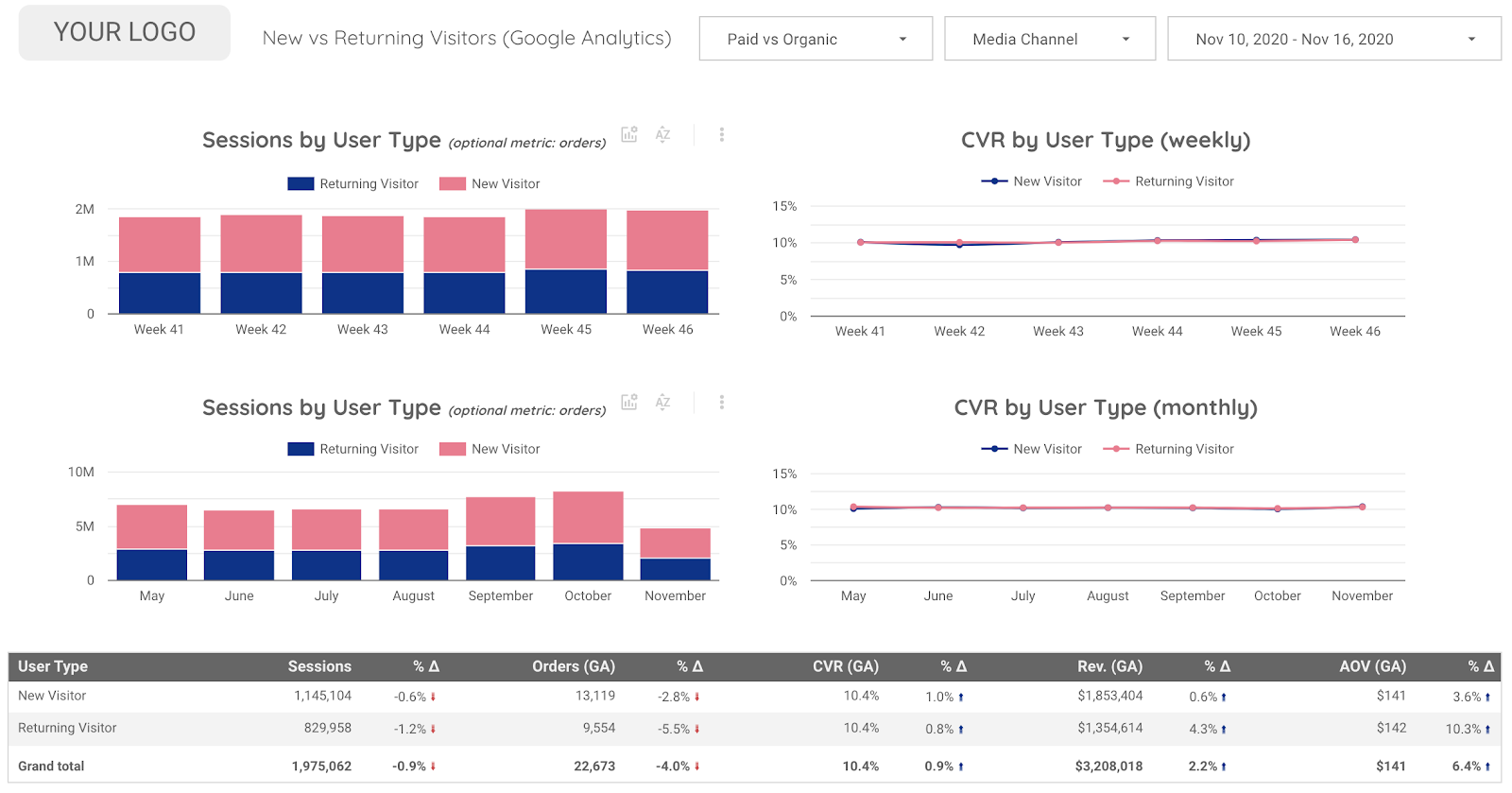 CDiscount - Ecommerce Performance Overview Dashboard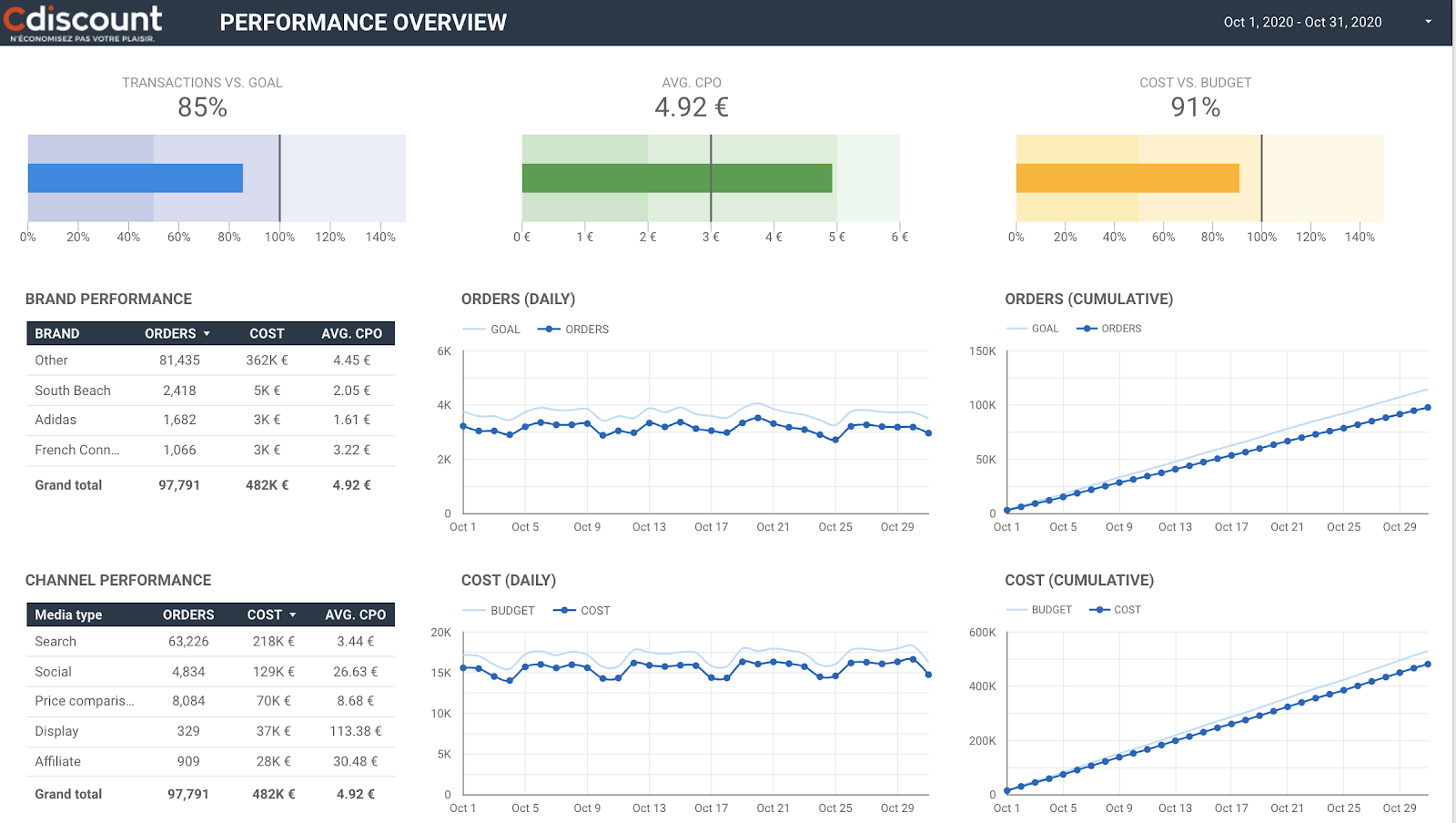 Access the template here
*Data in the template is demo data*
This Performance Overview template is from our customer, CDiscount - a French ecommerce company. This is a good template to use if you are working with multiple brands (as shown in the Brand Performance widget).
This template is also fantastic if you would like to track some of your KPIs against goals that you've set (such as number of transactions vs. the goal), and if you'd like to track your marketing spend against what you have budgeted for that month. In CDiscount's dashboards they also have a budget tracking template, which we'll show you soon!
Funnel - Advertising Channel Overview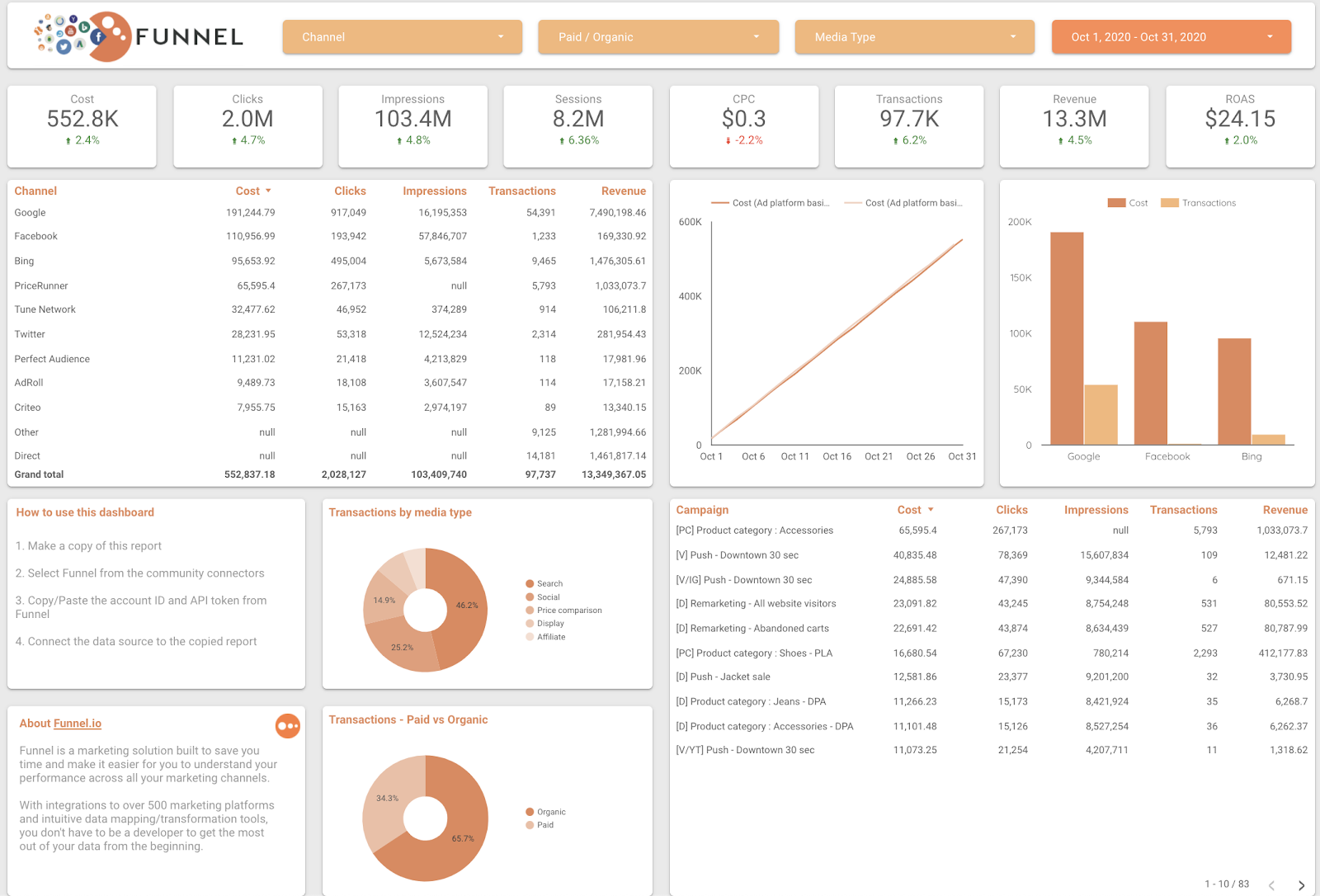 Access the template here
This is one of Funnel's very own templates that we've created. It includes the channel and campaign breakdown of your marketing costs, clicks, impressions, transactions and revenue. It includes a widget that shows the number of transactions by channel versus the cost - this is a great thing to measure so you can ensure that the channels you're spending on are producing results, and if not you can move your budget around or make changes to the campaigns on that channel.
Market Performance & Comparison
If you're an ecommerce company that sells in several markets, then it's good to have a Looker Studio dashboard that allows you to see how each of those markets are performing.
Funnel - Market Performance & Comparison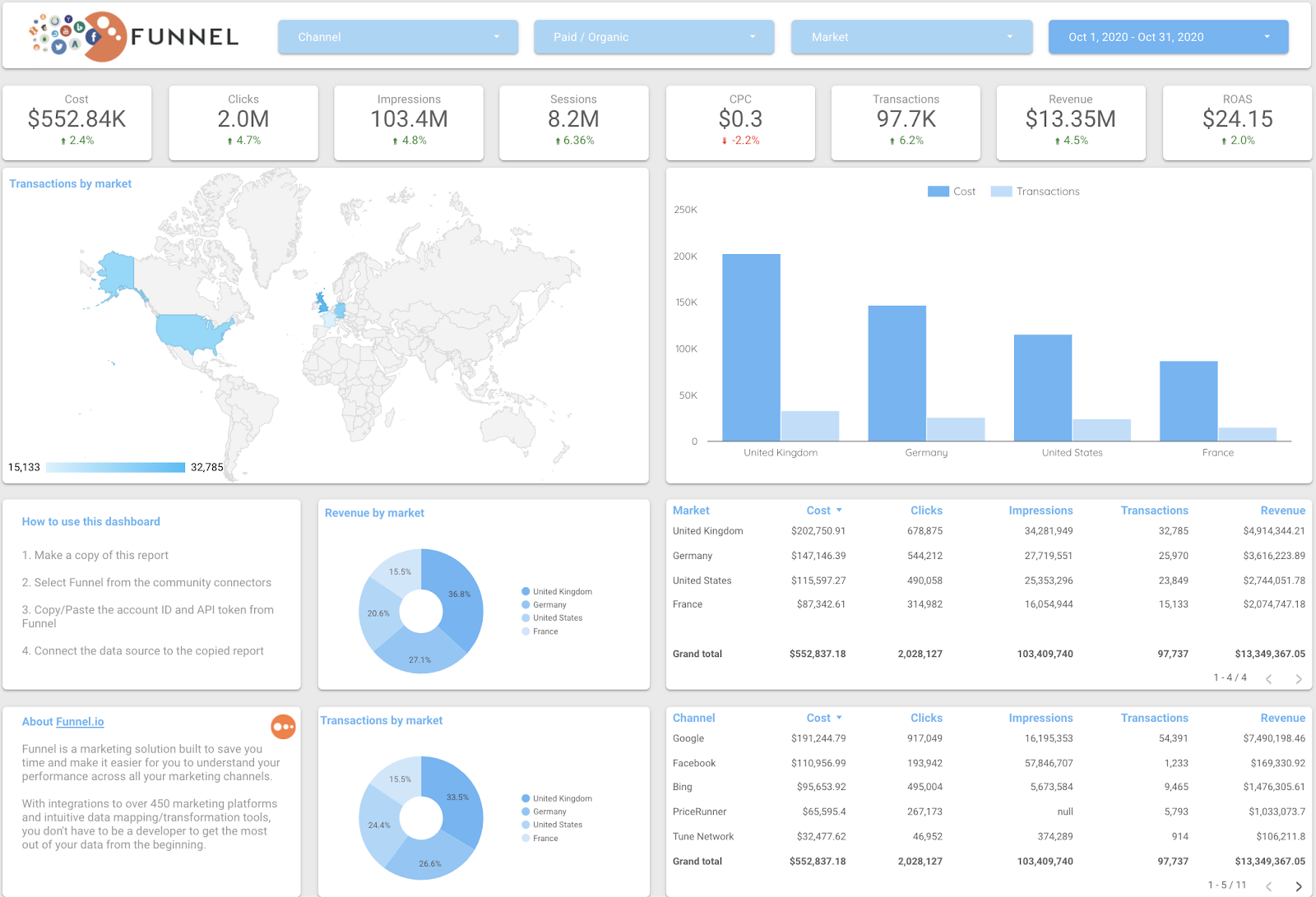 Access the template here
With this template, you can track the transactions, revenue, and marketing costs across each market you're selling in. This allows you to move your budget around to different markets to ensure a healthy ROI.
Budget Tracking
There's never a worse feeling than realizing that you've gone over budget for the month. Make sure this doesn't happen by having a dashboard that allows you to keep a constant eye on how much you're spending compared to the budget, and that also allows you to see where you might need to adjust your spend to stay on track to meet your goals, without going over.
CDiscount - Budget Tracker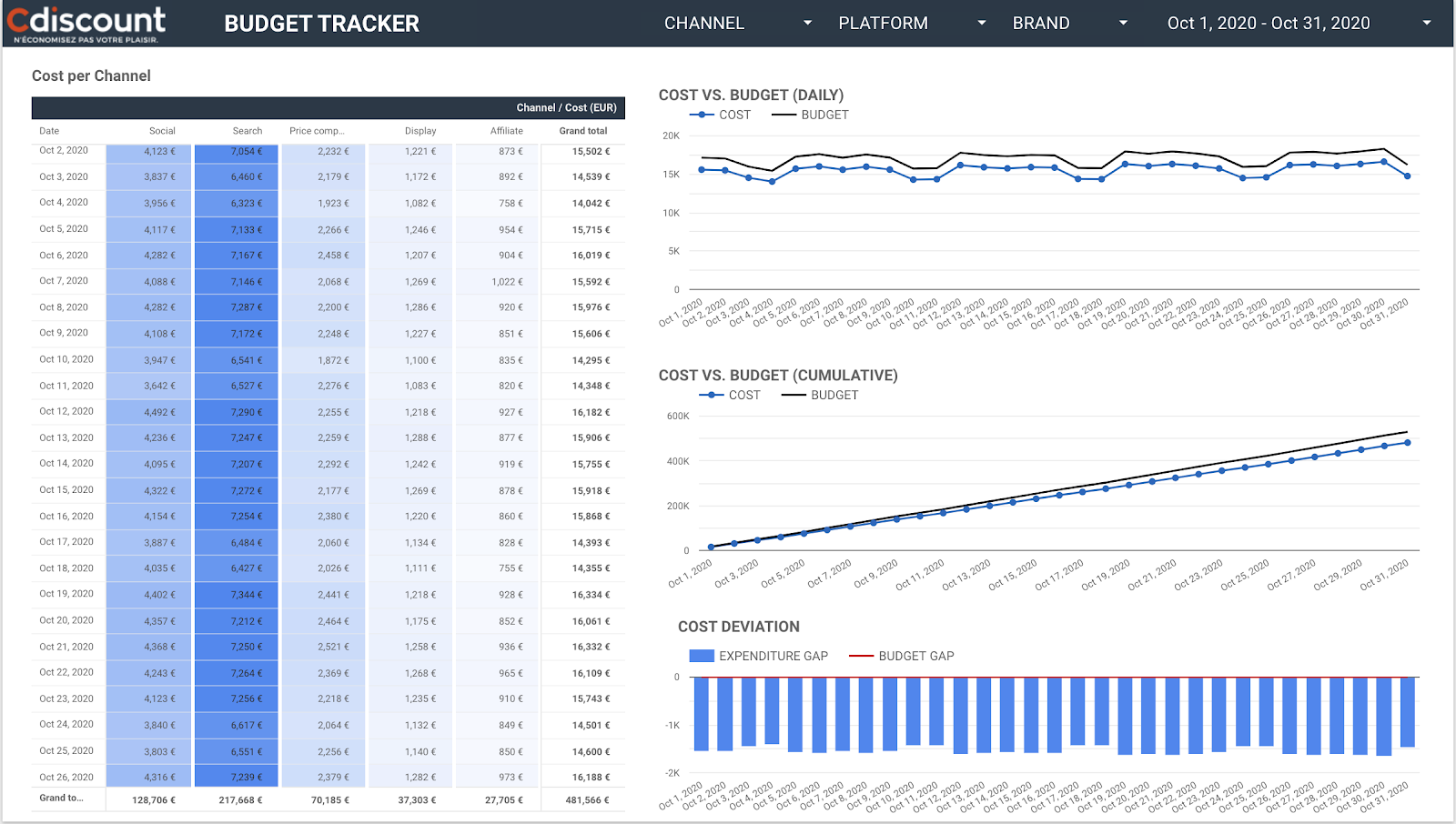 Access the template here
*Data in the template is demo data*
CDiscount's Budget Tracker template helps you make sure that you're never over spending, and if you do, you can make the necessary adjustments by digging into the channel or campaign that requires your attention.
For this dashboard, they've included their budget data in Funnel and mapped it with the rest of their marketing data.
Bonus - Q5 Performance
Q5 is the time between December 26th and mid-January when many advertisers have decreased their marketing spend after the holiday push, but there is actually a huge opportunity for ecommerce marketers to increase their ROAS by taking advantage of the lowered CPMs and less competition. You can learn more about Q5 and why it should be a part of your strategy here.
Funnel & Smartly.io - Q5 Performance Overview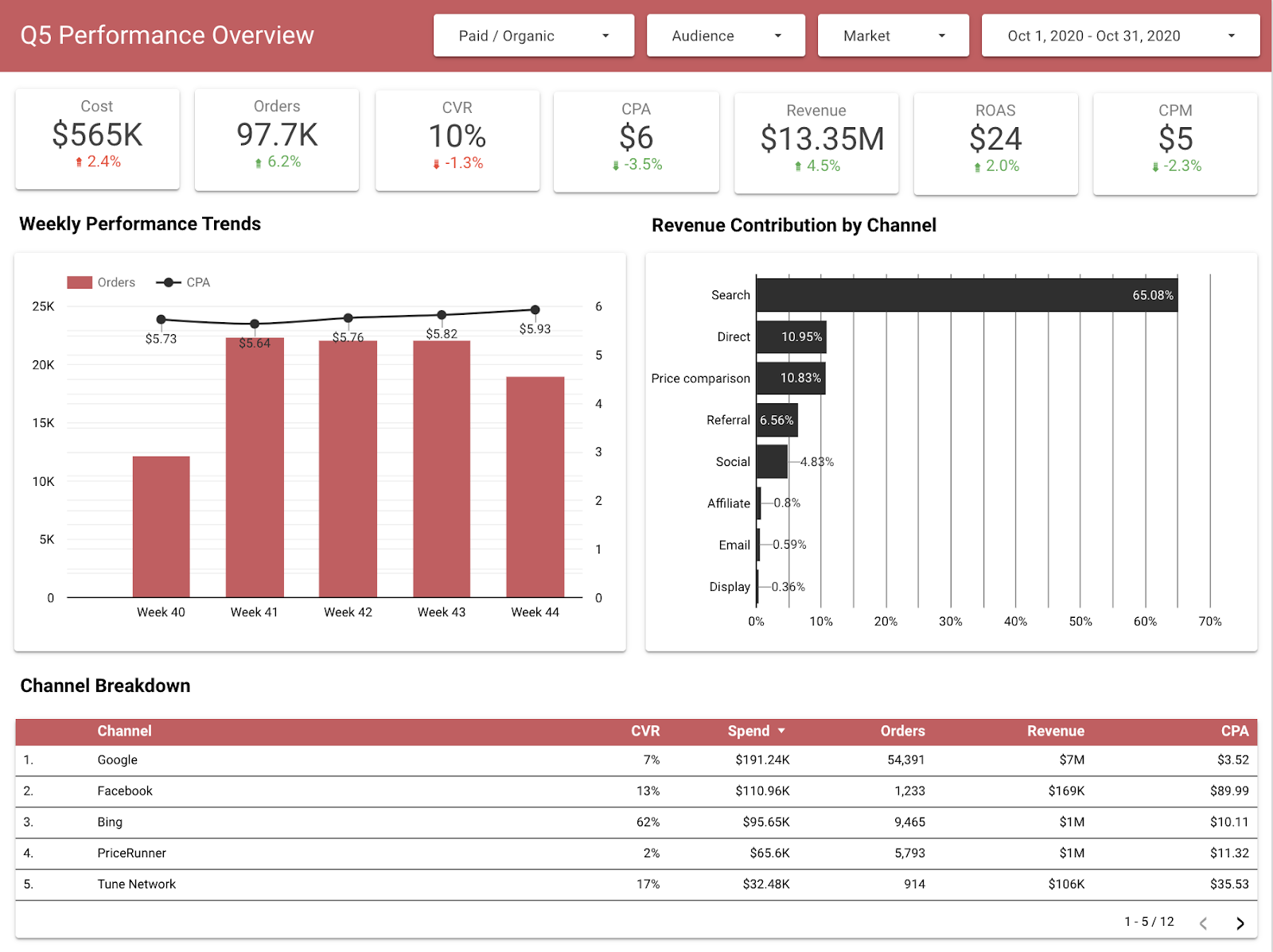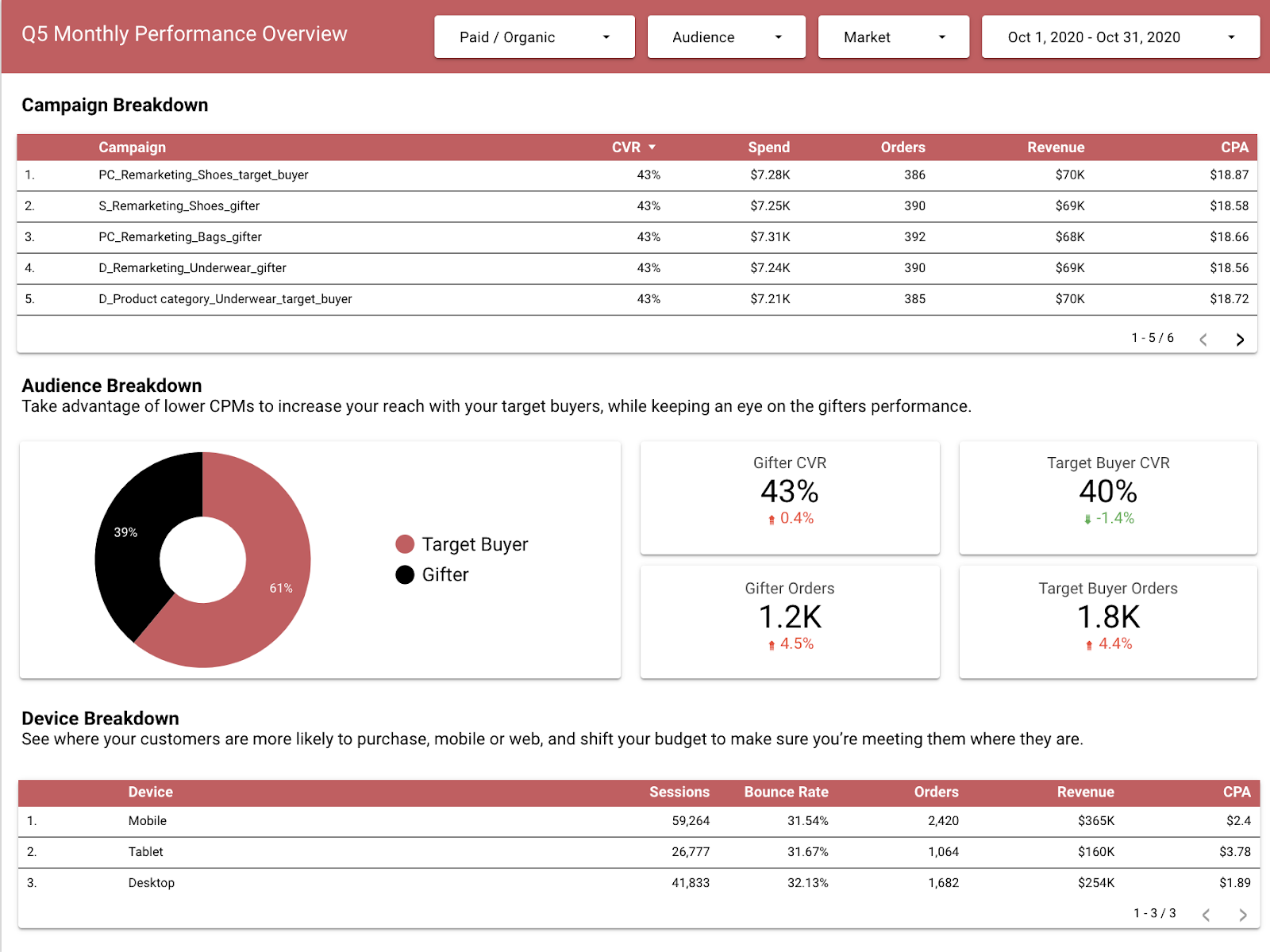 Access the template here
How you measure your Q5 campaigns may not vary a lot from your typical performance metrics. However, here is the something new and key for Q5: there's a new dimension you'll want to make sure you include in your Q5 campaign data and that is the audience the ads are intended for, meaning the "gifters" or your typical target audience. If you miss out on this, you might be getting the wrong signals from your performance data.
We dive into how we've created the audience dimension in our blog post about How to Measure the Success of Your Q5 Campaigns.
Over to you
We hope these templates will help you monitor ads spend, improve ads performance and overall increase the effect of your ecommerce campaigns
If you're not a marketer working with ecommerce, you can visit our Looker Studio Template Gallery and find all of our other templates. If you still can't find what you're looking for feel free to send us some feedback on what you'd like to see!
Finally, If you'd like to learn more about how Funnel works with Looker Studio you can take a look at the resources below, or check out our Platform overview page.